Are you getting started with sewing and wondering if sewing patterns are true to size?
There is no sewing pattern that is true to size, this is due to a number of factors from the designer, origin of the sewing pattern and style. The sewing patterns are made and created on an average basis which not everyone will fit into.
Just because the sewing patterns aren't a perfect fit on your body is no reason to quit or get downhearted. Because each person is unique fromt he next no sewing pattern can fit perfectly on every person.
The beauty of a sewing pattern and making your own clothes is that you can adapt them to your style and fit, while shop bought clothes are a little harder to adapt to fit your body and requirements.
Are Sewing Patterns True To Size?
As you may have already read above, no clothing sewing pattern is true to body size as each body if unique. I often find some garments are too tall for me, too slim on the chest and the waist is lower than on my body.
But this isn't my problem, nor is it the sewing patterns problem. These are small alterations I work with and adapt to make it work for me.
There are some sewing patterns that are very universal and can be a great fit for many people and there are som we all wish we could pull off (me especially).
Here are a number of reasons why sewing patterns might not be true to size;
Brand/ Designer
The brand or designer will work in a unique way and will design clothing that might not work on certain body styles or even on a person overall.
Each brand whether it is a well known like McCalls, Simplicity or Vogue or an indie sewing pattern made by smaller company or solo creator they will all be different.
Each brand will have a different way of working and placement, seam allowance and way of cutting the patterns. You may find that certain brand sewing patterns fit better than others as the sizing may correlate to your shape and figure better than other brands.
Origin & Where The Sewing Pattern Was Made
Different countries have different sizing and different ways of measuring those sizes. So this would make sense that an American sewing pattern would be quite different in sizing compared to the UK.
I have a couple of pattern which are USA based and so I would need to match my measurements to the guide on the back to pick the correct size for me.
If you have any patterns like this, you may have made it up in the wrong size completely due to sizing being different.
This may also happen with different styles and fits of clothing.
Style Of The Sewing Pattern
Just like anywhere in the world the people change size and shape, it is typical of the USA to have sizes that are larger while Japan have clothing that is much smaller.
This is due to a number of things but mainly due to the population living their, Japanese frames are much smaller in body and height so they often make their garments smaller.
While people in the USA are much more diverse in body and size so you can find more variety in sizing. This can reflect in the sewing patterns too, make sure you take your measurements to get a more accurate fit.
You can also buy sewing patterns that are suited to plus size shapes, tall, short and even different body shapes such as pear shape, apple or hourglass.
Seam Allowance Widths
This may sound a little strange but a way that many people might not realise their sewing pattern and the garment is a little off on sizing is due to the seam allowance.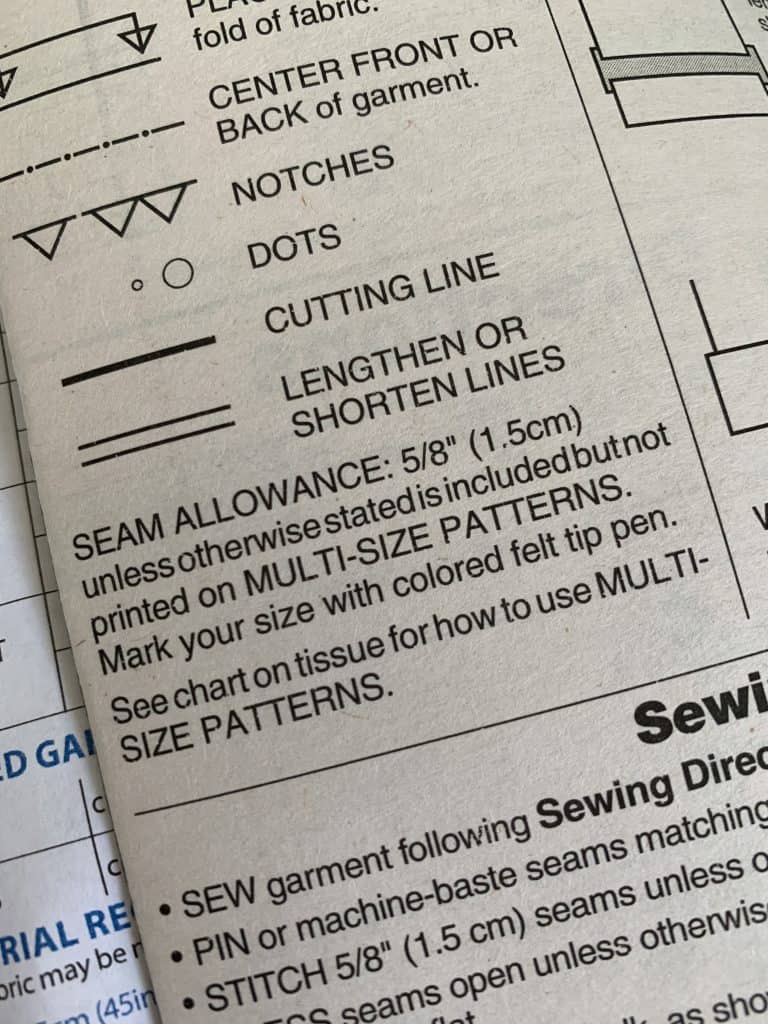 Many companies and brands use the same seam allowance but some also use none at all. If you haven't read your instructions or forgot to add seam allowance, this may be the reason your pattern is a little off.
I also added extra seam allowance on a garment that already had it on and so I ended making the garment roughly 1 size too big. Check your sewing pattern instructions for the seam allowance and the width that has been added.
Where Should I Measure When Taking My Body Measurements?
Finding the right place to measure isn't as easy as you might think. There are a couple of extra places on your body you might need, from sleeve length and nape to waist and more.
Not all of these are easy to know and who even knows what a nape is? I had no idea until I learnt it at college and then again more extensively at university.
I created this handy guide to help you find the right place to measure so you can find the accurate measurements for your body. You will need as accurate as you can so then you can cross reference these against your sewing pattern to choose the best size for you.
The main places on the body you will need to measure for a sewing pattern will be;
Bust/ Chest
Waist
Hip – High hip and low hip are different
Arm length
Inside Leg
Shoulder
Nape To Waist
Here is a quick easy guide to see the above places and where to measure.