Are you asking yourself how much does it cost to repair a sewing machine?
The amount it costs to repair a sewing machine depends on the issue (s) you are dealing with and the degree of repair needed. It could be something minor or major but, either way, you have to repair it to continue using your machine effectively.
It's important to also note that the type of machine you are using determines how you go about repairing it and how much it costs.
For example, the way you will approach a mechanical sewing machine when repairing it is different from when you are dealing with an electric one.
Again, it's imperative to assess the problem and decide whether you will do a home repair or opt for a repair shop. Essentially, the cost of repairing a sewing machine will depend on multiple factors that you should put into consideration.
How to Prevent Sewing Machine Repairs
It's actually possible for you to avoid the constant need for repairs on your sewing machine. Routine care and regular maintenance of sewing machines go a long way in lengthening its lifespan.
There are basic maintenance tips and hints you can use to ensure that you avoid the costs associated with sewing machine repair. One of the most important tips to practice is covering your machine to prevent dust from accumulating.
The standard care practice for any machinery is ensuring that you don't expose it to dust. Thus, make sure that you keep it clean to prevent any problems arising from dirt and dust buildup.
Oiling your machine is also an essential maintenance practice you should regularly apply to prevent the frequent need for repairs. There are multiple moving parts in a sewing machine; hence, the need for you to oil it so that it runs smoothly and for a longer time.
Remember, you can't use any oil for this. Make sure that you are using the ideal oil for sewing machines. Oil for this type of machine should be fine and clear.
Check your machine's manual to know exactly where and how you should apply oil for perfect lubrication. Oiling where you shouldn't can end up being problematic. Therefore, before you oil your sewing machine, make sure that you clean your machine, particularly the bobbin case.
In addition, you should consider changing needles regularly to prevent the likelihood of your sewing machines developing problems.
If you use needles for a longer time than you should, you are likely to witness the following issues: looped threads, fabric pulling, skipped stitches, and possible damage to your machine.
It's highly recommended that you change needles after eight hours of active stitching or whenever you finish a project. In the same vein, you should ensure that you use good quality needle and thread. This goes a long way in lessening the possibility of machine damage.
Additionally, you should consider using compressed air to get rid of lint. Experts recommend the use of high quality lint to reduce the amount of lint buildup. However, this doesn't eliminate it completely.
This is where compressed air comes in. Compressed air helps eliminate lint and thread from the bobbin area, feed dogs, and tension discs.
Ensure that you position the nozzle at least 4 inches away from your sewing machine. By doing so, you will prevent the entry of moisture into the machine.
Professional servicing is also a vital maintenance practice that will help you to not only reduce the need for your machine's repair, but also allow it to function at its best.
Make a point of having it serviced professionally every year. Whether you are using a cheap or an expensive sewing machine, it's advisable for you to service it annually.
If you allow an expert to service the parts of your machine that you can't handle well, you will be prolonging its lifespan.
Sewing Machine Repair Shops vs Home Repairs
There are two options you can explore when doing repairs for your sewing machine. You can either take it to a repair shop or do home repairs. Generally, home repairs are cheaper than shop repairs because you only get to handle basic repairs.
If you know how to handle these repairs, you will end up saving a good amount of money. You don't have to pay anyone to do the repairs for you.
However, if you are able to do home repairs, you will definitely know how and when to do routine maintenance so that you keep your sewing machine functioning at its best.
The better you are able to maintain your machine, the less likely you will require expensive repairs. Just to reiterate, home repairs are good, but only for simple problems that you can handle on your own.
On the other hand, shop repairs are quite expensive because they involve technical repairs that you can't take care of by yourself.
In the event that your machine develops a problem and you are not in a position to repair it or perhaps you don't seem to know where the problem is, it's prudent to visit a repair shop for expert repairs.
If you choose to handle such a case on your own, you might cause further damage to your machine, which is more costly.
It's imperative to take note that when you are looking for a repair shop, you find a licensed one. The reason why you have to be careful here is because you don't want to take your machine to someone who doesn't know how to handle repairs with utmost expertise.
You can ask around from people who have sewing machines for possible leads. Better still, you can search for licensed repair shops online so that you are certain on which professional to go for.
Of great importance still, it's vital for you to check whether your machine has a warranty. If your sewing machine has a warranty, the manufacturer will take care of repairs and maintenance that it will need during the warranty period.
The good thing about going for a licensed repair shop is that it won't void the warranty on your sewing machine. If you go to a repair shop that doesn't have a license, you risk your warranty being void and, consequently, missing out on the benefits that come with it.
The Estimated Cost of Repairs
For your sewing machine to function effectively, you will have to incur costs for repairs. The following are some of the issues you will have to take care of and the estimated costs of each:
1. Bulb Replacement
A sewing machine bulb is an important part of your machine that you need to replace if it is not functioning as it should or it is faulty.
You should check your machine's manual to know which type of bulb you should replace it with. With anything from £3 up to £8, you will be able to get a good quality bulb to replace the old one.
2. Foot Pedal Repair
Without a well-functioning foot pedal, you can't use your sewing machine well. If it is faulty, you can check your manual to see how you can correct the problem.
A small problem might cost you around £10 to fix it but if it is a serious one, you can use up to £100.
Check out SewingIsCool for a tutorial on how to fix your sewing machine foot pedal.
3. Broken Fuse/Plug
A broken fuse/plug will require you to replace it for your machine to work properly.
With £8 you will be able to replace it and have your machine functioning optimally.
4. Monitor/Screen
If your machine's monitor/screen breaks, the best thing to do is to replace it.
Whether this is at home or at a repair shop, though I would personally take it to a repair shop.
5. Jammed Needle
Needles are very sensitive when you are using your machine. You have to use good quality needles to avoid the possibility of damaging your sewing machine.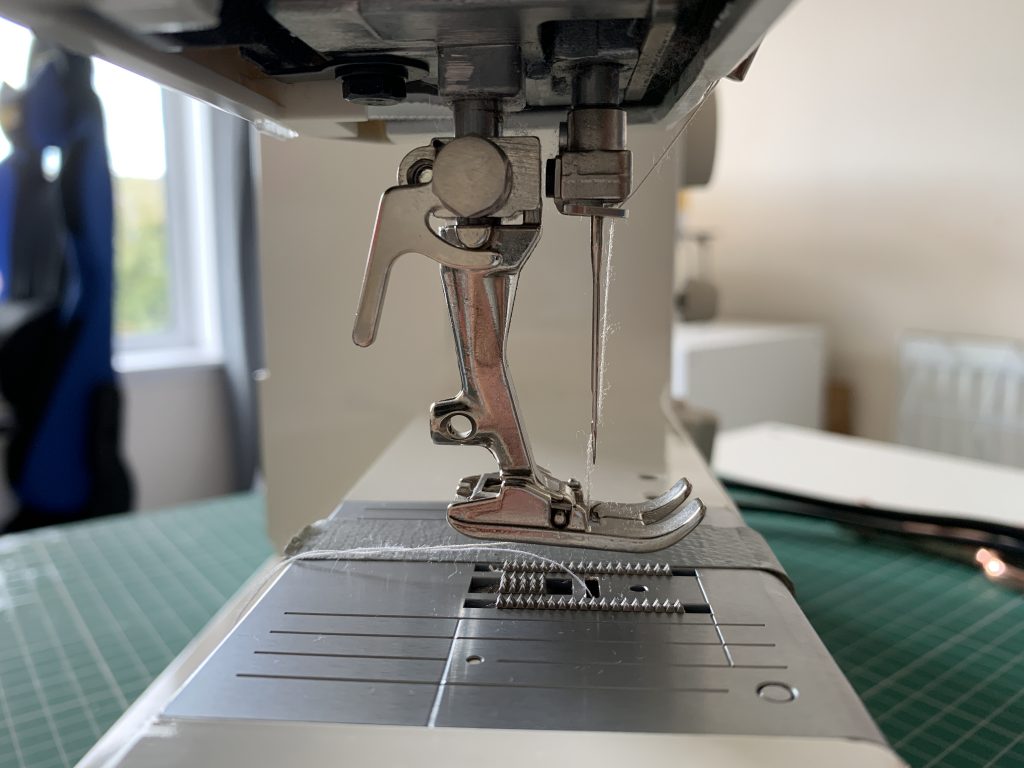 In case of a jammed needle, you should replace it for a new one. You can get new needles from as low as £4 up to £15.
6. Feed Dogs Not Working
If your feed dogs for your machine are not working, immediate repair is highly recommended. The estimated cost of repair ranges from £13 to £47.
Indeed, the cost of repairing a sewing machine depends on various significant factors. This calls for you to evaluate such factors well before taking action.
For example, you can ask yourself whether you are able to do the repairs for yourself or you have to go to a specialist. Additionally, you can check if there is a warranty on your machine to take care of the repairs.
Through this, you will know the step that you have to take to bring your machine to a place of functioning again. Repairing your machine will mean that there are parts you will need to replace for it to function properly.
The best thing to do concerning this is to compare prices from different stores so that you get the one that you are able to buy. While still on this point, it's prudent for you to ensure that you get the best quality replacements so that you don't keep on doing repairs.
Poor quality parts will end up being too costly for you. Most importantly, keep on doing regular maintenance on your sewing machine to avoid frequent repairs.