Are you looking at buying your first sewing machine? The sewing machine market can be overwhelming, often leaving people with the question "How do I choose my first sewing machine"
Sewing can be a business venture for you or just a hobby. The key is to get that main ingredient into the mix that will make the difference between succeeding in your venture and failing. This is your sewing machine, I love my sewing machine and without it, I wouldn't be able to do what I love.
The most productive way to choose your first sewing machine is to try out a couple of basic models on different brands to see which you find the easiest to use. Use the machine as much as you can on the trail to test out all the elements involved.
What To Look For In A First Sewing Machine
Here is a look at a few things you might want to look out for when choosing a sewing machine for the first time. While some of these may not be relevant when buying a brand new sewing machine such as a manual or foot pedal they are important for buying second hand.
Everything else is really handy to know and look out for when you are buying your first sewing machine.
Whether you are getting back into sewing after many years away or starting for the first time you will want to find a machine that is compatible to you and what you want to make.
Here are some quick tips and things to look for in your first sewing machine.
Easy To Thread
Whether this is an electronic threading button (some machines have this built in to save you squinting at the needle). Or just an easy to follow the route down to the needle to thread.
More modern machines have diagrams or numbered points to help you thread up your machine easily and efficiently. Avoid machines that look like they are too complicated or have too much going on just to thread it. This is the last thing you want to be stressing over when you are excited about a new project.
Smooth Sewing
If you are buying second hand this is imperative, try out the machine and do a couple of rows of stitches. It can often feel like a test drive on a car, you need to use it long enough to understand how it works and if it is in good condition.
Older machines can be just as good as the new ones but those that have not been cared for may be a little rattly and make a fair amount of noise.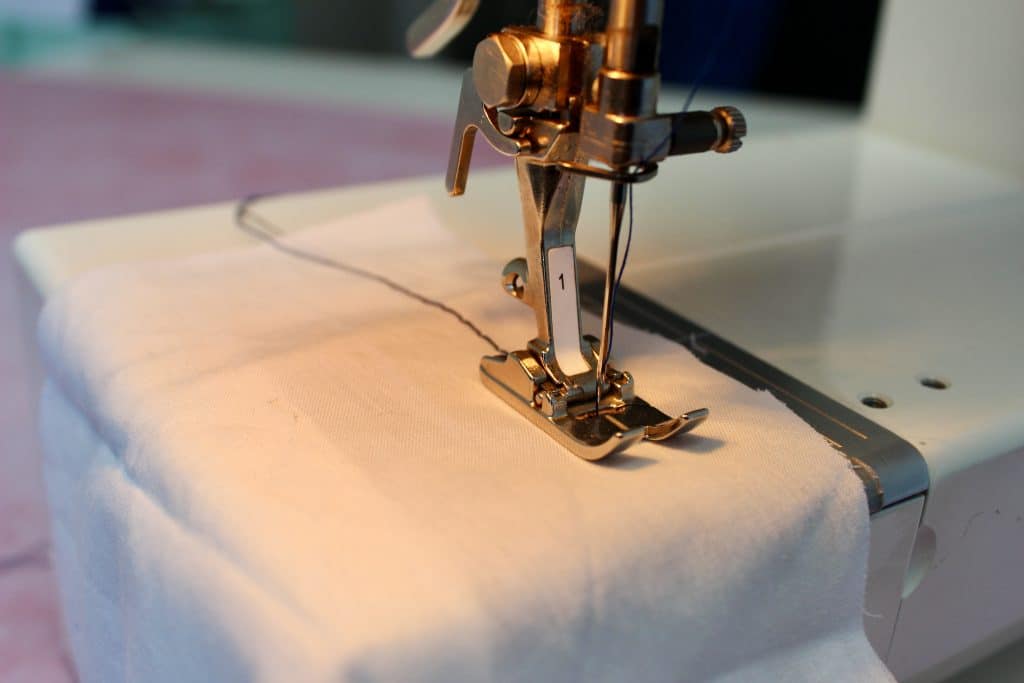 If the machine sounds too loud, sounds like it has smoked every day for eternity or just doesn't feel smooth don't buy it.
You want to be able to sew at your own speed and have very little in the way of obstacles when you get started so having a good machine is key to success and happiness.
A Manual
If you are buying second hand whether privately or from a shop you will want to look out for the manual. This can be a great source of information, especially if you have an older model machine or if you are unable to find it online.
Ask for the manual as this will have instructions on how to use it, thread it and information such as the light bulb size etc.
Varied Stitches
Something I love being able to have in a sewing machine is a good variety of stitches. When you are just getting started you might not feel like trying out all the new stitches or feel you need to build your confidence.
But once you have got a few basics down you can expand your knowledge and try new stitches. This is great if you plan to sew clothing as you can then use the number of stitches for different fabrics.
Don't worry so much about buttonhole stitch as you can accomplish this with a zigzag stitch.
Foot Pedal
If you are buying second hand make sure you have the accompanying foot pedal to the machine. They can be harder to find online and so you could have a sewing machine but no way to use it.
Make sure the foot pedal works, it is in good condition and that the wires are all still in tact and well cared for.
If you are buying brand new your foot pedal will come with the machine. If you struggle with your feet or you have a disability and have difficulties there look at trying out a couple of machines to find which may be better suited to you and your needs.
Drop-In Bobbin
Many people in the sewing community often advise a sewing machine that comes with a drop in bobbin. Especially for younger sewers as it is much easier to put in and set up.
In my opinion I don't think there is much of a difference but to someone who is completely new to sewing I can see the benefits of using a drop in bobbin.
The drop-in bobbin is clearer to see, easier to use and is perfectly helpful to beginner sewers.
The Difference Between Automatic And Manual
The difference can mean everything to a beginner to make learning easier or can confuse you too much.
While at the university there were 3 options of sewing machines- automatic, manual and industrial. You can forget about industrial, these are used in factories, theatres and manufacturers. Personally always manual.
Manual
Using a manual machine means that if you are wanting to change from a straight stitch to a zig-zag stitch you have to change it by moving the dials.
This will change the settings but you control it, you move it manually. Whereas if you are using an automatic, the stitches are already programmed in and you simply press a button and it has changed.
Automatic
You can later on if you find a stitch length or style you want to save and use again you can program this into your machine. This will act a memory and save that stitch to use again.
This is where manual lets you down as you can't save a stitch that you like, you have to take note of it or just remember. I have always chosen a manual as I like things simple, I have never been able to control too many settings and prefer to keep things as simple as possible.
What Does Every Sewing Machine Offer
A Warranty – this is to ensure the machine works well, can be returned or repaired within a time frame for no extra cost.
Needle
Standard Foot
Test thread – most machines come with a test thread to try the machine before using it.
Instructions on care and use and how to thread
A care kit – most machines come with a small brush, oil and some other care tools.
What Do You Want To Make?
When purchasing my third sewing machine (my current is a Bernina 1500) I decided to think about what I want to make, what I want to get out of my machine, do you want it to be for dressmaking, embroidery, patchwork or simply to make cushion covers?
For most of these projects, the machines can be pretty much the same or very similar as you might not need too many fancy stitches.
If you after a machine because you want to create beautiful machine embroidery you will want something completely different to someone using theirs for patchwork quilts.
I wanted mine to do a bit of everything but didn't need the machine to be too much to handle because even now I only use a handful of stitches. I always learnt on a Bernina 1500 so that was what I was comfortable with, it was second nature to me so it fit well for me.
What Can You Afford
I have spoken to a few different people during the past few months on what is the best machine to start with but I could recommend the best machine and only 1 of the few could afford it.
You have to decide on a budget you can afford and stick to it. If you find a cheap second-hand machine on eBay, gumtree or local listing, check it out.
If you aren't too sure to see if you can get a refurbished model from a sewing shop or online. It can be a scary thing and I definitely found it scary to buy my first machine.
My very first machine was Christmas presents from my sisters, the second machine was a present from my parents for university and the third was my purchase.
It was a scary thing and I decided that whatever career and job I worked I would always want to sew so I did it. There are plenty of places to find a good sewing machine, make sure you do plenty of research into the brand and the model before purchase.
What I have learned
I have spoken to many people and got many opinions over the best sewing machine for a beginner, the truth is there isn't one sewing machine that you need, to begin with.
Funnily enough, when speaking to many people that the sewing machine they learnt on at school or at home or self-taught, they stick to that machine or brand. Some said they have more than one machine and the cheapest one is their favourite.
There is no guarantee that the machine you get is going to be the perfect machine or even that the machine you love is the one for you. If in doubt join a class or go to a store and try out a machine.
Whether it is money you are worried about losing or the hassle of getting a refund source out a shop to try out machines to see what fits best
Here are a few machines that have been recommended by experts in the field:
Bernina- Any Model- "Rolls Royce of sewing machines"- Bernina 1008, these sewing machines are very popular in schools, colleges and universities. This is a great sturdy machine that can handle the bashing from a beginner. You can pick these up brand new on amazon for £519 or second hand on eBay for anything from £200 to £300.

HobbyCraft has an array of sewing machines from Singer, Janome and Brother. They range from £70 to £700.

Brother LS14.- used in teaching beginners, this sewing machine is available to buy for £69 at Hobbycraft. It comes with 14 different stitch functions, a 4 step buttonhole function and a three-year guarantee.

Lidl and Aldi often have a sewing machine available in their stores. They are more affordable and easier to pick up in the supermarket. These can often be a great break through and learning machines as they are good quality, sturdy and come at very reasonable prices.
I would recommend doing your own research and seeing what can work best for you, try out a sewing class and get used to working with a machine before buying one, visit a sewing machine retailer to test out different machines and of course, take your time deciding.
The majority of sewing machines still sell well on the second-hand market so even if you decide it isn't for you then sell it on. I hope this has been helpful to you in deciding how to pick your sewing machine and happy sewing!
Read More About Sewing Machines
Tags:
Machines