If I am honest, I struggle to follow patterns completely as I get distracted or want to change the pattern just slightly. Not every sewing pattern is going to be exactly what we want it to be, fit the way we want or even look how we expected.
Adapting and creating your own patterns is so fun but can be hard to know where to start. You might even be asking if you can create your own patterns and the answer is yes you can.
You can make your own sewing patterns by using a number of techniques from using existing clothing, drafting a pattern on a mannequin and adapting an existing pattern to suit your needs. You can use your existing clothing to trace onto paper to create duplicate patterns to use in your size.
Here are the different ways in which you can make your own clothing patterns;
Using Existing Clothing
One of the easiest and most convenient ways of making your own clothing pattern is using clothing you already wear and love the style and fit of. You can use them as they are or take the garment apart to fully understand the breakdown of the pattern pieces.
Using existing clothing is great for those looking to learn more about how their garments are made, learn more about the fabrics and to find styles and patterns that are a good fit for their body size and shape.
I found a dress in a charity sale a couple of years ago and loved the fit and style, once it was well worn and unfortunately no longer wearable I took it apart and made a copy of the pieces to use to create a new dress in the future.
Simply take the garment apart to reveal the different pieces. Before doing this use labels to pin to each visible piece so you can easily identify the pieces once the garment has been taken apart.
Iron and layout on your paper and trace the pieces, label with the dress size, pattern piece name, date made and seam allowance, cut on the fold and darts.
Using Basic Blocks
When learning fashion pattern cutting you will often use basic blocks to create your initial outlines to adjust to create what you want in terms of fit, flare, pleats and darts.
Basic blocks are life-size blocks which are in the shape of a bodice or sleeve often made from stiff cardstock material. These are used to create any and every type of bodice or sleeve style you can think of.
You can learn to draft your own to fit your measurements from courses, youtube videos or through books. Having these blocks can help you create your own sewing pattern using inspiration from clothing you own, have seen or want to create.
As the blocks are made to your measurements it can make it quicker for you to draft up a bodice or sleeve to go along with an existing project or pattern you are already working on.
What is really great is that you can then take the block and make it into a dress, jumpsuit or playsuit too.
Pattern Drafting Books
Another way to create your own clothing patterns is to using pattern drafting books. I love using drafting books for reference and helpful tips and ways to create something new.
I often like to add sleeves to dresses or collars to shirts so having a book to reference on how to make certain adjustments and add different shapes to a collar or sleeve.
There are a couple of books in which I would advise using which are all by Winifred Aldrich where you can find a wealth of knowledge on different bodice blocks, sleeves, trousers, skirts and more.
She has three books I use the most, Metric Pattern Cutting For Womenswear, Metric Pattern Cutting for Menswear and Metric Pattern Cutting for Children's wear and Babywear.
Books are often great for having everything you need to know from tools you need, best practices and helpful instructions.
Adapting Existing Sewing Patterns
As I mentioned earlier on existing sewing patterns it can be fun to use them and adapt them to suit your shape or idea. I recently used the Peppermint Magazine Peplum Top pattern and transformed it into a dress.
I adjusted the peplum part to be skirt length and added pockets. These small adjustments can mean you can transform a pattern you like, love wearing and add other parts to it.
You can take parts of a pattern you like such as the skirt, bodice or sleeves and add them to a different sewing pattern. Not all will be compatible and will often require a mock up to make sure that the pattern pieces fit together.
You can also use your favourite sewing pattern to make copies of the pieces and adapt the pattern to be more fitted, create more room, add in pleats or create a different style of leg.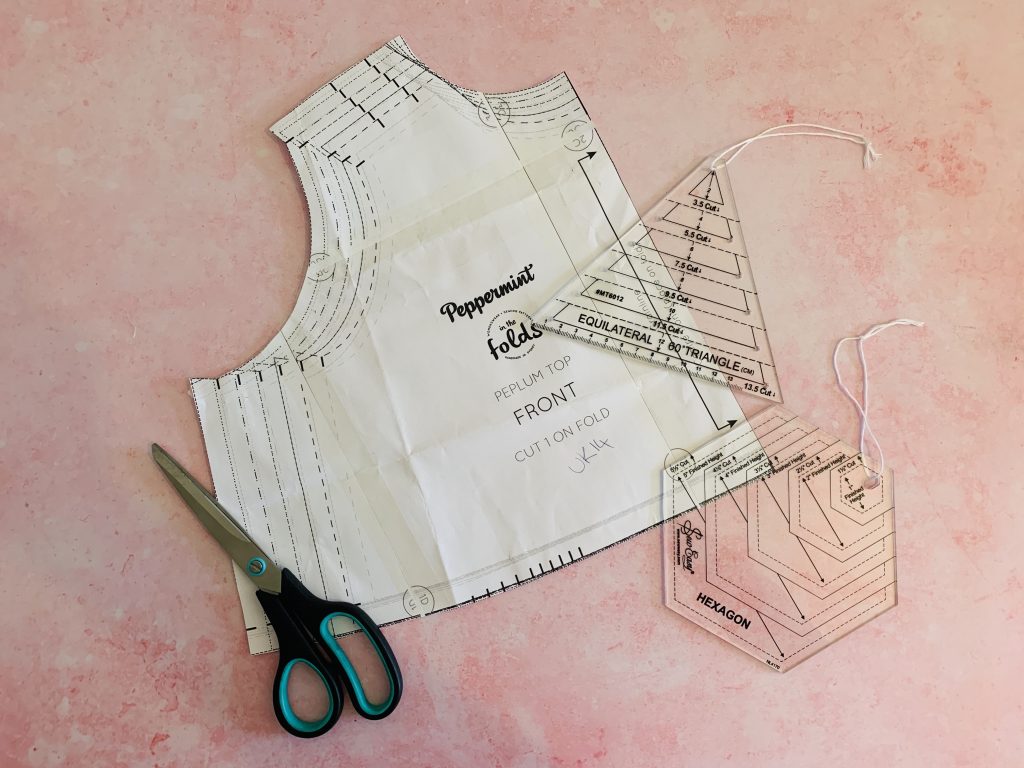 I often like to use a top pattern to convert into a dress, trousers into dungarees and dresses into jumpsuits. There are many different combinations you can create using existing patterns and it can be a great way to take your sewing skills to the next level.
Use A Dress Form
One way I learnt to draft sewing patterns while at university was to draft a pattern on a mannequin. This is better for more bespoke items, more form-fitting or for items that require quick assembly.
This is a great way of learning for people who struggle to see the flat pieces as a garment. This way you can work with a body form to create your vision and be able to see it within the 3D form.
The best way to create a pattern on a dress form is to find or create a sketch of how you want your finished garment to look like. This will help you decide where your seams will sit, how full or fitted you want it to be and where you wish to have darts or pleats.
Use strips of calico or plain cotton fabric and work with one half of the body. If you are making an asymmetrical design work with the full body to create your design. Pin your first piece down the front making sure it covers up the neck and as far down on the body you require it.
There are a number of ways you can do this, there are courses, books and youtube videos which can walk you through the different techniques and steps to take when drafting clothing on a mannequin.
Tags:
Clothes