We all come in all different shapes and sizes. Therefore, so it is only normal for there to be different sewing patterns that people can follow to make clothes they feel comfortable wearing.
The joy of sewing is that you are in control of being able to make the garment fit you, your style and you can make the adjustments to suit your needs. But it can sometimes be tricky especially if you want a pattern to get you started.
Most people find it difficult to pick patterns to sew plus-size clothes and others find it intimidating to sew the clothes themselves especially if they have a lot of unwearable clothes in their wardrobe.
To successfully sew a plus-size cloth, you should choose a sewing pattern you can work with and get the right fit.
If you are a beginner, it would make sense to avoid complex sewing patterns that might overwhelm you and make you give up on the project.
Plus size sewing patterns come in different types namely; self-drafted patterns, PDF sewing patterns, and printed paper patterns. It is easy to access PDF and printed paper sewing patterns since they are readily available online.
Popular fashion brands tend to have only paper patterns but independent pattern companies are known for making digital copies of their paper sewing patterns. There are different categories of clothes and the sewing patterns suitable for each would be listed below.
Dresses & Jumpsuits
1. Sewing Rabbit 'Trapeze' Tank Dress
This popular free digital plus size sewing pattern that goes up to XXL size is suitable for beginners because it is so easy to sew.
It is recommended to be used while working with knit fabrics to create light and airy summer dresses that you can wear in casual settings.
Find the pattern here.
2. Sew Altered Style 'Misty' Top & Dress
This PDF sewing pattern is a versatile one for woven fabrics and its size range covers people that have 58.5″ bust.
While being a beginner sewing pattern that most people can work with, it is well suited to more adventurous rookie tailors and seamstresses. The design is simple but not free and allows one to sew dresses that can either be worn for fun occasions or in the evenings.
Find the pattern here.
3. Simplicity Fitted Summer Dress 8096
You can use this plus-size sewing pattern to make summer dresses that can feature buttons, straps, collars, or princess seams (depending on how you like to make dresses). Its size will make you able to try out different length options.
Also, one can sew a fitted bodice with a pleated skirt with this sewing pattern. It works well with linen, cotton, lightweight denim, crepe, etc. fabrics.
Find the pattern here.
4. Burda Style Women's Summer Dress B6449
This sewing pattern is relaxed and gives one the option to either sewing sleeves, or cut-out sleeves. It will feature a flared and panelled skirt with an elastic waist which would provide comfort to anyone wearing it.
Also, you will be able to add in-seam pockets to the dress. It is available in UK size 20-28 (EUR size 44-52).
Find the pattern here.
Tops & Blouses
5. The Mimosa Blouse, SBCC patterns
SBCC sewing patterns are suitable for plus-size women with petite body sizes.
They have a range of sewing patterns that offer solace to people who find it difficult to shop for clothes with curvy shapes and short body lengths. They can be gotten in size 16-28 (UK.
Find the pattern here.
6. A-Line Top
This is a great choice for the summer and would be the perfect addition to your wardrobe.
The sewing pattern is free and comes with step-by-step instructions so even beginners can make lovely sleeveless tops with it. They come in UK size 26 (US size 22).
Find the pattern here.
7. Cowl Neck Poncho
This is another interesting choice. It is easy to use in making tops and can be adapted to any body shape.
One only has to do is adjust the size of the fabric they cut. This is perfect for Autumn/Winter as it is warm, versatile and can be worn with a number of other garments from trousers to jeans and even dresses.
Find the pattern here.
Trousers & Skirts
8. Burda Flared Skirt Pattern 6491
This pattern lets you make classic flared skirts in medium or maxi lengths, and give them a shaped waistband tailored to your waist size.
Suitable fabrics to use for it are lightweight wools and viscose-rayon. They are available in UK size 16–30, US size 20-34, EUR size 46-60.
Find the pattern here.
9. Cashmerette Ellis Skirt
If you are looking for a staple skirt sewing pattern with tailored back darts and fitted waistband, then look no further than here.
There are two sewing options here, as the pattern would help you sew either a knee-length jean skirt that has belt loops or a mini skirt that has diagonal pockets and topstitching.
Find the pattern here.
10. Sew Liberated Patterns: Estuary Skirt
This lovely sewing pattern which is another great choice for beginners features a convenient elastic back and a front button placket one can make with buttonholes.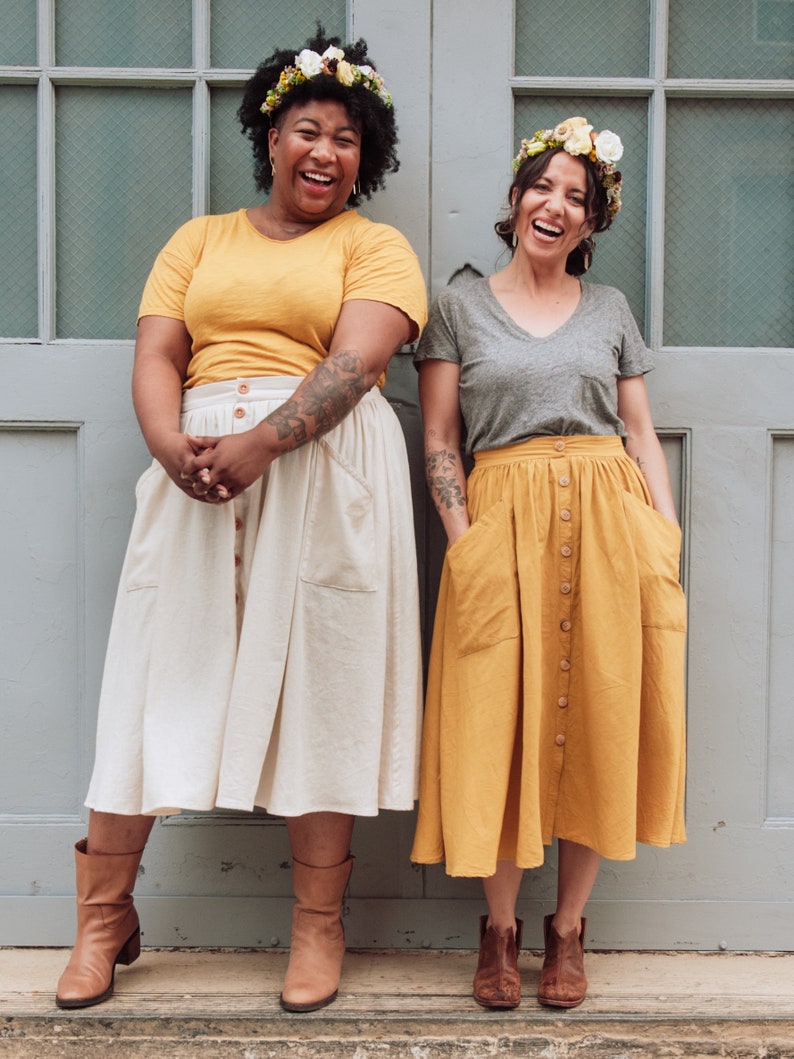 It also features large pockets that can be made as in-seam or patches and have their lengths easily adjusted to suit one's height or preference.
Find the pattern here.