Yarns are long continuous strands of interlocked fibres. They are commonly used for sewing, making textiles, weaving, ropemaking, crocheting, embroidery and knitting and other crafts.
They are either made of natural or synthetic fibres, and the two main types are spun and filament. Spun yarns can either be made of cotton or polyester.
Natural fibres that are used to make yarns are mostly cotton and linen. They are elastic, breathable and need to be handled more carefully than synthetic fabrics as they are prone to shrinking, wrinkling, stains, and fading.
The yarn one would need to make a hat is usually different from that use to make scarves and sweaters regardless of whether one would be knitting or crocheting the yarn.
Although the yarn that will be used normally depends on the design and intended pattern of the hat, it is advised that the yarn that one would use to make a hat should be finer than those used to make heavier clothing items.
Can All Yarn Be Used For Crochet & Knitting?
The two processes – crocheting and knitting – are two very different techniques that serve similar purposes. They both need good hand-eye coordination, an affinity for fibre, patience to endure the process as it can take time and a great taste in colours and design.
Also, they are both used to make sweaters, hats, blankets, toys etc. out of loops of yarn. Crocheters and knitters both use yarn to make clothing items; and yes, all the types of yarn that can be used for crochet can be also be used for knitting.
However, some yarns might be more suitable for one than the other. It is worth noting that crotchet thread is usually for delicate crochet projects that involve the use of thin crochet needles, and is not something knitters need for.
Since the two processes can use the same types of yarn, they are carried out with different tools. Crocheters use a single crochet hook to make clothing items.
The hook has a tiny curved end and comes in different sizes (from small to large). Crochet hooks can be made of aluminium, wood, steel, bone, plastic or bamboo.
Meanwhile, for knitting, one needs a pair of knitting needles that can be made of plastic, wood or metal. Sometimes, manufacturers connect the two knitting needles with a short cord and other times, they can come in sets of more than two.
Can You Use Any Size Yarn For Making Hats?
Yes, one can use any size yarn to make a hat but there would be a difference in the quality and texture of the hat. This also applies to the type of yarn used.
If one uses bulky yarn for a hat, it would have a stiff texture, and it is easy to imagine that any less bulky than that would produce a more flexible hat.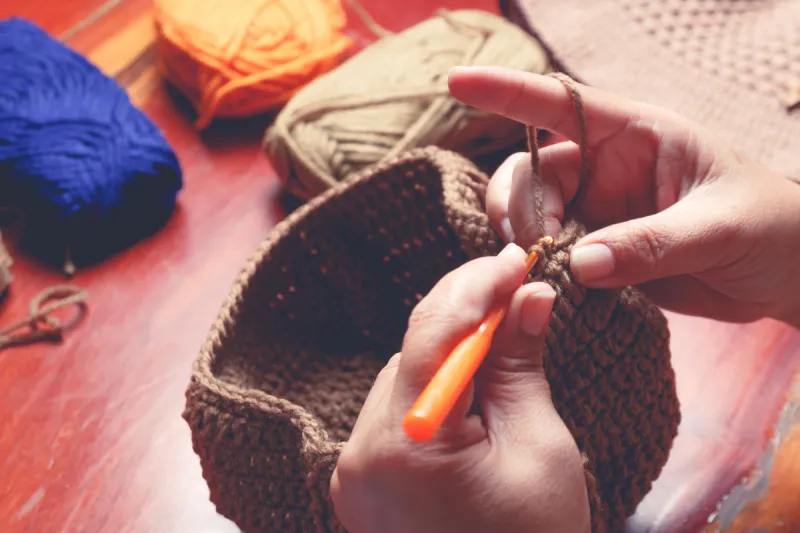 The best material for winter hats is wool yarn because woo is breathable, warm, comfortable, durable and can absorb moisture. Acrylic is less expensive and easy to wash but it can be stiffer than hats made with wool yarn.
However, one can buy yarns that are a blend of wool and acrylic so they can experience a bit of the benefit of both materials without spending so much money. Alpaca has all the advantages of acrylic yarn but it is softer.
Six Best Size Yarn for Hats
1. Bernat Softee Chunky Ombre Yarn
This yarn is made of 100% Acrylic and is ideal for crocheting or knitting hats, blankets, mittens, clothes, and scarves. It is bulky but lightweight and hats made from it are always convenient to use.
The yarn is 70m (77 yards) long, weighs about 80g (2.8z) and is a great choice for baby's hats. It is easy to wash and comes in seven different colours.
2. Lion Brand Yarn 920-219C Babysoft Yarn
This is another yarn that caters to a baby's tender skin. They come in different colour schemes; solid and printed.
The solid-coloured yarn skeins are 420m (459 yards) long and weigh 141g (5oz) while the printed yarn skeins are 336m (367 yards) long and weigh 113g (4oz). The yard is made up of a blend of Acrylic (60%) and Polyamide (40%).
This light and soft yarn can both be hand and machine washed.
3. Bernat Softee Chunky Yarn
As the name implies, the yarn is chunky but it is very soft. It comes in up to 25 different colours and is highly recommended for knitting hats.
They are surprisingly lightweight and weigh only 100g per yarn. It is 99m (108 yards) long and made up of 100% Acrylic. They are ideal for adult's hats and not fine, but chunky (as mentioned earlier) in breadth.
4. Elegant Yarns 147-58 Kaleidoscope Yarn
This 100% wool yarn comes in beautiful vivid colours that are perfect for adult's hats.
They are soft, warm and 159m (174 yards) long. Its weight is 100g (3.5oz). The hats made from this yarn are so convenient that they can be worn in both winter and fall seasons.
5. Lion Brand Wool Yarn
This yarn is made up of a blend of 80% Acrylic and 20% authentic wool. It comes in 7 different colours and is lightweight, soft and makes hats that are comfortable to wear.
It can also be used to make socks, sweaters, mittens and blankets. They are super bulky, thick and weigh 140g (5oz), 87m (95 yards) long and great for adult's hats.
6. Red Heart Super Saver Yarn
This is available in 40 solid colours and is made of 100% Acrylic. It is 333m (364 yards) long and 204g (7.2oz).
They are easy to wash either by hand or wash but they cannot be tumble dried, ironed and bleached. This yarn is used to make adult hats, blankets and sweaters etc.