10 Best Fabrics For Pyjamas & Sleepwear (2023 Guide)
Some of the links below are affiliate links. As an Amazon Associate I earn from qualifying purchases. This means that, at zero cost to you, I will earn an affiliate commission if you click through the link and finalize a purchase.
Whether you're looking to purchase a pair of pyjamas (or pajamas for my North American friends) or make some pyjamas of your own, it's important to understand the different fabrics you can use, and which might be best based on your personal circumstances.
The best fabric for pyjamas is cotton since it's soft, easy to wear and has a little stretch.
However, depending on the temperatures and you're personal preferences you may want to go with a thicker or thinner alternative.
1. Cotton
👍 Good: Versatile making it good for beginner sewing projects & available in multiple colours and prints.

👎 Bad: Not the most durable fabric available & can experience pilling or bobbling.
When it comes to the best fabric for pyjamas, cotton is my number one choice. The material is available in a variety of different formats including;
Lightweight cotton
Supima cotton
Cotton lawn
Cotton blends
As a result, you can choose the cotton that's right for you, based on your temperature requirements, personal preferences, design choices or even budget.
Being that cotton is a woven fabric it's strong and durable, which means that the pyjamas should last for years to come. Meanwhile, being that cotton is a natural fabric it's breathable, making it a good option for hot sleepers looking to get a good night's sleep.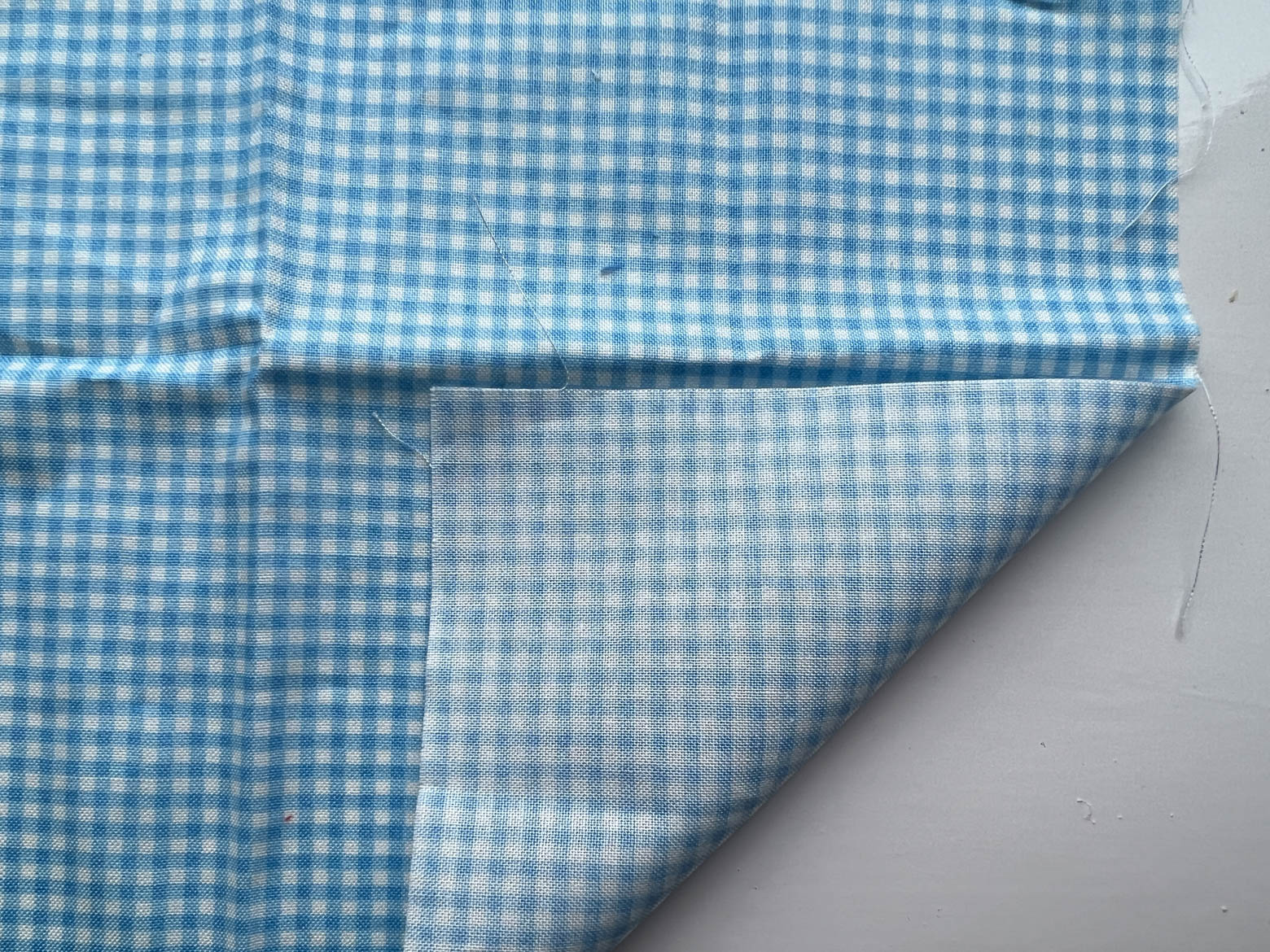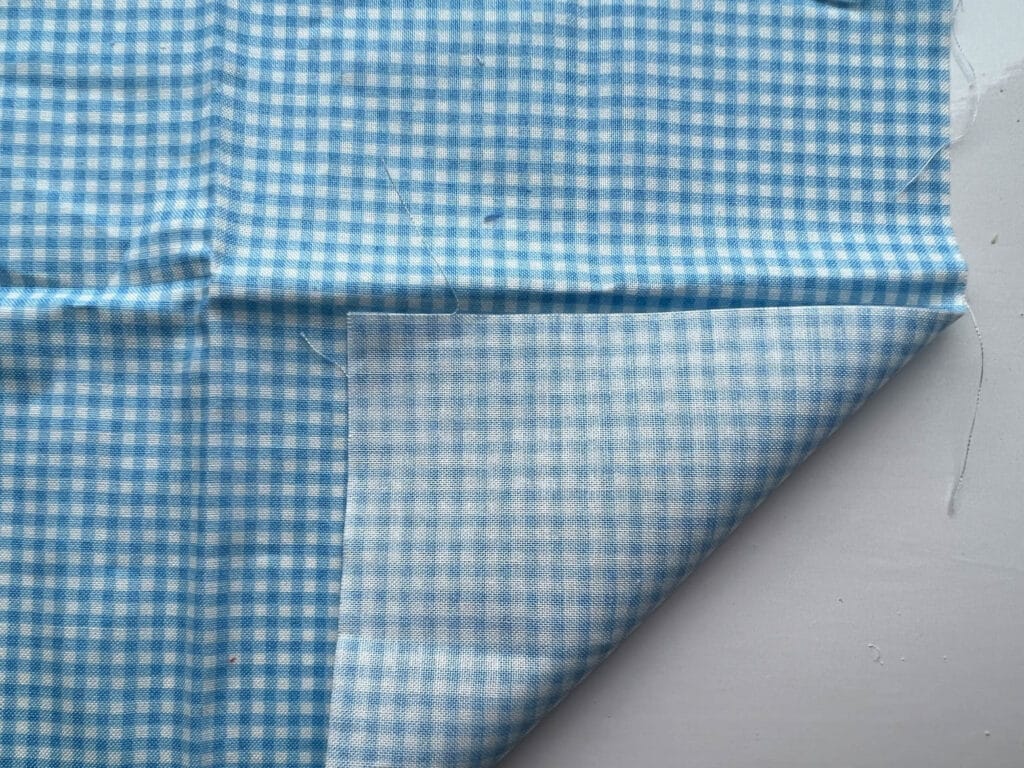 For those looking to make a set of pyjamas, cotton is a popular choice since it's readily available in craft stores, inexpensive and available in a wide range of patterns and colours.
Meanwhile, cotton is one of the easiest fabrics to sew for beginners. Subsequently, new sewists should find cotton easy to work with as it has very little movement when sewing (unless on the bias).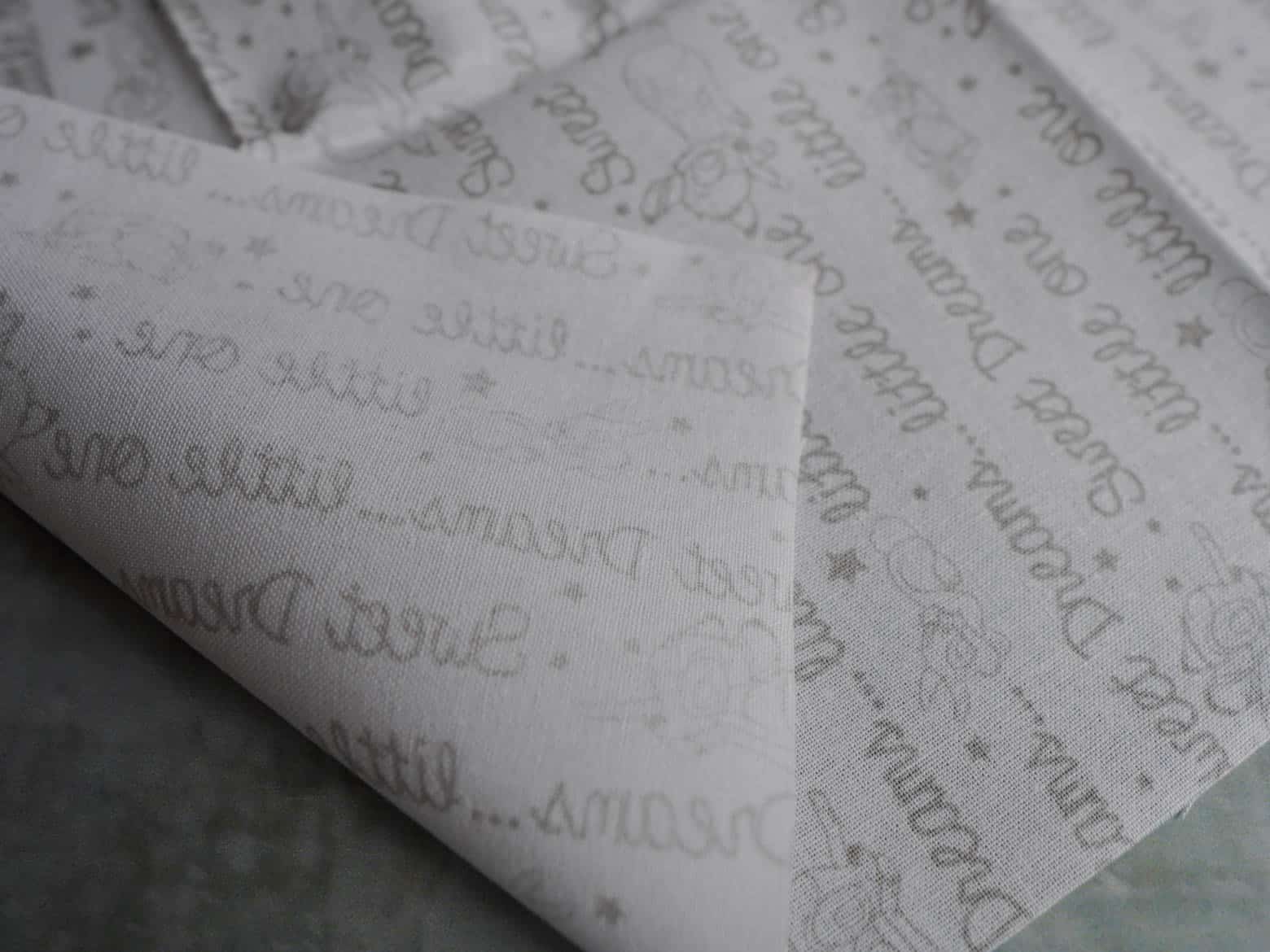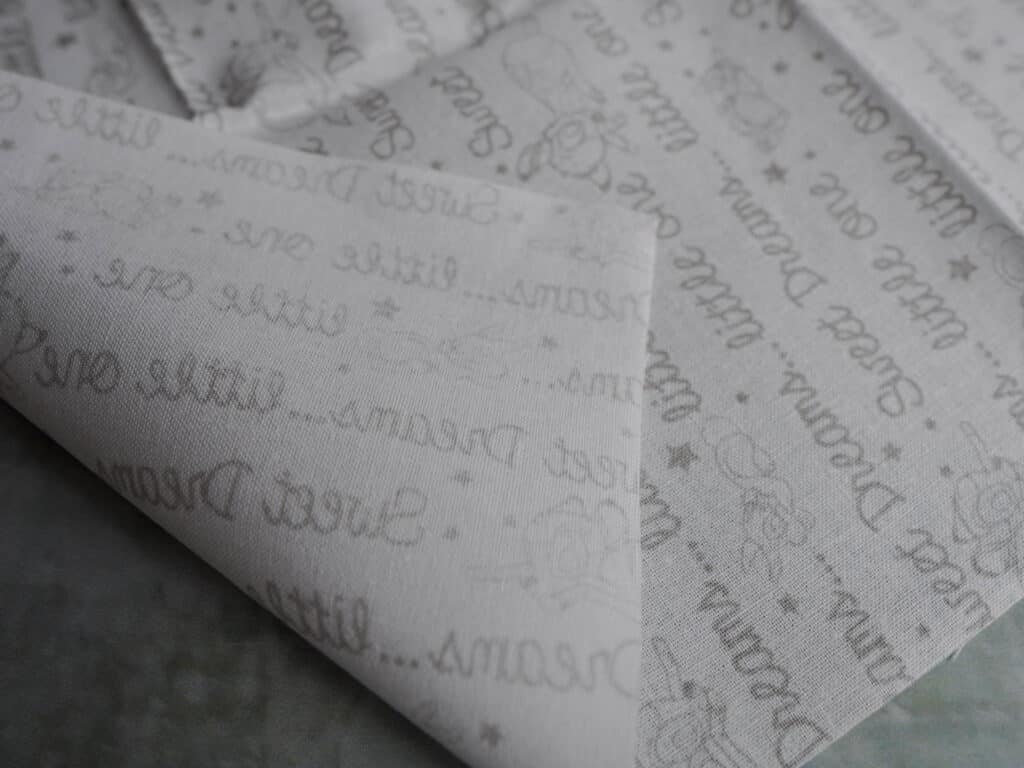 Cotton is known for its versatility and durability, but like all fabrics, it can be susceptible to damage if not cared for properly. When washing cotton, the water temperature and other factors can affect both the colour and the structure of the material.
As such it's recommended that you wash cotton items in cold water or at a maximum of 40°C or 104°F for coloured garments. However, this may need to be adjusted further depending on your cotton blend.
It's also recommended that you avoid tumble drying, especially on high heat and instead tumble dry on a low setting or line dry.
2. Silk
👍 Good: Luxuriously smooth texture & naturally hypoallergenic.

👎 Bad: Delicate, requiring special care & can be expensive.
Silk is a great choice for pyjamas if you're after comfort and a bit of luxury. Made from silkworm threads, there are a few blends of silk you might come across:
Mulberry silk
Charmeuse silk
Habotai silk
Silk satin
A big plus of silk is how it handles body temperature. Cold night? It keeps you warm. Hot night? It helps you stay cool. As such, you're more likely to have a comfortable sleep.
Silk can be found in a range of blends and a limited number of colours and prints in the vast majority of craft stores. However, it's often expensive and can easily be 5x to 20x the cost of cheaper materials such as cotton and linen.
Meanwhile, when it comes to the sewing process, silk can be a challenge to work with. The fabric is both slick and thin, making it prone to stitch-skipping. Subsequently, I only recommend making a pair of your own silk pyjamas if you're an experienced sewist.
While silk is one of the best fabrics for dressing gowns and sleepwear, the fabric is incredibly fragile and may not stand up to the same level of wear that other fabrics on this list can.
Silk is particularly susceptible to sun damage and water damage, therefore it's advisable to hand wash silk pyjamas in cold water with mild detergents, avoiding wringing or twisting which can damage its delicate natural fibers.
Meanwhile, when it comes to drying, it's best to lay the silk garment flat, away from direct sunlight to maintain its vibrancy and integrity.
3. Linen
👍 Good: Breathable and cool for hot weather & becomes softer with each wash.

👎 Bad: Wrinkles easily & can feel rough when new.
Linen is a natural fibre, derived from the flax plant and is a great fabric for pyjamas during warmer weather or for those who struggle with excess body heat.
The fabric is lightweight and incredibly breathable. However, it also wrinkles easily and some people find it uncomfortable to sleep in.
Linen is available in a variety of different blends, colours and prints in most craft stores. However, when it comes to sewing with linen, has both its benefits and its drawbacks.
As a natural woven material, linen holds stitches exceedingly well. However, the fabric can be slippery making it hard to stitch and requiring some practice.
While linen is a rather durable fabric, it still needs some special attention when washing.
Ideally, I recommend washing linen pyjamas in cooler water. However, if you do have to use a washing machine then I recommend no hotter than 40°C or 104°F, especially for coloured pieces.
Linen naturally softens over time, becoming even more comfortable with each wash. Therefore to retain the fabric's crisp appearance, it's advisable to line dry and, if desired, iron while damp.
4. Jersey Knit
👍 Good: Soft, cuddly fabric that is comfortable against skin.

👎 Bad: Can sag over time & the stretchiness may make it trickier to sew for beginners.
Jersey knit is primarily derived from cotton, rayon, or synthetic materials. Subsequently, this is one of the softest fabrics and comes with a certain elasticity that's hard to find in similar alternatives.
The fabric can be found in a variety of different blends depending on your requirements including;
Single-knit jersey
Double-knit jersey
Stretch jersey
The stretch jersey is a particular favourite for those who typically toss and turn, and are looking for a restful night's sleep.
Like most knit fabrics, jersey knit is typically available in several blends, colours and styles at most craft stores and is a favourite with new sewists as despite being stretchier than traditional woven cotton, the slinkiness can cover up sewing mistakes.
This fabric is also incredibly durable, making it relatively easy to care for. The material is machine washable, however, to ensure any jersey knit garment longevity it's best to wash in cold water, no more than 40°C or 104°F – especially if you have colours or prints.
Given its knit nature, it's also advisable to avoid excessive wringing. Tumble drying on a gentle cycle or, better yet, line drying can help maintain its original feel and appearance for longer.
5. Flannel
👍 Good: Soft, warm and cosy fabric typically made from natural materials.

👎 Bad: Can shrink when washed & may pill/bobble over time.
For those chilly nights when you're seeking a blend of both warmth and softness, flannel is the perfect choice. This thick fabric originates from wool, however, today it's often made from cotton or a blend of fabrics such as;
Cotton flannel
Wool flannel
Synthetic flannel
Ceylon flannel
Baby flannel
The different blends of flannel can reduce the cost of the material, or offer different compounds such as warmth, durability and softness.
Flannel is typically characterised by its soft, brushed surface, which creates a fuzzy texture that traps air and in turn provides warmth. This combination of softness and insulation often makes flannel the fabric of choice for cold-weather sleepwear, shirts, and even bed linens.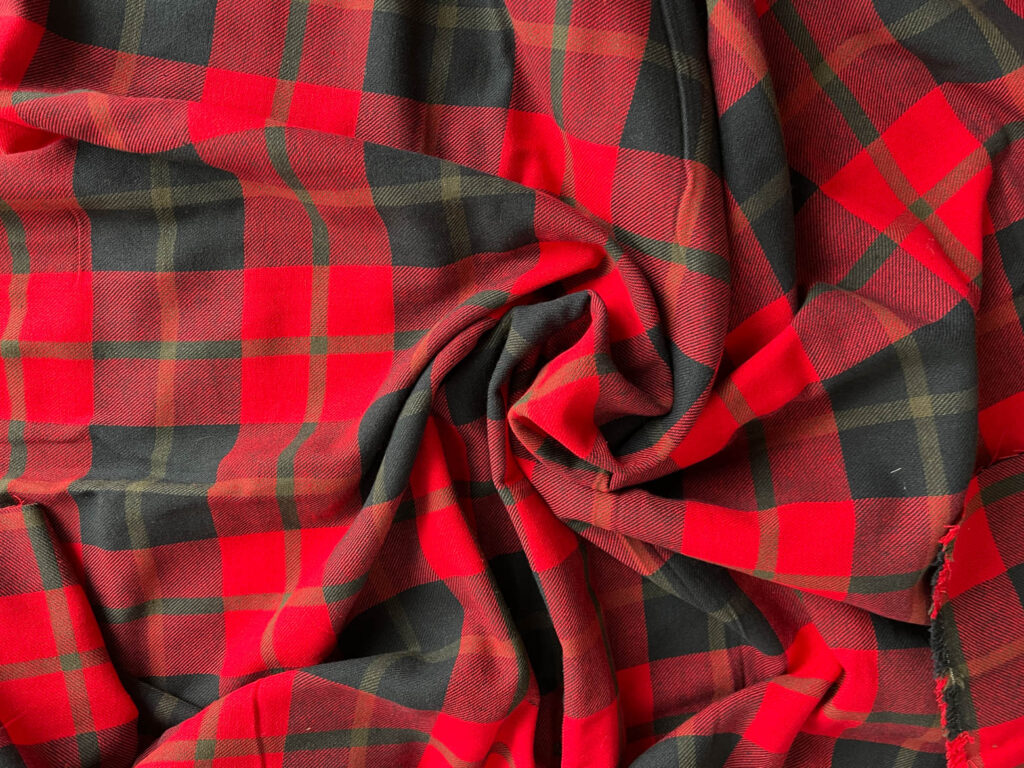 Flannel is a very popular material, and subsequently, you'll find it in a range of different blends, colours and styles in most craft stores – especially when autumn / fall comes around.
The material is also rather inexpensive, making it ideal for those looking to make a pair of pyjamas on a budget. Meanwhile, the thickness of flannel is perfect for sewing machines which typically makes it easy to work with – even for new sewists.
However, lining up the pattern can sometimes prove difficult, and the edges tend to fray. To stop the fabric edges fraying you'll need to finish them properly or use a serger to ensure longevity.
Flannel requires some basic care to maintain it's softness and structure. Personally, I recommend washing flannel garments in cool to warm water (maximum of 40°C or 104°F) since hot temperatures can cause the fabric to shrink or warp.
Tumble-drying flannel on a low setting is fine. However, air drying is in my opinion the best way to ensure that the fabric remains soft and free from any pilling.
6. French Terry
👍 Good: Soft on the inside, smooth on the outside & moisture-wicking.

👎 Bad: Can stretch out over time & not as warm as some other fabrics.
French terry is a loopback fabric that's sometimes referred to as loopback cotton. The loopback term comes from the technique of creating loops on the back of the material while keeping the top side flat.
This loopback style of fabric subsequently creates a soft, warm and cosy feel yet is still one of the most breathable fabrics making it a popular choice for sweatshirts, jogging bottoms and of course, pyjamas.
While French Terry is typically made up of 100% cotton you can find versions that are made with elastane, creating a stretch.
Of course, if you're sewing with French terry then any elastane is going to cause movement which may make the process slightly more difficult. However, this difficulty may be worthwhile if you're looking for extra comfort.
While French terry is commonly found in craft stores it's often more expensive than the likes of cotton or linen. That being said, the investment may be worthwhile if you're looking for a comfortable fabric that's designed to last.
When it comes to caring for garments made from French terry, the process is relatively easy. The material can handle low heat in both the washing and drying process, however, if you can I recommend using cold water to maintain the colour or print vibrancy and fabric structure.
Meanwhile, given the knitted nature of French terry, I recommend avoiding hanging the fabric out to dry as the heavy weight can cause the items to stretch.
7. Alpine Fleece
👍 Good: Very warm & soft, often used for outerwear.

👎 Bad: Can be bulky & might pill with frequent use.
Alpine fleece is a dual-layer fleece that is made up of a soft, fuzzy side and a microfleece. This composition provides optimal insulation while also offering a luxurious, cosy feel.
Unsurprisingly, alpine fleece is therefore an excellent fabric for winter garments such as sweatshirts, jogging bottoms and jumpers, as well as pyjamas for those looking to keep warm in colder months.
Alpine fleece is available in different styles, patterns and colours from most major craft stores. Meanwhile, sewing with the fabric can prove challenging due to its thickness. However, it isn't overly stretchy and doesn't fray.
Being a synthetic material alpine fleece maintains it's colour and form when washing well and requires little care and handling. However, due to the fabric's thick nature pyjamas made from this material can take longer to dry.
8. Polar Fleece
👍 Good: Lightweight warmth & dries quickly.

👎 Bad: Can generate static & not very breathable.
Polar fleece is an excellent choice for those looking for a soft fabric that's both warm and lightweight. This type of fleece is one of several synthetic fabrics on this list and is available in a variety of different blends depending on your personal needs.
One of the greatest benefits of polar fleece is the fabric's insulating abilities, even when wet. That's because the fabric effectively traps air in its fibres, creating a thermal barrier that keeps the cold out and the warmth in.
Unsurprisingly, this makes polar fleece a popular choice for those living in cold weather locations or experiencing cold nights during the winter months.
Those looking to make their own pyjamas with polar fleece will be pleased to know that the fabric is readily available in craft stores and is easy to work with, especially since the edges are non-fraying subsequently removing the need for hemming.
Meanwhile, the different styles and colours available make polar fleece a great option for those looking to create a unique sleepwear garment.
In terms of care, polar fleece is relatively low maintenance. The material is machine-washable and dries quickly.
However, to maintain the softness that fleece pyjamas are known for it's advisable to wash it in cold or lukewarm water and avoid using fabric softeners. I'd also recommend avoiding high heat where possible as this can damage the fabric fibers.
9. Bamboo
👍 Good: Soft, breathable, and eco-friendly & has natural anti-microbial properties.

👎 Bad: Processing can sometimes involve harmful chemicals & can be less durable than other fabrics.
When it comes to eco-conscious choices for pyjamas, bamboo fabric is often at the forefront. This fabric is derived from the bamboo plant and is available in a variety of different formats.
As such, depending on the feel and blend you require you can often get either a silky-smooth texture similar to linen, or a more robust texture similar to a loopback fabric.
The bamboo plant grows rapidly which makes the fabric a more sustainable choice than some others on this list. Meanwhile, the inherent qualities of bamboo fibres make the fabric soft to the touch and highly breathable.
Warm sleepers favour bamboo pyjamas and bed linen as the fabric naturally wicks moisture away from the body, aiding in a comfortable night's sleep.
Unfortunately, however, for those looking to make their own pyjamas, bamboo fabric isn't as prevalent as cotton or fleece. Therefore while you may find some options in large craft stores, the range is unlikely to be as extensive and the cost is likely to be higher.
Bamboo is also a slippery fabric, meaning those new to sewing may find the process significantly more challenging.
Given the construction of bamboo fabric, any bamboo garment's caring process is important. I recommend washing bamboo fabric in cool heat, and only air drying.
While you can use some temperatures both in the washing machine and in a tumble dryer it does increase the risk of damaging the garment's shape and colour.
10. Merino Wool
👍 Good: Naturally temperature-regulating & odour-resistant.

👎 Bad: Can be itchy for some people & needs special care to avoid shrinking.
In my opinion, the best material for pyjamas for those living in cooler climates is Merino wool. However, this fabric is also one of the most, if not, the most expensive on this list.
This specific type of wool originates from Merino sheep and can be found in variations such as:
Pure Merino wool
Merino blends
Superfine Merino
Ultrafine Merino
Each type of Merino wool has its advantages and disadvantages including warmth levels and softness, with specific blends of Merino often being cheaper than the pure option.
The natural crimp and elasticity of Merino wool make it a highly resilient fabric. However, its fibres are thinner than regular wool which results in garments that are not just warm, but also incredibly soft – negating that itchy feel often associated with woollen products.
Being that Merino wool is so expensive you'll struggle to find a large range stocked in smaller, independent craft stores. Instead, you'll likely need to order online or go to a major craft chain to purchase.
Meanwhile, when it comes to sewing with Merino fabric, the stretchiness can pose a challenge. However, when done right, Merino wool pyjamas should be comfortable, form-fitting garments that are designed to last for years to come.
As with all premium materials, Merino wool requires careful washing and handling. I recommend hand washing your Merino wool garments in cool water using a mild detergent.
Machine washing can be done on a gentle cycle, but always avoid high temperatures. Once the garments are washed it's recommended that you lay them flat to dry to maintain the shape and longevity.
Frequently Asked Questions
Have you still got questions about the kinds of fabrics that are best for pyjamas? Here are some of the most frequently asked questions people have.
What Fabric is Best For Pyjamas?
The best fabric for pyjamas is cotton since the material is breathable, soft, and natural, making it exceptionally comfortable for sleep.
Cotton regulates body temperature well, ensuring you don't get too hot or cold during the night and is both durable and often hypoallergenic, which is great for those with sensitive skin.
What Material Are Pyjamas Made of?
Pyjamas can be made from a variety of materials, each offering different comfort and aesthetic properties. Some common materials include:
Cotton
Flannel
Silk
Satin
Polyester
Bamboo
Modal
Jersey
Fleece
Wool
What is The Softest Material For Pyjamas?
The softest material for pyjamas is often considered to be silk. However, bamboo, modal, and certain high-quality cotton and jersey blends can also be exceptionally soft and are popular choices for sleepwear.
What is The Coolest Fabric to Sleep in?
The coolest fabric to sleep in is bamboo as the fabric is known for its ability to regulate body temperature, wick away moisture, and keep you cooler during warm nights.
Other lightweight fabrics such as cotton and linen are also a good choice for staying cool in the warmer months.