13 Best Stuffing For Draught Excluders (2023)
Some of the links below are affiliate links. As an Amazon Associate I earn from qualifying purchases. This means that, at zero cost to you, I will earn an affiliate commission if you click through the link and finalize a purchase.
In a cost of living crisis, many of us, myself included are looking at different craft projects to reduce our energy bills in the winter months, and one of the easiest, most popular, and most practical crafts is a DIY draught excluder (or draft guard / draft blocker for my North American friends).
The great thing about homemade draught excluders (or a door snake as my nana calls them) is that you don't need a sewing machine or any sewing experience to make one. I mean it helps, but it's not essential. Instead, the most essential thing for any draught excluder is the stuffing.
The best filling for a draft excluder is old clothes, rice or buckwheat hulls as these fillings create a compact space to eliminate cold air passing through.
However, there are many fillings for draught stoppers available depending on your requirements and budget. In some cases, you may even want to combine heavier fillings with a soft filling to create a nice balance in both weight and style.
1. Old Clothes
👍 Good: Affordable & readily available.

👎 Bad: May lack in weight depending on the type.
The most affordable filling for a door draught excluder is old clothing since you'll probably already have some lying around your house.
Once you've got your clothing together you'll want to shred the pieces using scissors to create long strips of fabric. This will make your draft excluder cover easier to stuff and allow you to pack the clothing tightly, making the item as efficient as possible.
Clothes can also be a great draft excluder fabric. For example, trouser legs and olf tights are often the perfect size and shape for a door and can simply be stuffed and tied together at each end by rubber bands or sewing for a quick, easy and affordable option.
However, using old clothing as a stuffing for your draft excluder will often mean that the item lacks weight. Depending on your personal preferences this may or may not be an issue.
If you would like to add some weight but want to maintain the softness and affordability that old clothes bring, consider replacing some of the clothing strips with rice, sand or dried lentils.
2. Rice
👍 Good: Easily available & conforms well to door shape.

👎 Bad: Can attract pests if not kept dry.
Another household staple that's affordable, readily available and works well as a stuffing for a DIY draught excluder is rice, and unlike old clothes, rice needs no preparation.
Simply pour the rice into the draft excluder or small plastic bags which are then placed into your draft excluder, if you're looking to minimise any potential leaks and subsequent mess.
There are several benefits to using rice as a draft excluder filling. The first is that the granular nature of rice ensures it conforms well to the shape of the door or window sill, providing a highly effective barrier against drafts.
The second is that rice is heavy which helps to keep the draught excluder in place while also making the room feel warmer. However, if you struggle to lift heavy items from the floor, then this added weight may be a drawback.
Sadly, however, rice isn't immune to drawbacks. It has the potential to attract pests if it gets damp or is left in a humid environment and, over time, rice-filled excluders can lose some of their rigidity.
3. Buckwheat Hulls
👍 Good: Sustainable & moulds well to different surfaces.

👎 Bad: May be harder to source than other fillings.
Buckwheat hulls are a lesser-known yet highly effective choice for stuffing door draught excluders. Derived from the processing of buckwheat grains, these hulls present an eco-friendly option for those mindful of their environmental footprint.
Much like rice, adding buckwheat hulls as a draught excluder filling can be done by either pouring them directly into the draught excluder or by adding them into carrier bags in small quantities to maintain the malleable benefits while also minimising the potential for leaks.
One of the standout features of buckwheat hulls is their durability. Unlike some fillers that can degrade over time, these hulls maintain their structure, ensuring long-lasting protection against drafts. They're also naturally resistant to pests, offering an added layer of peace of mind.
Sadly, there are some drawbacks to buckwheat hulls. Most notably, they are harder to source, will likely have to be purchased online, and typically come at a higher price point when compared to alternative materials on this list.
4. Fabric Scraps
👍 Good: Eco-friendly & repurposes waste.

👎 Bad: Might not provide uniform weight distribution.
If you're a regular crafter then excess fabric or unwanted fat quarter pieces are often a practical choice for stuffing door draught excluders, since you'll likely have plenty lying around.
To turn your fabric remnants into draught excluder filling, simply cut the pieces down into strips or manageable chunks. This ensures that when you fill your draught excluder, the stuffing is distributed evenly.
Given their source, fabric scraps come in a variety of textures, colours, and materials.
This allows you to potentially mix and match for optimal weight and feel. However, draught excluders filled solely with fabric scraps may sometimes lack the heft or weight that other materials provide. This can result in an excluder that moves or doesn't block breezes as well as desired.
If you find the weight to be lacking or want a more sturdy feel, consider combining fabric scraps with other items from this list, such as rice or buckwheat hulls instead.
5. Sand
👍 Good: Heavy & provides a good seal against drafts.

👎 Bad: Can be messy if the excluder leaks or tears.
Sand can be a great option as a filling for your draught excluder. Coupled with some fibres for a softer feel, it can help prevent cold draught.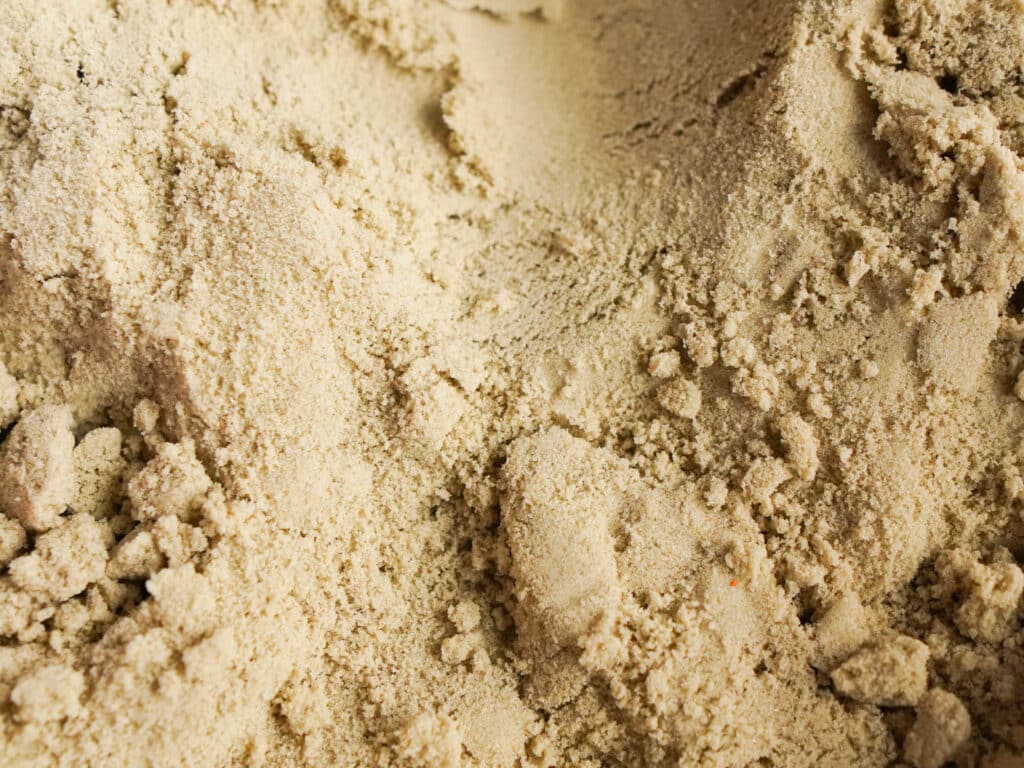 Just stuff it up in an old pair of tights before putting it into your cover. After filling the cover with sand in socks, you can use fabric fibres on top to make it feel less bumpy.
Sand is highly effective in preventing the draught from entering your home. It gives you all the weight you need without a bumpy feel. It comes out really well and smooth, giving your draught excluder an excellent rectangular shape.
6. Old Duvet
👍 Good: Soft & offers good insulation.

👎 Bad: Can be bulky & challenging to fit.
An old duvet is the perfect filling for a DIY door stop or draught excluder since it's naturally created with insulating properties, yet is still plush and soft. However, using a duvet as filler will require some preparation.
You'll want to cut or tear the duvet into strips or sections that can fit comfortably inside your draught excluder cover.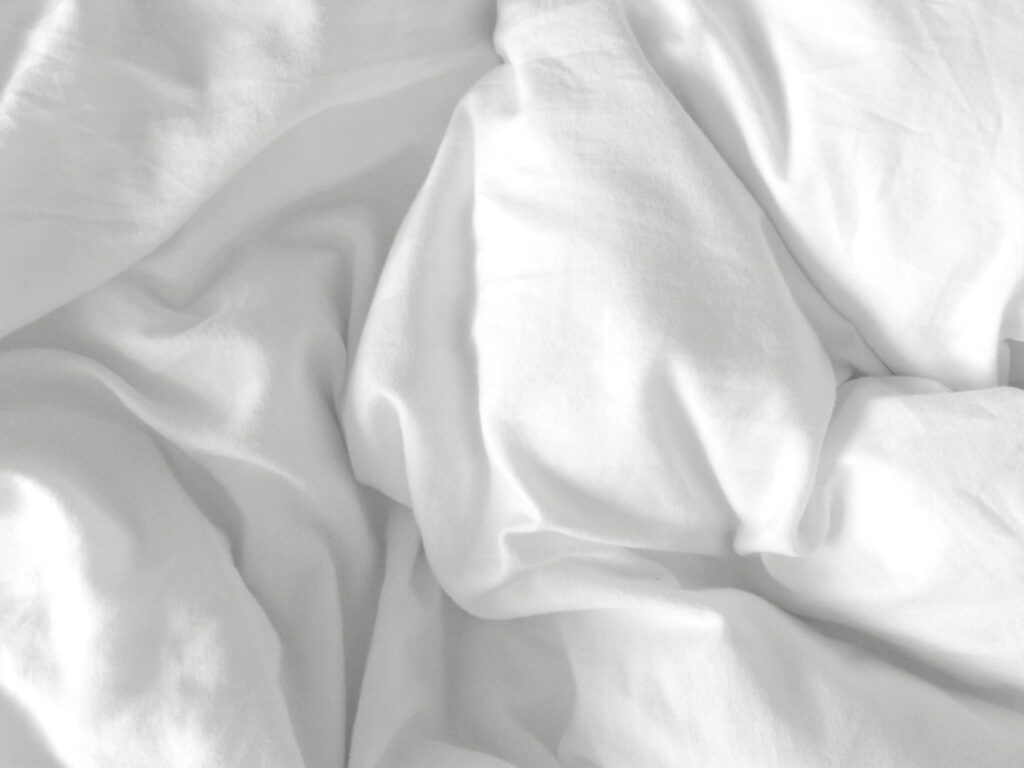 There are also some drawbacks you'll want to consider when using an old duvet as a filling for your draught excluder. The main one being that the material can absorb moisture.
It's therefore advisable not to use a door stop or draught excluder filled with an old duvet on a front door, since if this material gets wet, mould or mildew could build up inside.
7. Old Towels
👍 Good: Absorbent & easy to repurpose.

👎 Bad: May lack consistent weight distribution.
Old towels are another great, readily available and affordable filling for fabric door stops since the thickness and absorbent nature of towels make them effective in blocking drafts and ensuring a snug fit against door frames.
However, like many other recycled materials on this list, old towels will require some preparation. In this case, you'll want to either fold or cut the towels into sizes that fit seamlessly into your draught excluder cover offering an even fit across the entire width of the door.
Aside from being affordable and readily available, another prime advantage of using old towels as a draught excluder filling is their durability. Towels retain their structure over time, making them a lasting solution to draft issues. Meanwhile, their dense fabric ensures a good weight, allowing the excluder to stay firmly in place.
However, while towels are absorbent, which is great for baths, this same property can be a drawback if they get wet in their role as draught excluders, leading to potential mould or mildew concerns.
8. Kitty Litter
👍 Good: Heavy & easy to source.

👎 Bad: May clump or become dusty over time.
While I haven't actually tested this theory myself it is highly recommended by fellow bloggers and crafters everywhere. It is cheaper than some of the alternative materials and can be used in small amounts.
The cat litter element is actually quite genius in the sense that it won't create a smell, if anything it absorbs the smell and is small and easy to use.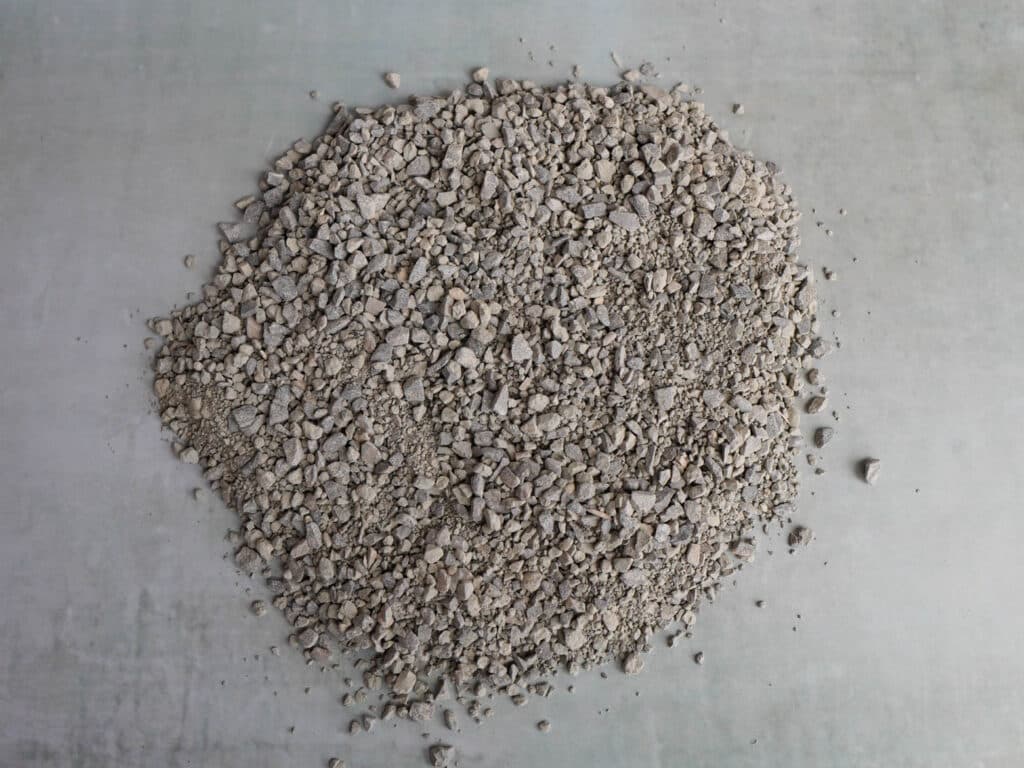 It is cheap to buy and can be highly beneficial in using for a draught excluder, I would however only use a small ratio to create the weight and use a secondary filling for the rest of the excluder.
9. Poly Pellets
👍 Good: Smooth & consistent weight distribution.

👎 Bad: Synthetic & may not be eco-friendly.
While bean bag balls or bean bag filling isn't the cheapest on the list it is a great alternative to some of the others on the list. Bean bag filling is great to work with and is easy to use, the only downside is that if they are spilt out it can be quite messy and hard to clean up.
I like to use the bean bag filling along with one of the heavier materials such as rice or dried lentils so you can still weight to hold the draught excluder in place with the softness of the bean bag filling.
10. Foam Packing Peanuts
👍 Good: Lightweight & insulating.

👎 Bad: Not biodegradable & may break down over time.
Foam peanuts are those unfortunately annoying things that often come in packages to prevent damage and you do everything you can to keep them from spreading around the house.
These are a great alternative draught excluder filling as they are easy to pack in and easy to work with.
The best part is that they are great if you just happen to have a box full sitting around doing nothing. These don't have to be the main material for the draught excluder, you can team these up with any of the heavier materials such as sand, dried lentils or rice.
11. Wadding / Polyester Fibres
👍 Good: Soft & provides plushness.

👎 Bad: Might lack necessary weight on its own.
Polyester fibres are excellent stuffing materials. They are often used to stuff teddy bears, dolls, pillows, and many other things. They are easy to access, and you can get them in almost every craft shop.
Also known as wadding or stuffing you can find it in cushions, duvets and stuffed animals. You can buy bags online or in craft stores. Alternatively, if you have a couple of old pillows or cushions you can use the filling from those.
Polyester fibres are cheap and by far the most accessible stuffing material. You can find them almost everywhere, and they do an excellent job of preventing draught into your home.
12. Dried Lentils
👍 Good: Easily available & conforms well to door shape.

👎 Bad: Can attract pests if not kept dry.
Dried lentils and beans are another great draught excluder filling though they may not always work out the cheapest. You can however buy larger quantities in the World food aisles in supermarkets.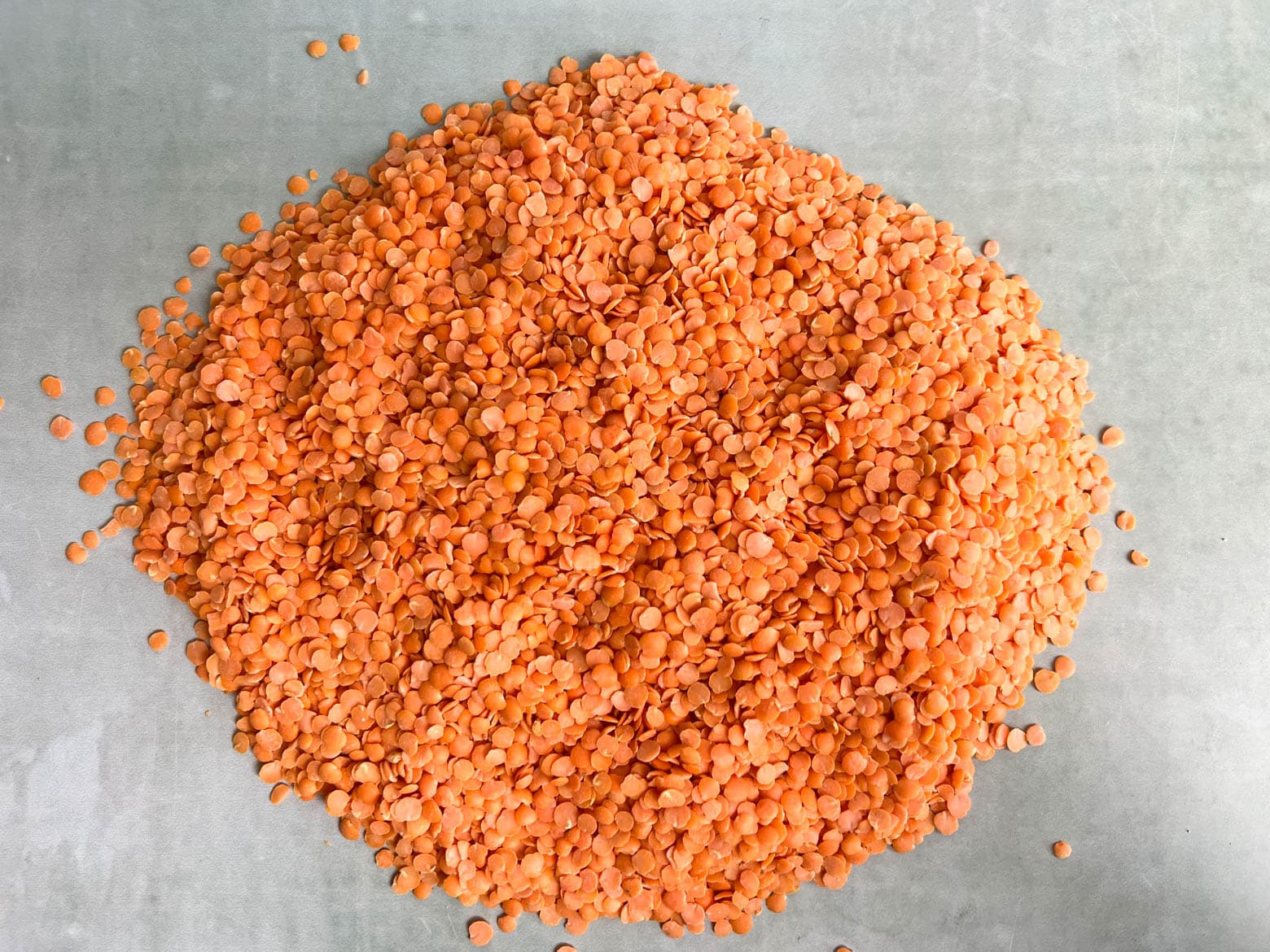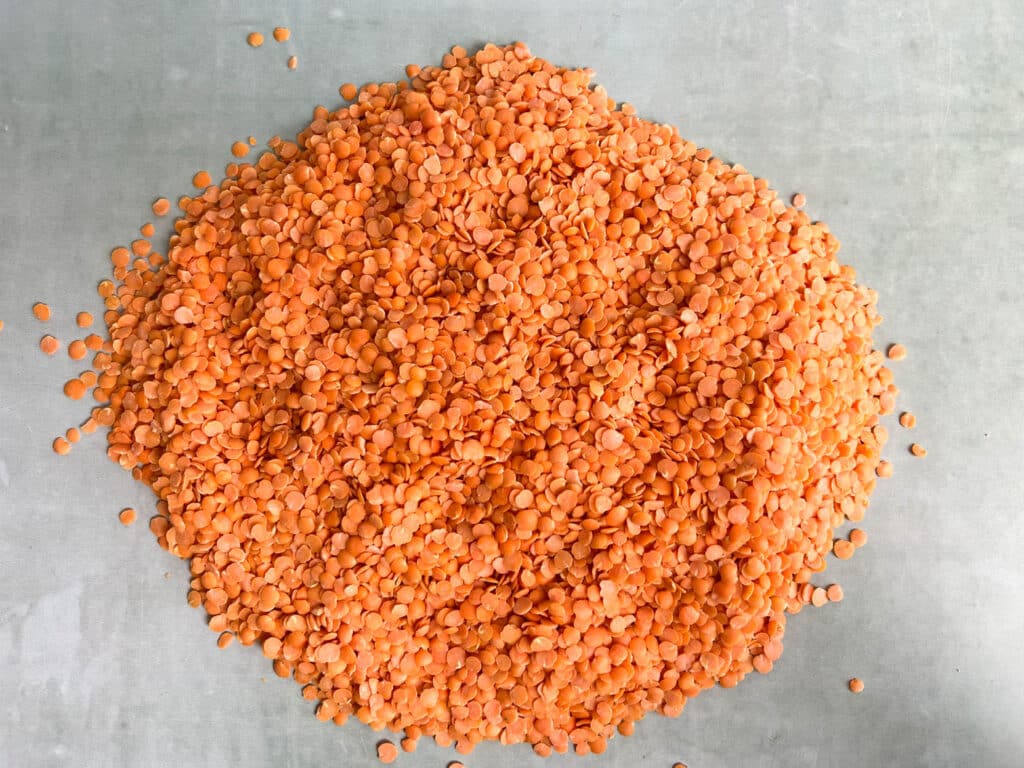 Dried lentils are a great alternative to rice, especially if you or someone you know has some lying around doing nothing.
The dried beans and lentils are much like rice in the sense that they will last a long time, not decompose and won't attract any unwanted guests to your home. It is very much a raw material and great for creating a weight within a draught excluder.
13. Bubble Wrap
👍 Good: Insulating & repurposes used material.

👎 Bad: Bubbles may pop & reduce effectiveness over time.
Bubble wrap is often associated with packaging and protection, however, the material can also be recycled from packages and is subsequently a great way to fill door draught excluders.
The air-filled bubbles offer a unique texture that conforms well to the shape of a doorway, effectively blocking drafts. However, depending on the size of your draught excluder and bubble wrap you may need to cut or fold the wrap to fit.
One advantage of using bubble wrap is that the material is lightweight, which can make the draught excluder easy to move or adjust as needed. Of course, if you'd like to add a weight, you can do so with rice or sand.
Additionally, being a plastic material, bubble wrap is also resistant to moisture, decreasing the likelihood of mould or mildew build-up if exposed to damp environments.
The only drawback to using recycled bubble wrap as a filling for your draught excluder is that over time, the bubbles may deflate which in turn will reduce the wrap's insulation properties.
Frequently Asked Questions
Have you still got questions about the best stuffing for draught excluders? Here are some of the most frequently asked questions people have.
How to Weight Down a Draught Excluder
The best way to weigh down a draft excluder is by opening a small section of the excluder's seam, removing some of the filling (where required), and adding a heavier material such as rice, sand or small pebbles.
You'll want to ensure that the new, heavier materials are evenly distributed across the long edge of your draught excluder. Then, once you're happy simply sew the open end shut using either a hand-sewing needle or a sewing machine.
How to Make a Draught Excluder
Making a draught excluder is similar to making a door stop, albeit the pattern is rectangular since it's designed to cover the width of your door.
Gather Your Materials: You'll need fabric (preferably heavy-duty or upholstery type), filling (e.g., polyester stuffing, rice, or sand), needle, thread, and scissors.
Measure Your Door: Measure the width of your door or window. Add a few centimetres to this measurement for seam allowances.
Cut The Fabric: Cut your fabric to the length of your measurement and about 20-25cm in width.
Sew The Fabric: With the right sides of the fabric together, sew along the length on both sides, leaving the ends open.
Turn Right Side Out: Once you've sewn the sides, turn the fabric right side out.
Fill: Using a funnel, pour your chosen weight or filling into the excluder. If using polyester stuffing, pack it in evenly. For added weight, mix stuffing with rice or sand.
Seal the Ends: Once filled, tuck in the open ends and hand-sew them shut. Ensure it's sewn securely to prevent any filling from leaking out.
Position: Place your draught excluder at the base of the door frame or window where the draught comes in.
Best Material For a Draught Excluder
The best material for a draught excluder is heavy-duty fabrics such as upholstery fabric, canvas, and heavy-weight cotton.
However, depending on your budget and personal preferences, you may be able to opt for other materials such as old tights, an old cushion, old woolly jumper sleeves, or an old pair of trousers instead.