8 Best Fillings For a DIY Door Stopper (2023)
Some of the links below are affiliate links. As an Amazon Associate I earn from qualifying purchases. This means that, at zero cost to you, I will earn an affiliate commission if you click through the link and finalize a purchase.
Fabric door stops are a simple and practical craft that can be made either easy or difficult depending on your skills as a sewist and make for a great gift. However, one thing you'll need to consider when making a doorstop is which filling is best for you to use.
Sand is the best filling for a doorstop. It's easily available, provides substantial weight, and is versatile enough for various doorstop designs. When encased in a tightly woven fabric or container, it offers stability without leakage concerns.
That being said, there are plenty of other fillings you could consider when creating a doorstop that may work better depending on your needs and preferences.
1. Sand
👍 Good: Affordable and readily available from DIY and craft stores.

👎 Bad: Could leak through fabric door stops if not sealed correctly.
In my experience, the best door stop filler is sand since it provides a substantial weight from a small volume, and is also relatively affordable and easy to purchase from the majority of DIY and craft stores.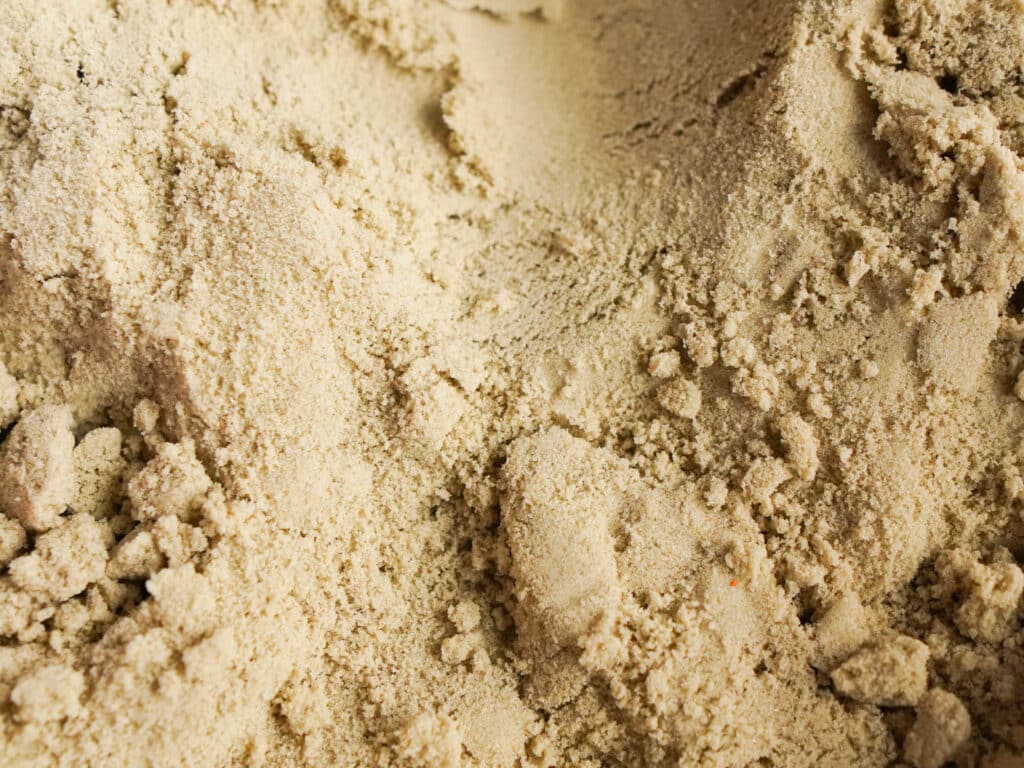 The sand can be used as a filling for homemade door stops that are used both indoors and outdoors and is ideal for decorative door stopper designs since the sand can easily be moved into small creases within the fabric.
However, it's important to place the sand in a seal-tight bag before placing it inside the fabric of your doorstop to prevent the small sand fibres from leaking through the weaves of the fabric.
2. Kitty Litter
👍 Good: Absorbs moisture which can help prevent mold or mildew buildup & readily available from most supermarkets and pet stores.

👎 Bad: Clumping varieties might harden over time or with moisture.
A surprisingly effective door stop filler often overlooked is kitty litter. Given its granulated texture, it offers a good weight without requiring a large volume, making it a great choice for door stops.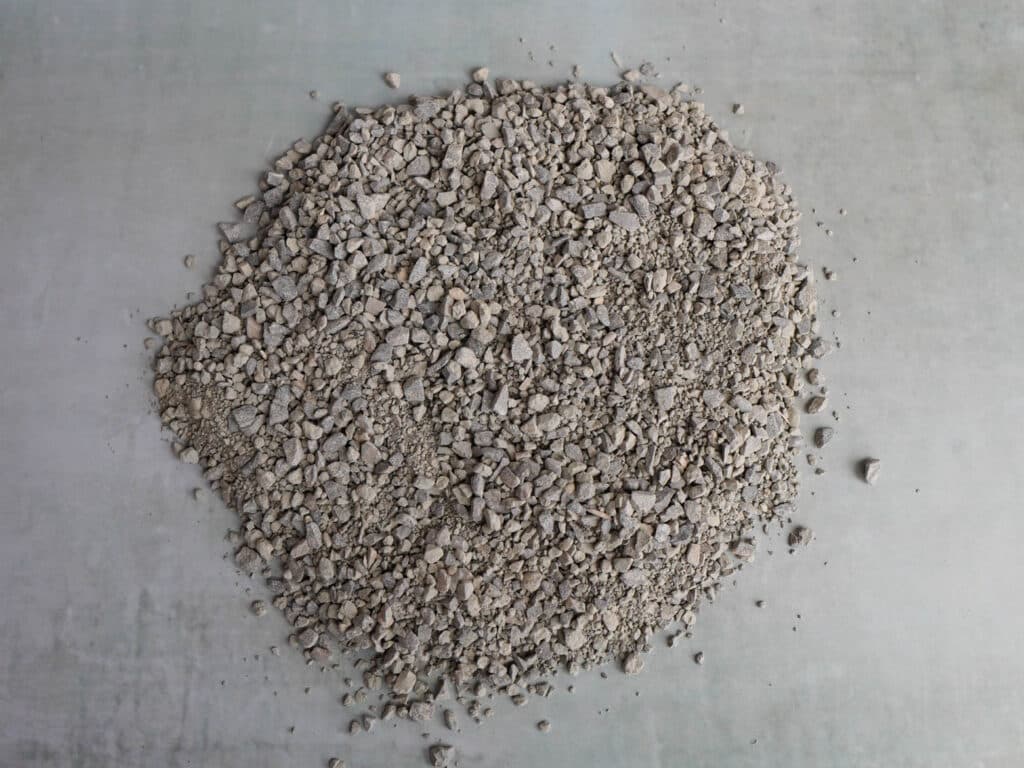 This unique door stopper filling can be purchased from most pet stores and supermarkets and is often very affordable. However, kitty litter door stops can only be used on interior doors as typically the material clumps together when it comes into contact with moisture.
Similar to sand, I'd recommend placing the litter into a tightly sealed bag prior to placing it within the door stop fabric as this should help to prevent any potential dust or granules from seeping through the fabric weaves.
3. Plastic Beads
👍 Good: Lightweight and moldable to the shape of the door, plus doesn't degrade over time.

👎 Bad: Can be a choking hazard if leaked and found by children or pets.
Plastic beads are a great filling for doorstops as they are durable, weighted and fairly easy to use.
More commonly known for use in items such as teddy bears, bean bags and weighted blankets, these are also great for use in doorstops.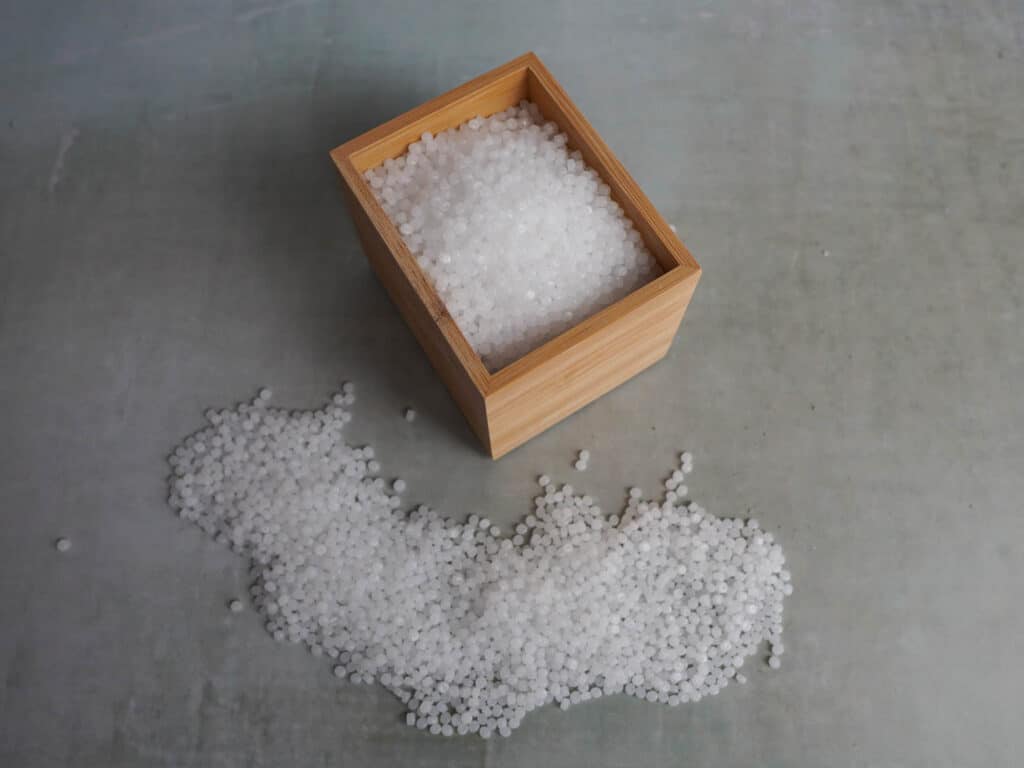 One of the biggest benefits is they won't create any unnecessary smells and won't attract bugs or mice. Which in some homes and areas is a necessary quality to have.
As these are one of the most expensive fillings on the list I would suggest using only a small amount to create enough weight in the bottom half of your doorstop and then using an alternative material for the rest.
The rest of the doorstop filling can then be soft polyester stuffing or wadding.
4. Rice
👍 Good: Easily accessible & affordable whilst also offering good weight and structure.

👎 Bad: Can attract pests if not sealed properly & might mould or rot if exposed to moisture.
Rice is probably one of the more commonly used doorstop filling. Used in the right way with a plastic bag lining to hold the rice in place this makes for a great filling.
It is cheap to buy, easy to use and not too heavy or messy. Rice is also readily available in supermarkets and local stores so if you are working on a whim you can get hold of it pretty quickly.
Rice is also a great filler for patterns weights and pin cushions along with draught excluders.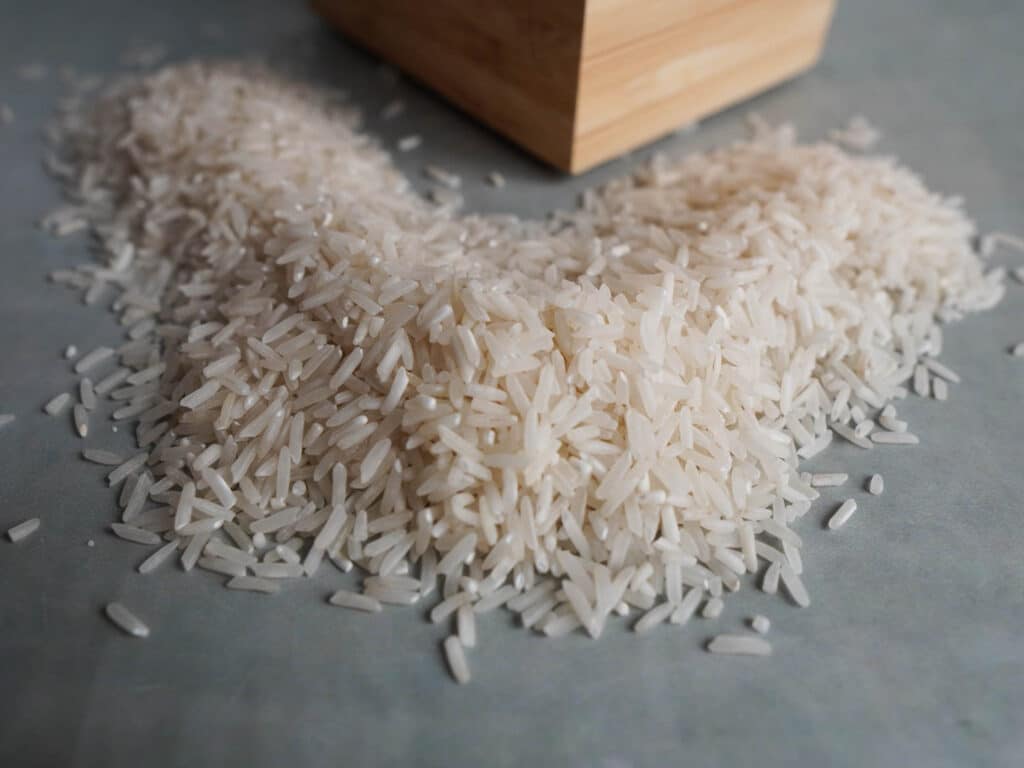 While rice is a great filling it may not last as long as some of the alternatives such as plastic beads or pebble gravel. This is due to it being a food item and may attract unwanted guests such as mice or bugs.
I haven't found any information to say it would but a great way of getting around that would be to create pockets using resealable food bags and containing the rice that way.
You can then layer the bags in the doorstop shell and have safe knowledge knowing it is contained and safe in the bag. If you have pets double check how they react to the rice before using it.
5. Pebble Gravel
👍 Good: Very durable and long-lasting, ideal for large doors that require a heavy door stop weight.

👎 Bad: Hard edges might wear through the door stops fabric or material faster.
This is one of the stranger fillings to use but I feel it is worthwhile exploring. This doorstop filling is easy to get hold of – local garden centres will sell it. It is cheap enough to buy and it is long-lasting.
I love the idea of using the pebble gravel as it is small enough to handle and work with, you can use small amounts at a time and it is mess-free. You can easily transfer the pebbles using a cup, ladle or even pour them into the structure.
If you want to have a soft-looking door stop then consider using pebbles at the base and add stuffing around the edges.
You can use a small amount of wadding at the base, sides, and tops to give the doorstop a softer edge, better for families with smaller children and kinder on floors.
6. Polyester Stuffing
👍 Good: Lightweight and soft, poses minimal risk of damage to floors or doors.

👎 Bad: The lightweightness might make it not as effective for heavier doors.
While this isn't the heaviest material and solely used alone it won't stop any door from moving I still feel it is a valuable doorstop filling. Many doorstops are made with dual materials to help cut down costs and also great a better weight distribution.
This is where I feel polyester stuffing is useful, it is cheap to buy and easy to use. Alternatively, you can use an old cushion or duvet and simply pull out the wadding from the inside.
You can create a base of heavier materials such as pebbles, rice or plastic beads and top up the rest with stuffing.
7. Dried Lentils & Beans
👍 Good: Easily available & offers a good weight.

👎 Bad: Can attract pests if not sealed properly.
Dried Lentils and bean is another common filling that is both cheap and easy to use. It is a popular choice for many weighted projects from stuffed animals to draught excluders.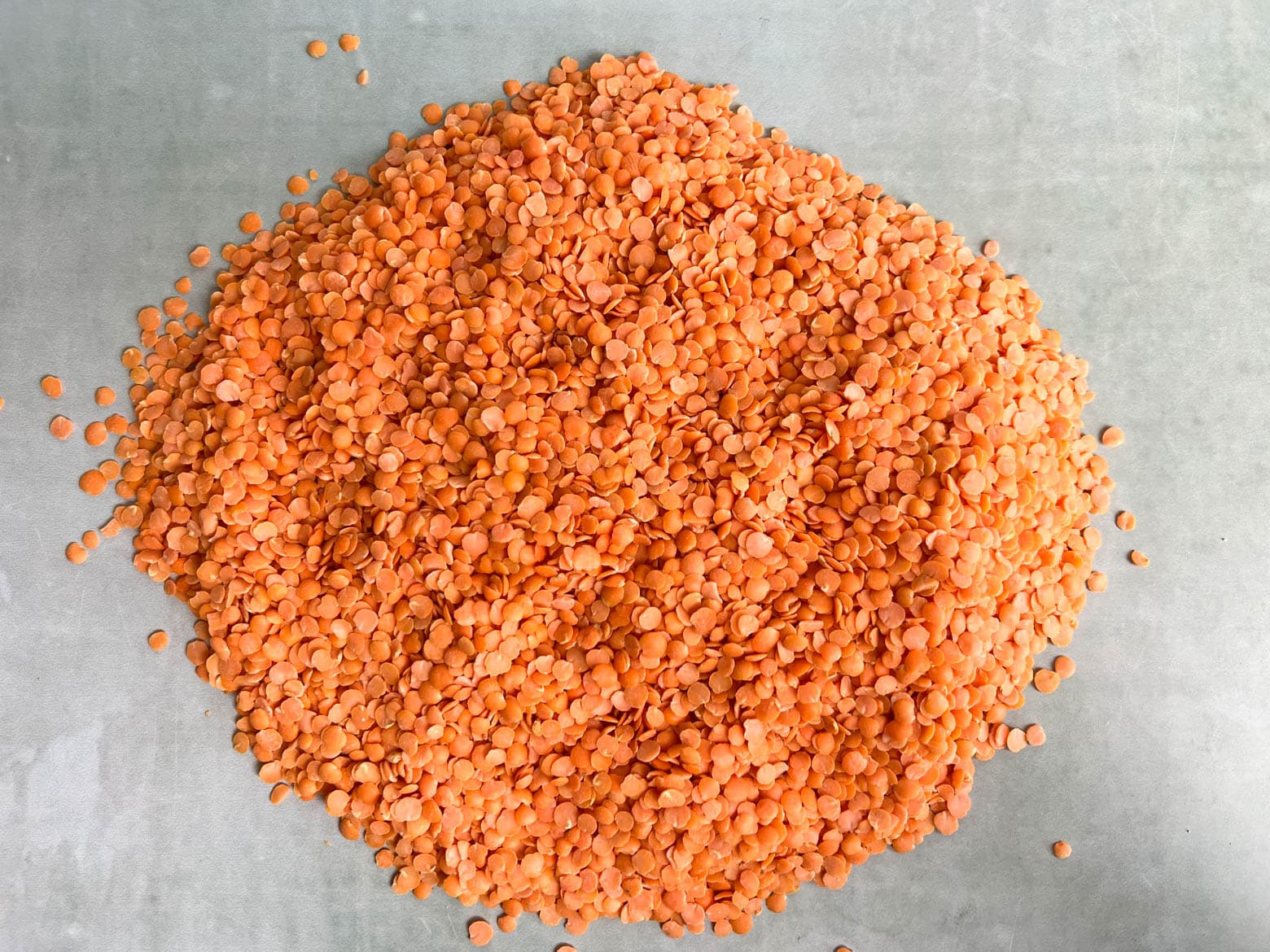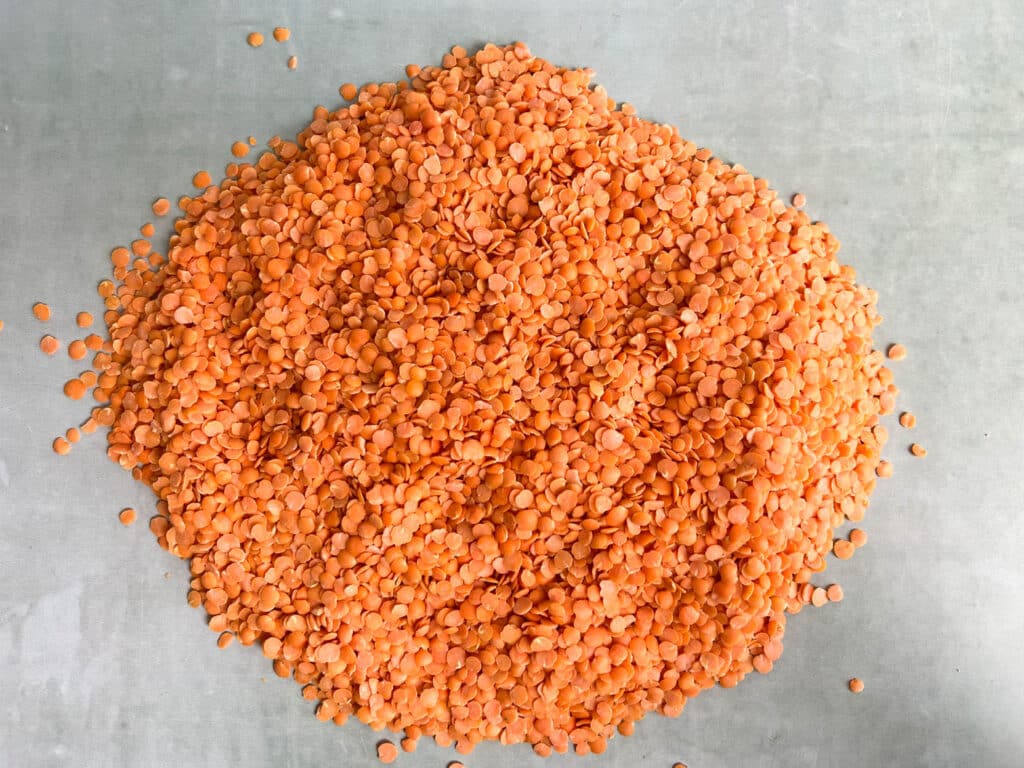 Lentils can be found and bought online, in supermarkets and in local greengrocers. You can often find them in larger bags on the world food aisles which may work out cheaper in the long run if you plan to make a few doorstops.
My only advice would be to make sure your doorstop isn't going to get wet as this can cause the lentils and beans to mould. I would use a plastic bag to house them in, alternatively, you can use a plastic-coated material for the base.
8. Bricks
👍 Good: Extremely durable and can provide significant weight.

👎 Bad: Hard and can cause damage to doors or floors if not covered or cushioned properly.
Many people who have made doorstops on a budget have simply used a brick from the back garden. It is far from the most luxurious of fillings but it is very cost-effective and simple.
You can simply wrap it thoroughly with polyester stuffing or wadding to create a cushioned look and to create a soft barrier for toes.
You can then place the covered brick inside the doorstop shell and sew it up. I would advise using alternative fillings if you have children.
That is everything on my guide to the best doorstop fillings. If you have used one of the fillings above and have any notes on it or any recommendations I would love to know.
Frequently Asked Questions
Have you still got questions about the best door stop fillings? Here are some of the most frequently asked questions people have.
What to Use For Door Stop Filling?
The best door stop filling is sand since it's readily available, provides substantial weight, and is versatile enough for various doorstop designs.
However, you can also use kitty litter, plastic beads or pellets, rice, pebbles or gravel, polyester stuffing, dried lentils & beans, metal or lead shot, bricks or concrete, as well as recycled materials like old clothes or fabric scraps
How Heavy Should a Door Stop Be?
For most interior doors, a door stop weighing between 1 to 2 pounds is usually sufficient. However, for exterior doors, you'll want a weight of between 3 and 10 pounds. This ensures the door remains in place, especially if there's wind or drafts.
How to Make a Weighted Door Stop?
If you're happy with a cube design then sewing a fabric door stop is an easy DIY for most new sewists.
You'll simply need to cut the squares to the desired size, pin them and then sew three sides together, leaving one side open for your filler. Once you've added your filler you can sew the final piece in place.