6 Best Ways To Store Scrap Fabric
Some of the links below are affiliate links. As an Amazon Associate I earn from qualifying purchases. This means that, at zero cost to you, I will earn an affiliate commission if you click through the link and finalize a purchase.
Though not many people will use up scraps of fabric they can be used for so many different objects. Though having a tidy sewing room can be very important to make life easier. That is why I decided to give you plenty of ideas on the best way to store fabric scraps.
There is no shame in saving fabric scraps, you paid for the fabric so you might as well get as much as you can from it. There is also plenty of other good reasons for making the most of your fabric scraps.
You can use them for a number of things from new and exciting projects, patching up items or even using them as a stuffing for a soft toy.
6 Best Ways To Organise Fabric Scraps
Anyone who has any kind of craft passion and hobby will know the phrase "but it might come in useful one day" all too well. I must say it to my wife daily!
Fabric scraps are often something I can really hold on to and for good reason as I often find I use them for small projects and accents to projects I am working on.
Though you might have an inkling of what you have available, you might struggle to find it in the mass of scraps. What I found was I knew I had a piece of that beautiful red floral print that matches that dress I have but I it would take forever to find it.
In the end I decided to get my sewing room in gear and organise my fabric scraps. That way when I came to use them, they were easy to find, easy to see and made the process 1000% less stressful.
Here are my top 6 ways to organise fabric scraps.
1. By Colour
This is probably one of the easiest ways to organise fabric scraps. This is also really handy if you plan to make something that relies on the same colours. It can be a great way to store fabric scraps as it looks pretty and easy to organise.
I find this way of storing fabric scraps really fun, useful and attractive. This is one of the best ways to organise fabric scraps as you can find the colour and piece you know you have fast and easily.
You can then take your colour co-ordinated piles and place them into jars, baskets, boxes or bags and use at your leisure.
If you are just getting started on organising your fabric scraps and you don't have the space for individual colour jars, look at splitting the colours into warm and cold colours to start.
2. In Glass Jars
If like me you plan to use up your fabric scraps regularly you might not want to store them anywhere too permanent. I like to keep mine on top of my Ikea Kallax so I can get to them when I want and they look pretty too.
I often use an empty jar to store fabric scraps if they are smaller amounts. This is perfect if you have lots of little bits and you don't necessarily know if they would fold neatly or stay put in a tidy basket.
I found glass jars better than plastic as they are easy to use, they are clear and they don't leave any residue on your fabric scraps. Be careful not to sit your jars anywhere near a window or in direct sunlight as this will cause the fabrics to fade in colour.
3. Store In A Basket
If I have scraps that are a little larger and can be folded into a neat square I will place them into a basket.
If you find that there are pieces that would be too small to put with your fat quarters but too large to put into your real small scrappy pieces, you can create a second space.
This space can be a basket or box, depending on what you have available. I like to use baskets as I like to be in and out of them and using the fabric scraps quite often. This is perfect for anyone that uses their scraps weekly at the least.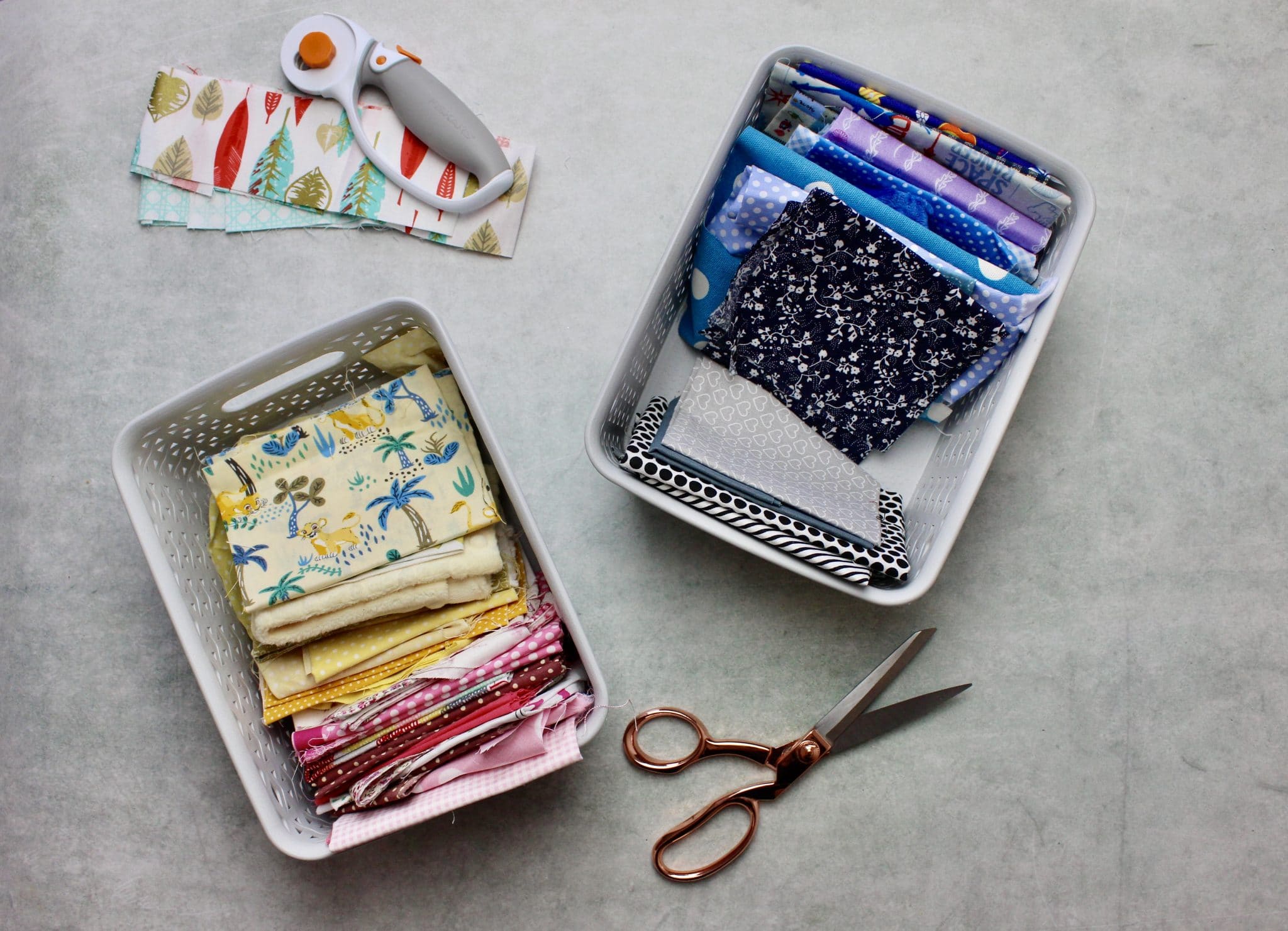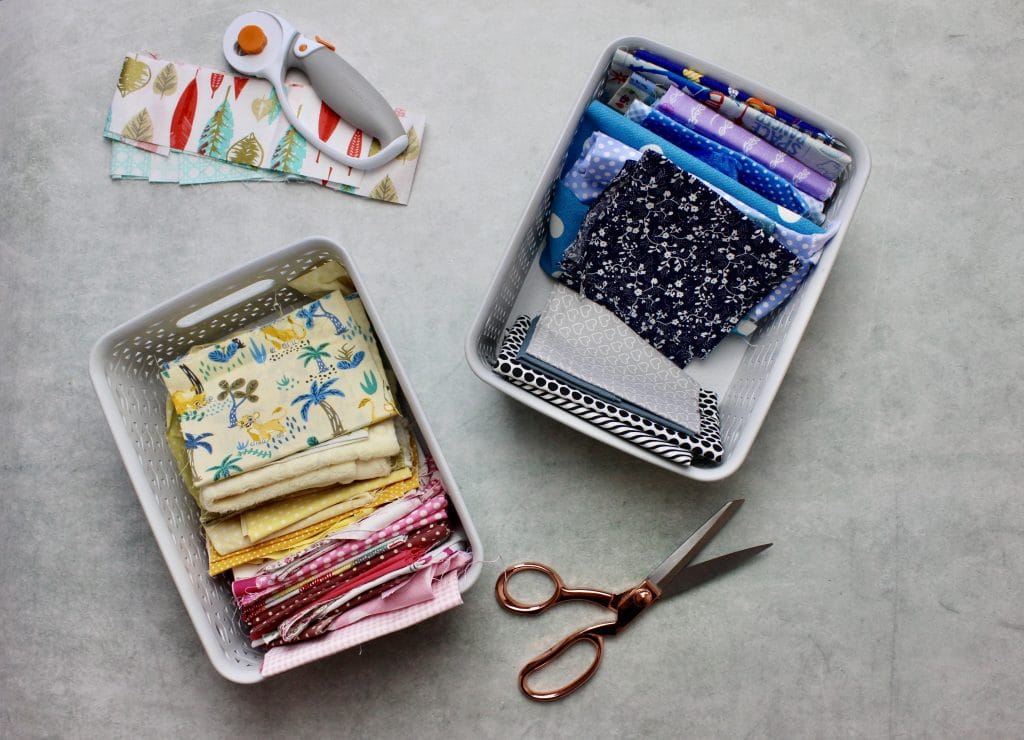 This organisation technique is great for anyone looking to be more uniformed and have dedicated boxes for each of their craft items. I found using Really Useful Boxes fit well into a Kallax space and stack nicely on top of each other.
Boxes are also a better solution if you don't plan to use your scraps often and want to preserve the colours and stop any dust from getting into the fabrics.
4. Organise By Size
While this may sound a little strange it actually makes perfect sense, or at least it will when I am finished. Depending on your real reason for keeping fabrics scraps and your intentions to use them will depend on how you use this technique.
If you are primarily storing your fabric scraps for patchwork and quilt making you might want to look at creating a set of 2-3 sizes in which you would use on a quilt.
Think about when you buy charm packs, fat quarters and jelly rolls. They are all pre-cut fabrics that are the same width and length. The hard work is already done so you can take those and make them into beautiful quilt.
You can do the same to your scrap pieces, have 2-4 templates of sizes you will use and whenever you have collected together a bundle of scraps, go through each one and use one of the templates to cut around.
Doing this gives you a stack of uniformed sized pieces ready to use and then you can slowly work on creating a colourway or design with your scraps. I love this idea as it really gives the scraps a purpose before you even start the project.
Store them in plastic sealable bags or in stacks in boxes ready to be used.
5. Organise Into Drawers
Drawers are a dream in any space as they open quickly, you can throw things in and shut them away again in seconds. They are also a great way to store craft supplies and use the vertical space in a room.
You can use any size drawers you want from small desktop drawers to full size chest of drawers (though if you are hoarding that much I suspect you should use up some scraps before collecting anymore!)
I like the idea of finding a set that sit nicely to one side of your desk or even under your desk for easy use. I use the Alex drawers from Ikea at my desk side and they have 2 different size drawers where I can store a number of things.
The positive thing about using drawers is that you can kind of be as untidy as you like or as tidy as you like. You can organise by colour and then again by size or you can simply create a colour way in each draw to make it easier to find what you need.
6. Keep Co-Ordinating Fabrics Together
If you are buying a lot of pre-packed fabrics such as jelly rolls, charm packs and fat quarters you might want to keep the co-ordinating fabrics together. This won't just be useful when your done with the project but when you come to start another with the scraps.
This can be especially useful if you have a particular designer or print named pack in which you want to keep together.
Keeping the colour ways and co-ordinating fabrics together can be a great idea as when you come to use the scraps you can easily start putting something together. Even if you only use those scraps on one block of your quilt you can use the theme to your advantage to make something truly beautiful.
Keep them together while collecting them in a basket, jar or bag or even use a sewing clip to keep them together. Then once you are done, use a plastic sealable bag and store them together.
You could even go as far as labelling the plastic bag with the brand/designer name and name of the collection for future reference.