6 Ways To Organize Sewing Patterns
Some of the links below are affiliate links. As an Amazon Associate I earn from qualifying purchases. This means that, at zero cost to you, I will earn an affiliate commission if you click through the link and finalize a purchase.
I find nothing more relaxing than sorting through my sewing supplies. It really gives me the boost to discover what I have been hoarding and to start something new. I have been wanting to make something from one of my sewing patterns and so after pulling them out, I decided to organize them.
Here is a guide to organizing sewing patterns.
Looking at how to organise sewing patterns can be tricky as you aren't always sure how you want to store them. Organizing them first makes storing sewing patterns easier.
Why Should You Organize Your Sewing Patterns?
You don't have to organize your sewing patterns at all but I fully believe that no matter how small your collection is you should organize it to make your life easier and help create long lasting good condition patterns.
Once you find a sewing pattern you like you want to make sure you take care of it, especially if you don't make copies.
Even so having the original to use to get more details from, trace larger or smaller sizes or you are trying out a different format of that pattern you need to be able to refer back to the original
To protect the sewing patterns from ripping, breaking and folding
Make it easier to find a specific sewing pattern
Make it easier to put back patterns or add patterns to your collection
Create simple and easy storage systems
6 Ways To Organize Sewing Patterns
First I wanted to start with different ways of organizing sewing patterns because that can sometimes help create categories and define sections to your pile. I have mostly women and some children's so mine are easy to differentiate.
If you have multiple sewing patterns such as bags, dogs clothes, babies, children, men and women organizing them into type/gender is a great way to start.
Here is a breakdown of different ways you can organise your sewing patterns.
1. Gender/Type
This is probably the most simple and straight forward way for organizing sewing patterns. Dividing your stash into men, women, children, bags and even pet clothing can be the easiest way and most efficient.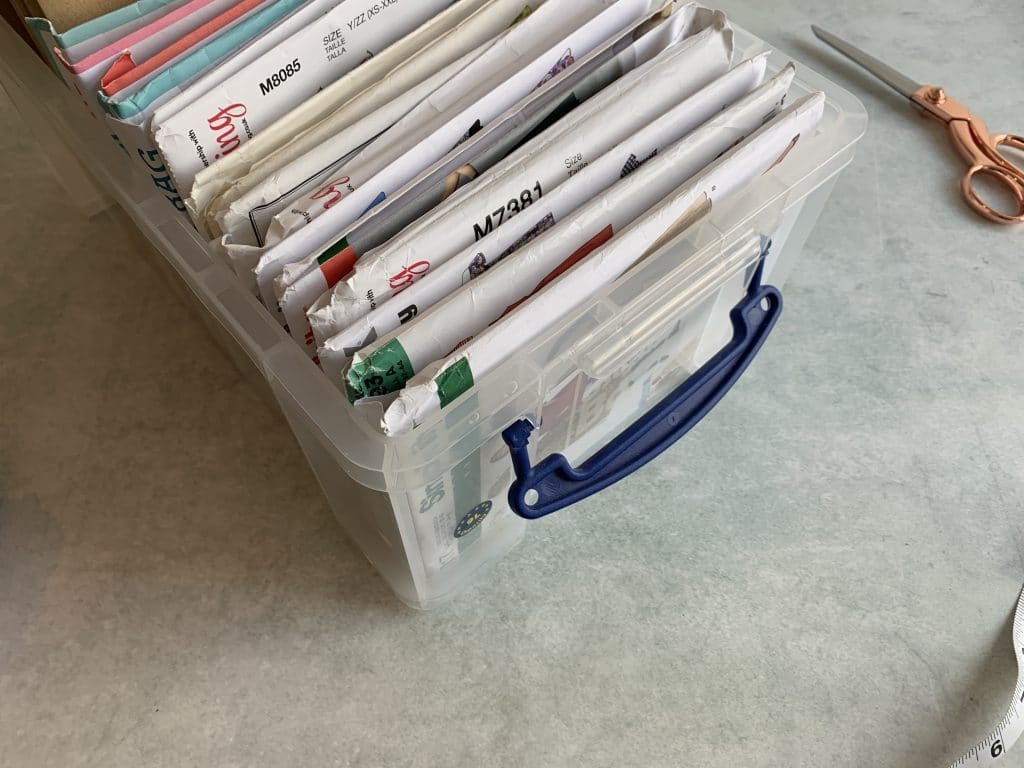 I find this is best if you have a large collection of sewing patterns for a number of these categories. This will make it easier when finding a storage method later.
You can create categories that suit your style and way of thinking. These are just a couple to help you along the way.
2. Style/Clothing Type
If like me you have plenty of women's sewing patterns and not sure how to differentiate between them you can do it by type. Sort through the sewing patterns into skirts, blouses, dresses etc.
You could keep them separate or just order them in a way you like to make finding what you require easier. You could even go as far as using cardboard dividers with the label on to help you skip to skirts or bags etc.
3. By Size
I don't have many patterns that are size exclusive so this wouldn't work for me. If you have any patterns that are size-specific or cut to a specific size this is a great way for organizing sewing patterns.
You can create sections or baskets to store your different sizes. You can also do this and group them together within sizes such as children 2-3 or 4-5 etc.
You can band these together in boxes, baskets, folders or with elastic bands. Remember to look through your sewing patterns and create piles before you start making labels and buying storage.
By Brand
I have plenty of different brands both online pdf patterns and shop bought. Many of us know we have a favourite brand or pattern which we will often go to for making again.
Separating your sewing patterns by brand is a great way for staying organised. You can use cardboard dividers among the patterns to make it quicker and easier to skip to Simplicity or to your desired pattern/brand.
4. Alphabetically
I am nowhere near tempted to try and do this with my patterns, I am not organised enough to keep them in such a strict order.
I would suggest doing it this way if you have a LOT of sewing patterns and wish to be able to flick through. I feel like this may not be as helpful if you just know the pattern by image, this can only work if you know the brand, name and even number of the pattern you need.
5. By Decade
I love this idea, especially for those who work and collect vintage sewing patterns. I have a couple myself and would love to collect more.
You can again use a divider of some sort to keep them organised and make finding your era easier. Alternatively, you can store them separately in one of the ways further on in this post.
6. By PDF Printed/Store Bought Or Self Drafted
Many of use download our sewing patterns these days and I think it is a great way to shop. I love finding online deals and putting together a pattern – though it can be hard work.
Storing these are just as important as storing your physical copies. You can keep these in a file on your computer/laptop on your desktop.
If you have a computer or laptop I would advise you to keep a back up on a memory stick or hard drive in case your laptop breaks or encounters a fault.
This will make sure you don't lose all your patterns and can use them still through the other medium.
I hope you have found this post helpful and you can now know how to organise sewing patterns. If you have any other ways you find useful for organizing sewing patterns let me know in the comments below.
Tools To Help You Organize Your Sewing Patterns
No matter how many times you use your sewing patterns you want to make sure they are in a good condition each time you use them. This will only work out if you take care of them when using and when storing them again.
I have a full blog post on how to use a sewing pattern without cutting it which you can find some useful information to preserve your sewing patterns and keeping them in the best condition for future use.
A well designed and organized storage solution won't just help you feel more organized and find your patterns easily it will help protect them from damage, moths and natural decay.
Here are a few ways in which you can protect your sewing patterns, use them easily and store them for the long term.
1. Use Comic Book Sleeves
Comic Book sleeves are a great way to protect your sewing patterns, they are made from a special material that protects the material on the contents and creates a creative barrier to stop grease and dust from affecting the comic (or in this case sewing pattern).
You can also add in the cardboard backing that is acid-free which would help give your sewing pattern stability and stops the sewing pattern from aging and changing colour.
Remember to label if your comic book sleeves aren't clear so you can keep track of which sewing pattern is in which sleeve.
2. Use Cardboard Boxes
Much like comic book collectors know how to protect their comics, they also know how to store them. You can find a number of different cardboard boxes which are suitable for storing your sewing patterns.
The benefit of using storage boxes is that they are breathable, easy to use and fairly inexpensive to buy.
I also like this idea as they can be stored on a shelf in your sewing room and easily accessed for when you want to use one.
3. Use A Ring Binder & Plastic Sleeves
If you are looking for a more budget-friendly way to store and organize your sewing patterns is by using a ring binder and plastic sleeves.
This is a great way of protecting your sewing patterns in a more usable way along with being more budget friendly.
I would suggest using some type of card as a backing within each sleeve to create more stability, especially on smaller sewing patterns.
These can then stack on a bookshelf ready to be used when you like.