A Guide To Sewing Machine Needles
Some of the links below are affiliate links. As an Amazon Associate I earn from qualifying purchases. This means that, at zero cost to you, I will earn an affiliate commission if you click through the link and finalize a purchase.
Sewing machines needles are actually one of the most important parts of a sewing project. Not many people take the time to know what needle they need or if they even need to change it. Here is my guide to sewing machine needles and everything you will need to know.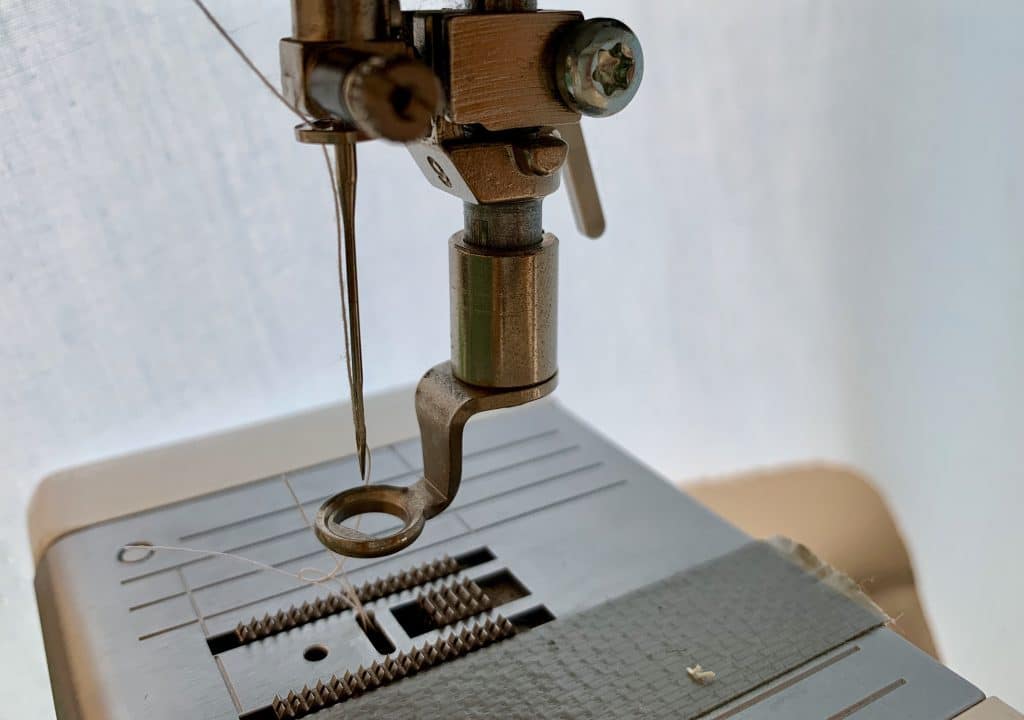 There is so much to know about sewing machine needles. Do I need to change it every time? Can I buy any machine needle? What type of needle do I need for jersey?
It can all get a little confusing and definitely overwhelming. I have been there and that is why I created this guide with everything you will need to know. I have linked to other articles that you might also be confused about and want to know more about throughout the post.
Are Sewing Machine Needles Interchangeable?
Yes, they are almost all domestic sewing machines will be built to hold the same style needle. All needles are made the same in so many ways to fit a standard slot in which the needle is placed.
It is a good question to ask are sewing machine needles interchangeable as not many things are on sewing machines.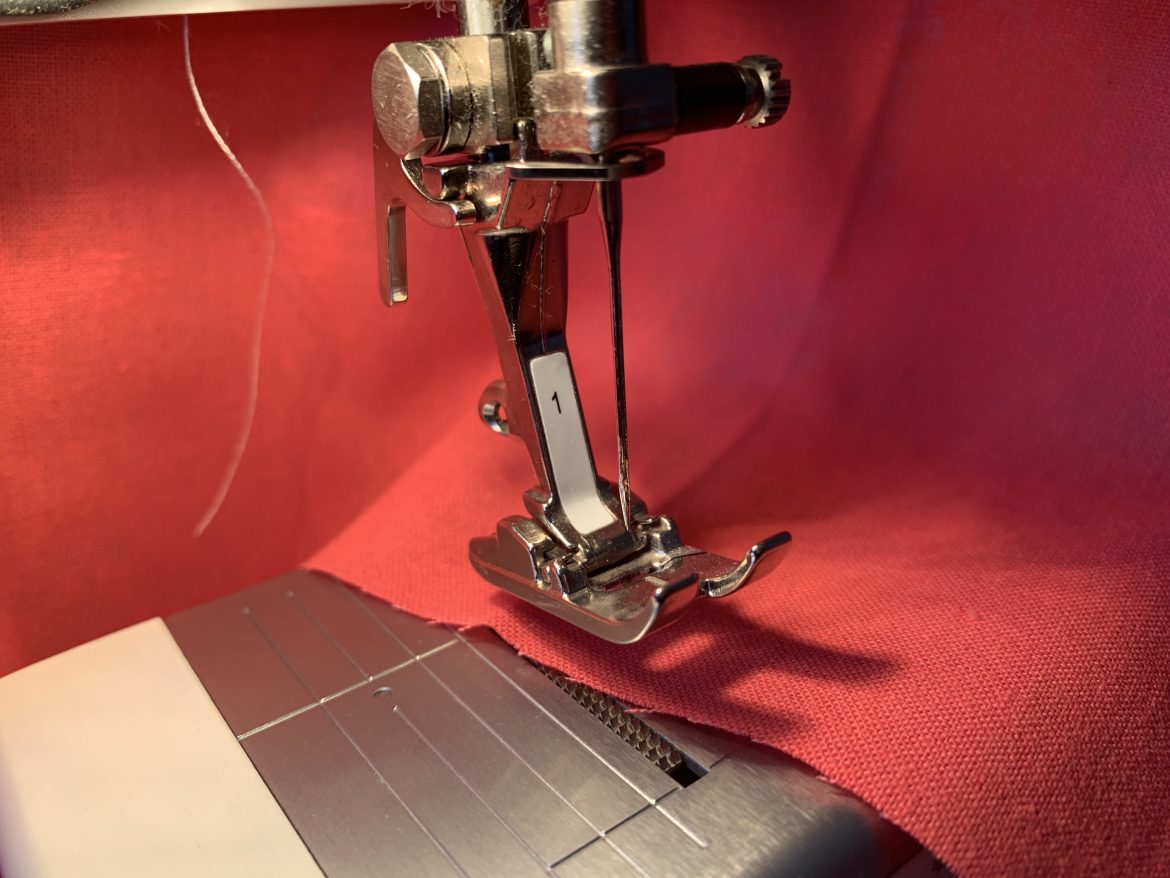 There are a couple of top brands that produce quality sewing machine needles but on to that later. You may find certain makes and brands of sewing machines have their own machine needles.
Don't worry as some produce their own but doesn't mean you have to buy them only.
A Guide To Sewing Machine Needles
Universal Needles
Universal needles are as they say universal, they are more commonly used and work well with most brands and models of sewing machine. These needles can be used with woven fabrics, synthetics and some knit fabrics. Though double check again before starting your project.
There are finer needles more often used for lightweight fabrics and the larger needles are used for medium to heavy weight fabrics. Fabrics such as polyester, cotton and silk require universal needles.
Stretch Needles
The stretch needle has a 'scarf' that allows room for the hook to pass close and prevents skipped stitches which make it great to use for fabrics such as lycra, two-way stretch knits, spandex, power net and other elasticated fabrics.
The best threads to use on these fabrics are polyester or cotton wrapped polyester. These stretch fabrics are known for being one of the more difficult fabrics to work with as they will move and of course, stretch out of place while sewing. Picking the right needle if important to enable you to create a good end product.
Ball Point Needles
These needles have a rounded tip compared to the universal needle which helps push the fabric fibres apart instead of cutting them. This type of needle is great for working with interlock, cotton knits, rib knits, fleece and generally most knit fabrics.
The needle works well with these fabrics as it prevents the fibers running and laddering while stitching. The best thread to use with these fabrics is polyester and polyester/cotton blends.
Sharps Needles
Many quilters will know that working with several layers of cotton and wadding that you should be using a sharps needle. You can also use these needles if you are working with woven fabrics such as silk and microfibre materials.
The sharps needle is made to work with many layers of fabric and has a stronger shaft that helps avoid bent or broken needles. The needles also penetrate the fabric to create a smooth buttonhole. The needle has a short round threading eye that also gives extra strength while sewing.
Jeans Needles
I'm sure you won't have to ask what type of fabric these needles are made for. Of course denim, but you can also use these needles for other densely woven fabrics like twill, canvas and heavier linens.
Though the stretch and ballpoint needles are made to work around the fibres, the jeans needle is made to be very sharp and stronger to push through and prevent bending and breakage. The best thread to use would be a 100% polyester, synthetic or blends and heavier top stitching threads.
Quilting Needles
These needles are made to be used with multiple layers or fabric and wadding, this is due to the reinforced shaft but they are much shorter in length compared to the sharps needle.
Beginners will often use the smaller needle like a size 7 or 8 and more experienced quilters will opt for a larger size.
Leather Needles
These needles are known as chisel-point needles due to the point that looks and acts like a chisel. A leather needles should be used with only genuine leather, suede and more difficult to sew projects.
These needles should not be used on imitation leather, ultra suede or synthetic suede as the makeup of these fabrics are different from the real ones.
Metaphil Needles
These needles are great if you love working with metallic threads in sewing or embroidery on woven fabrics. This needle has a larger eye that enables the metallic thread to run through freely and won't cause damage such as splitting or shredding to the thread.
These needles are also great if you struggle to thread the needle for general sewing, they are much easier to use thanks to the larger eye.
Embroidery Needles
During sewing embroidery, missed threads can occur due to the fast pace movement of the fabric flexing. Embroidery needles have a pontoon scarf with and oversize bump that reduces the movement of the fabric which reduces the missed threads.
These needles are made with a wider eye that will allow that threads to pass through freely and easily during embroidery. The threads most commonly used are rayon, polyester or cotton.
Twin Needles And Triple Needles
These needles are used for tasks such as pin tucks and decorative stitches, they are better used with a reduced speed.
Not all machines are compatible with these needles so check out your manual or online before using.
Top Stitch Needles
Topstitch needles have an extra sharp point that will stab through all fabrics easily and with a large eye allows a thick top thread to run through with ease.
Wing Needles
Wing needles are often used in along with the special stitch options on your machine.
It will produce holes within the fabric to copy the drawn thread work. The needle is made to be used on more natural fabrics such as cotton.
What Are The Top Sewing Machine Needle Brands?
Schmetz
Schmetz aren't easy to find in the UK and can be much harder to find in stores. These are better purchased online through Amazon, eBay or on other sewing specialist sites.
Klasse
Most commonly found here in the UK, they are often in pink packaging with Hemline and can be found in Hobbycraft, local sewing/craft shops and even in supermarkets.
Organ
Personally never used Organ sewing machine needles as they aren't widely available in the UK. They are more well known in the U.S.A and elsewhere. They can be found on eBay, Amazon and other international selling platforms.
Some sewing machine brands such as Bernina, Singer and Janome have their own brand of sewing machine needles. These are manufactured the same way as the above brands and generally aren't much different.
You don't have to buy those special needles for your Bernina machine, you can use the other brands instead.
What Do The Numbers Mean On The Needles?
While shopping for needles it can get so confusing looking at all the different numbers and which one it is that you need. It can get confusing over which number you will need to pay attention to the 60 or the 8?
This is one of the most confusing parts of picking a needle, you think you have won because you have picked out what needle you need for your project. Now for the next hurdle, this is a small bump in the road, these numbers are reference numbers.
Yes, you do need to pay some attention to them but it doesn't have to be confusing. The numbers ranging from 60- 110 are the European numbers, whereas the numbers ranging from 8- 18 are the American.
How Often Should I Change My Needle
You may want to change your needle for every new project you do, within reason. If you have made something quite small and quick don't change your needle for the next project.
A good indication is looking at your needle and looking for scrapes or bends. If you have a bend within your needle this can cause a thumping sound when the needle hits the fabric.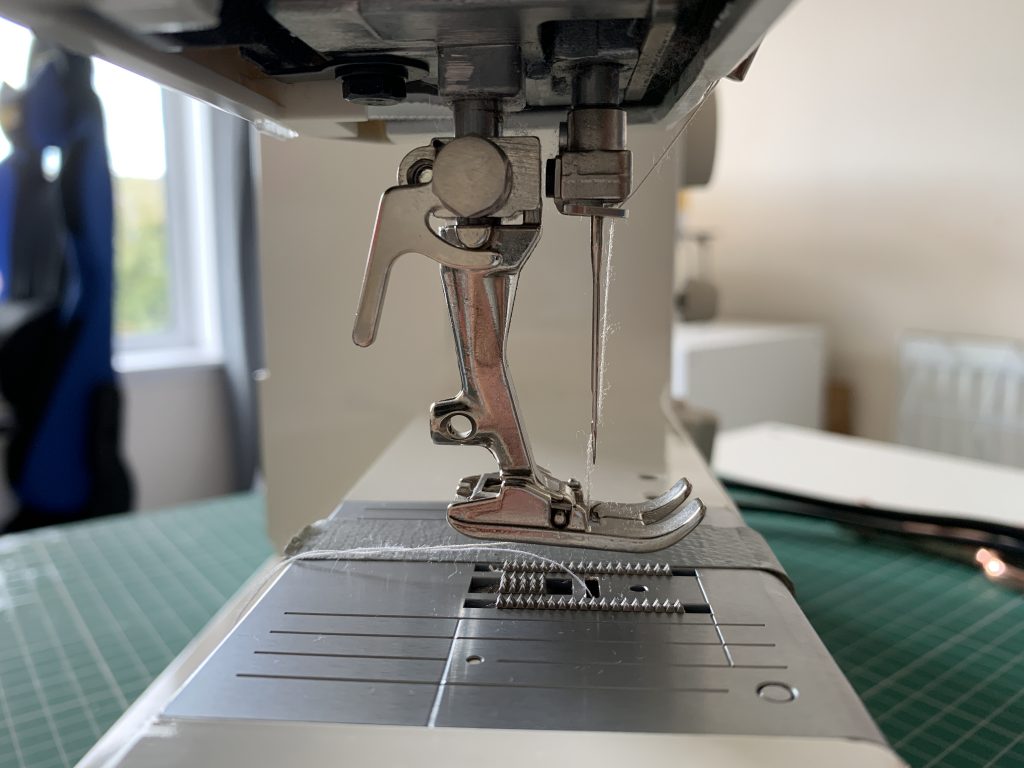 It may also cause the needle to jam and get stuck leaving unsightly damages to your fabric.
The Different Components On A Sewing Machine Needle
Eye – This is the point in which the thread will come through, good machine needles will have a smooth eye to reduce threads being shredded or caught. Depending on the type of needles and size they eye can be smaller or larger.
Shaft – The shaft will vary in size depending on the use on fabric. For thicker and hardwearing fabrics the shaft will be stiffer.
Shank – This is the part that goes into the machine, it has 1 side that is flat to ensure proper insertion.
Point – The point is the start of where the needle will go into the fabrics, these can vary on different needles for different fabrics.
Scarf – This point will enable the hook to get close to the needle to avoid missed stitches.
And so that is my guide on sewing machine needles. If you have any useful tips and tricks to help beginners get to grips with sewing machine needles let me know in the comments below. I would also love to know where you commonly buy your sewing machine needles. sewing