9 Best Fabric For Christmas Stockings
Some of the links below are affiliate links. As an Amazon Associate I earn from qualifying purchases. This means that, at zero cost to you, I will earn an affiliate commission if you click through the link and finalize a purchase.
Christmas stockings are an iconic part of the festive season and there is nothing more dreamy than hanging up your family stockings year in year out as a lovely family tradition.
The best fabric for Christmas stockings is velvet however cotton or brushed cotton are an excellent alternative due to the diversity of the materials and durability meaning they can withstand use year after year for many years to come.
I decided to break down each different fabric that is best suited to Christmas stockings and give you some pros and cons to each one to help you decide which is right for you.
1. Velvet
Velvet is very much a typical look for Christmas stockings and many traditional versions of a Christmas stocking is shown with a velvet red boot and white fur top.
This is clearly for good reason as velvet is a great choice for a Christmas Stocking but you do have to be careful in which style you get. Velvet can be bought with stretch and so you want to get as little stretch in your velvet as possible.
To counteract the stretch of the velvet you can use a interfacing to add stiffness and stability along with or alternatively a lining made of cotton or poly cotton blend.
Interestingly, you can make velvet from various materials, including cotton, polyester, nylon, linen, and silk.
✅ Pros - It looks luxurious and traditional compared to other fabrics.
 
❌ Cons - Cant be hard to sew and work with as it moves and is slippy.
2. Cotton
Cotton is probably the most commonly known fabric in the world and rightly so as it is diverse, reliable and long lasting.
Making it the best option for Christmas stockings as you can use your stockings year after year and as long as they are stored correctly you can use these for a very very long time.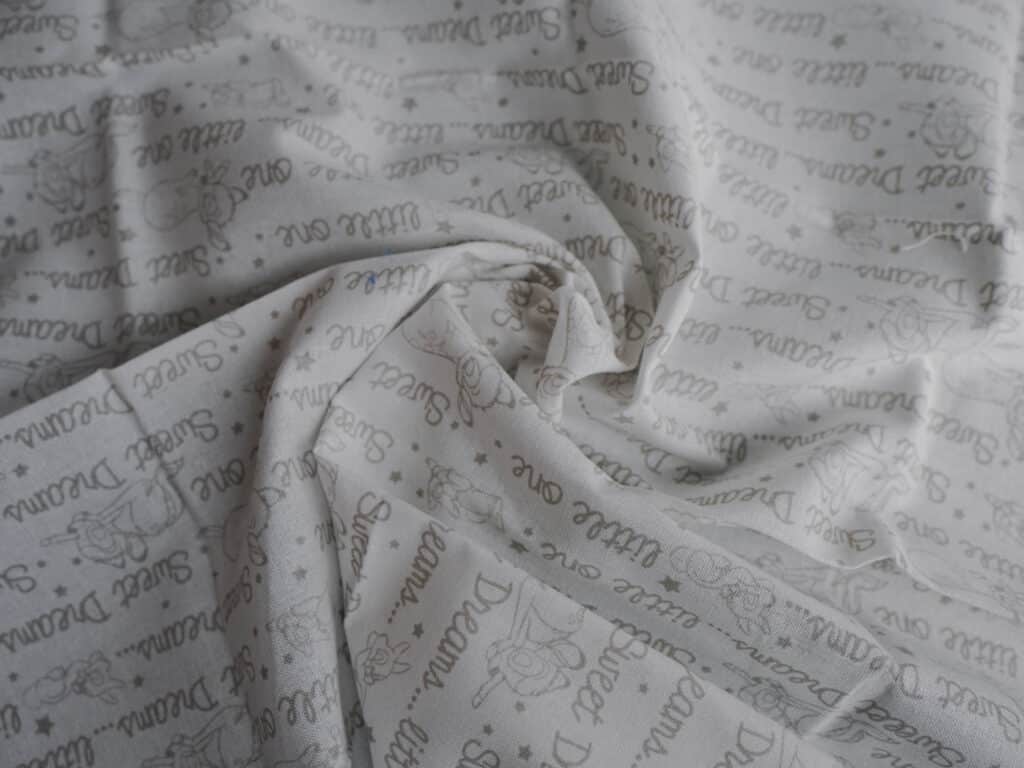 Cotton is very durable, reliable and strong so there is no denying it can hold a hefty amount of stocking fillers and not break a seam.
There are plenty of versions of cotton from polycotton to 100% cotton, quilting cotton and more.
If you are looking for a cotton that will last a long time and be stable enough to hold a terry chocolate orange look to go for a thicker cotton that is a higher percentage cotton than any other material.
You can also find cotton is so many different prints so this can be really fun to find some cute Christmas prints to use on your stockings. Don't forget you can also use a cotton or cotton blend as a lining for added stability.
✅ Pros - Easy to work with, great patterns available and lasts a long time and extremely durable.
 
❌ Cons - Doesn't have much texture so can look a little flat.
3. Wool
Wool is a perfect choice for making Christmas stockings as it is tough and strong, long lasting with the correct care and it looks the part for the festive season.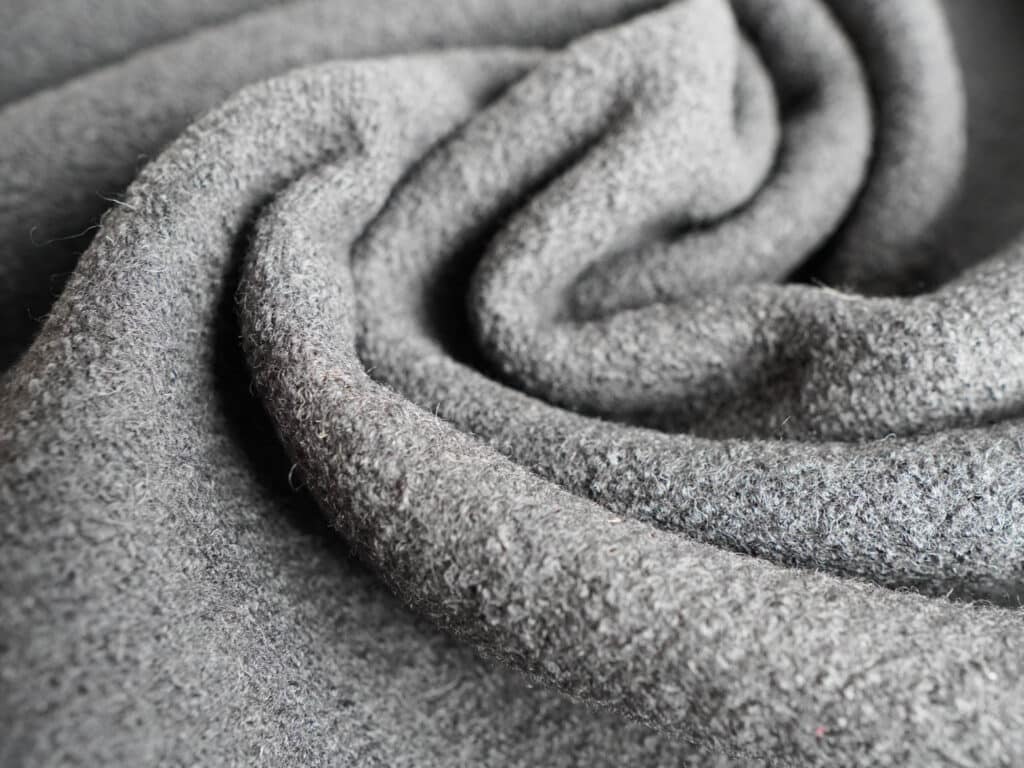 It is a wrinkle-free material that is resistant to any dust, wear, and tear. While it is a great fabric, it is a bit more on the expensive side, at least compared to others on this list such as cotton.
You can use almost any blend of wool for a Christmas stocking as the item isn't being worn or heavily used so as long as it can hold a few treats and last years then you should be good to go!
Look to pair your wool with a soft cotton lining or trim to help soften the edges or help give it a little more of a luxurious look.
✅ Pros - Great long lasting material, hard wearing and looks luxurious.
 
❌ Cons - Can be harder to sew, more expensive and may require special washing instructions.
4. Linen
Linen is a solid and lightweight fabric that is stronger than cotton, often used when strength and durability is needed.
Linen is an excellent, durable and absorbent fabric. It is machine-washable, but you need to iron it regularly as it creases easily, which could spoil its appearance.
You can see it used in several clothing items such as jackets, blouses, trousers, suits, and dresses. More commonly, you will find linen used in tablecloths, napkins, towels, drapes, and bedsheets.
Linen is an excellent alternative to cotton for Christmas stockings if you desire something stronger but still shares many of the characteristics of cotton.
✅ Pros - Soft and easy to sew.
 
❌ Cons - Can be more expensive than others on the list.
5. Felt
A soft and absorbent felt fabric is thicker than the other types of the felt because of the layered fibers.
We would recommend either fur or needled felt for making Christmas stockings. Fur felt is an excellent choice because of its malleable and durable properties. You can easily make it into hats, stockings, and many other accessories.
Needled felt is made from a blend of wool fibres and synthetic materials to give it properties of both. You can use hand needling to produce this fabric for many decorations and toys.
Other types of felt worth exploring for Christmas stockings include pressed, rayon, and acrylic felt.
These are cheaper and often more readily available options and can be just as good as using wool blended felt.
I also like using felt with a lining which can help create more stability and durability.
✅ Pros - Cheap and easy to use, perfect for crafting with children.
 
❌ Cons - Can sometimes pull out of shape over time and not as durable as others on the list.
6. Brushed Cotton
Brushed cotton is perfect for use on soft furnishings, clothing and making something feel snuggly and warm. So there is no surprise it is great for using as a base fabric for Christmas stockings.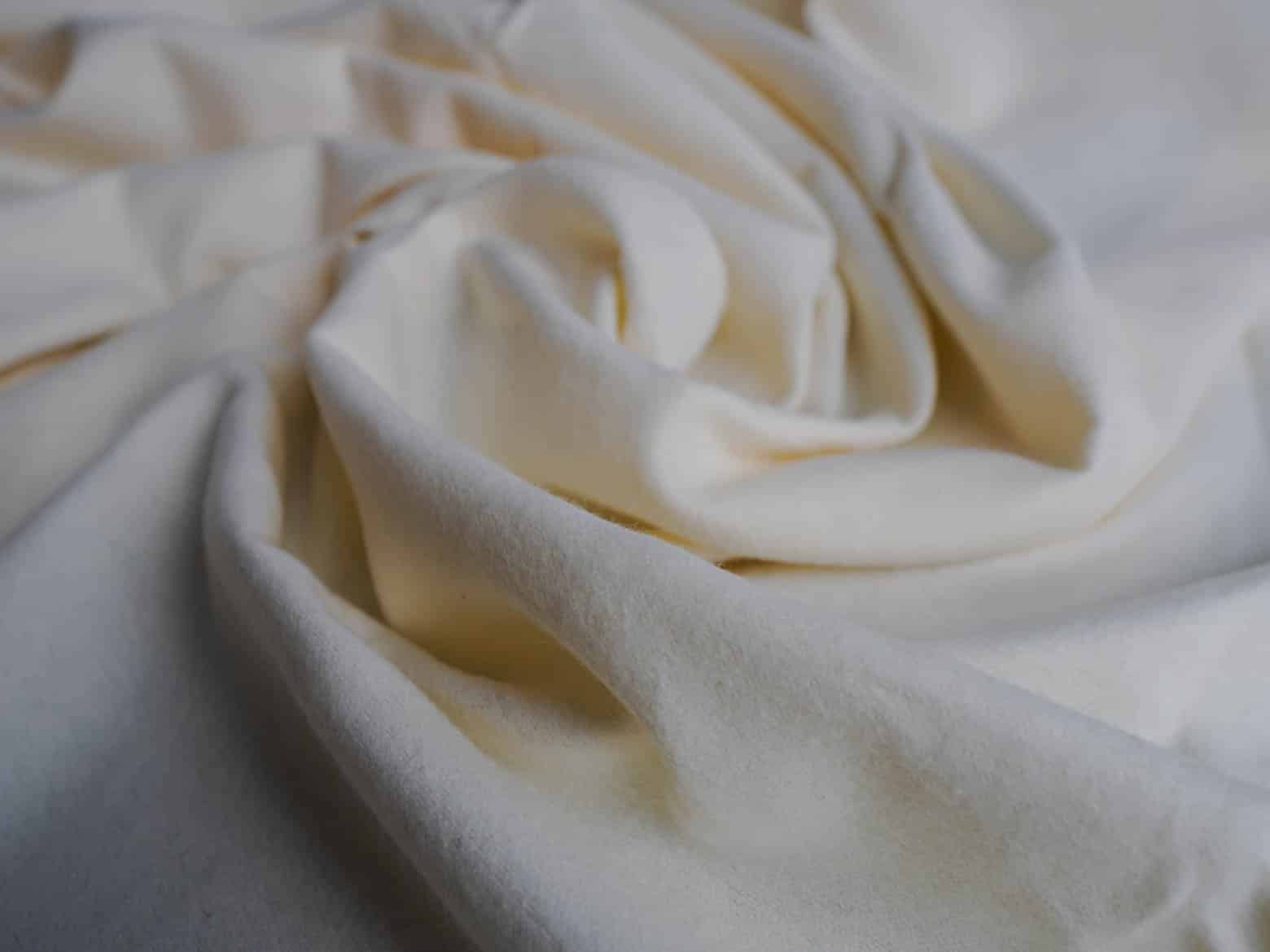 You may find you need to use two layers to create more strength or use interfacing especially if you plan to use these for holding small goodies and stocking fillers.
Cotton is an extremely durable fabric and will last a number of years perfect for keeping to use every Christmas.
✅ Pros - Super soft and snuggly, looks cosy and luxurious.
 
❌ Cons - May not be strong enough alone and may need pairing with a stabiliser or lining fabric.
7. Tartan
Tartan has been a popular choice of fabric and design in recent years for everything from Christmas stockings to Christmas PJ's and more!
Though I am not entirely sure why tartan is a done thing at Christmas and I am definitely not complaining it does have its benefits when it comes to homemade projects.
Many modern tartans are made from a poly blend or pure cotton which means both of these options are hard wearing, durable and will last being stuffed year in year out making it a perfect fabric for Christmas stockings.
You can use tartan as the main outer fabric or even the lining if you want to create something a little more exciting.
What is more fun is that you can find tartan in a variety of colours and styles to suit your design needs.
✅ Pros - Looks really festive and fun, easy to sew and work with.
 
❌ Cons - May not be the style you are looking for.
8. Faux Fur
If you are wanting to create the ultimate traditional Christmas stocking with the red velvet boot and the fur white topping you will need faux fur to create this look.
You can find a number of different lengths and textures but the best to use is a short pure white faux fur.
While you might think faux fur is hard to use, it doesn't have to be. You can find a number of helpful tutorials on how to sew faux fur so your stockings will look dazzling! And best of all you can create the stockings of your dreams to use each year.
✅ Pros - Looks like traditional stockings, luxurious and soft.
 
❌ Cons - Can be a little hard to sew with a machine.
9. Velour
While velour isn't always the most loved fabric as it can be cheap looking and hard to work with it is a great option to use for Christmas Stockings.
I personally have never used Velour for any project but it is very similar to velvet in the sense that it can look very much like the traditional style stockings you see in magazines and on Pinterest without the price tag of velvet.
I also think velour can be a great alternative if you are looking to save money on your Christmas projects but still want to create that luxurious scene in your home.
Velour is also a shorter pile than Velvet so this might be better suited to your project or your sewing skills.
Think about teaming up your velour fabric with a tartan lining or fur trim to add that extra level of festive fun!
✅ Pros - Looks soft, luxurious and perfect for stockings.
 
❌ Cons - Can be slippery and stretchy making it harder to sew.