6 Best Fabrics For Dungarees – Perfect For Sewing Overalls
Some of the links below are affiliate links. As an Amazon Associate I earn from qualifying purchases. This means that, at zero cost to you, I will earn an affiliate commission if you click through the link and finalize a purchase.
Dungarees are quickly becoming a fashion staple for many and can be found in a variety of fabrics. You can find a vast array of dungaree designs and patterns to make at home.
The best fabrics to use for dungarees are those which are tough, easy to sew and comfortable such as cotton, french terry or corduroy.
While denim is considered the best fabric for dungarees you may want to consider some alternatives that are either better suited to wearing out day to day over just lounging at home.
For example, if you are looking to make a pair of dungarees for at home that won't be worn much outside you can look at using something cheaper such as jersey. Whereas dungarees that are to be used for work and worn out day to day you might want to look at using denim or corduroy.
1. Denim
Denim is the most popular fabric for dungarees as it is hard-wearing, easy to wear and is traditionally known as one of the first fabrics to be used on dungarees.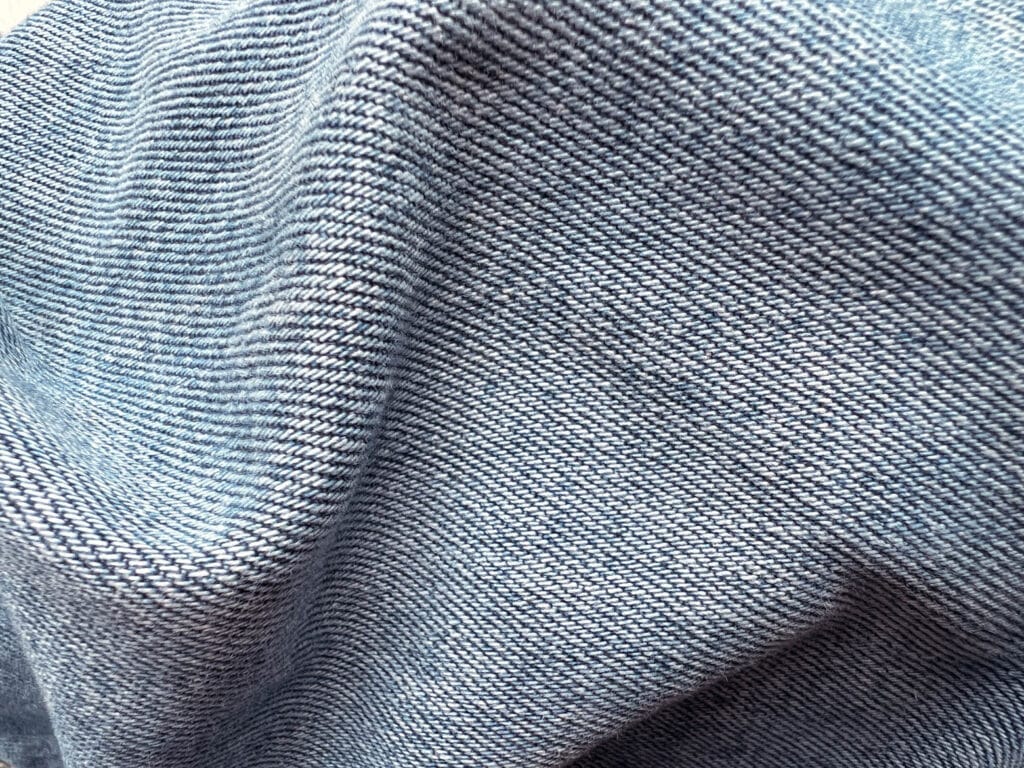 Depending on the denim you use you will find that they don't have much stretch or movement and can be a little restrictive.
Though if you are looking to make a traditional pair of denim dungarees you can find denim that has a little more stretch to it to make it better suited to the wearer.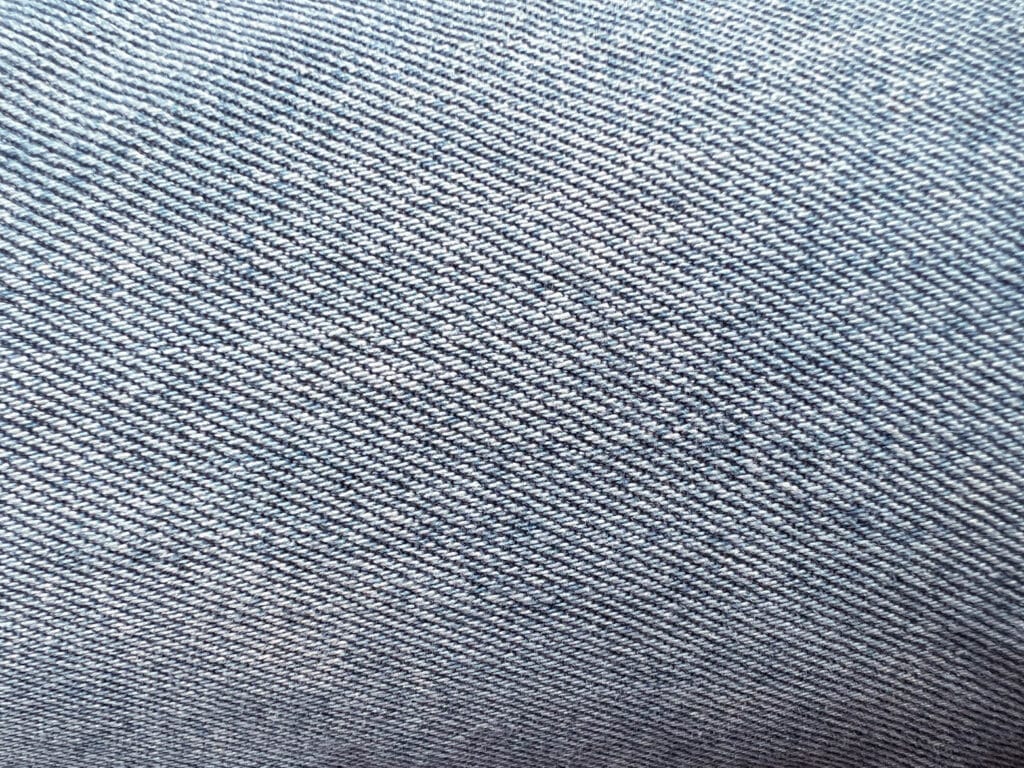 Due to denim being such a tough fabric it can last a very long time and is extremely durable making it perfect for dungarees especially those made for workwear.
When using denim on a homemade sewing pattern you may need to add extra allowances to tidy off seams and frayed edges.
2. Cotton
Although cotton is not as tough as denim, it is a widely used fabric for dungarees. There is more elasticity in cotton than in denim but unfortunately isn't as durable.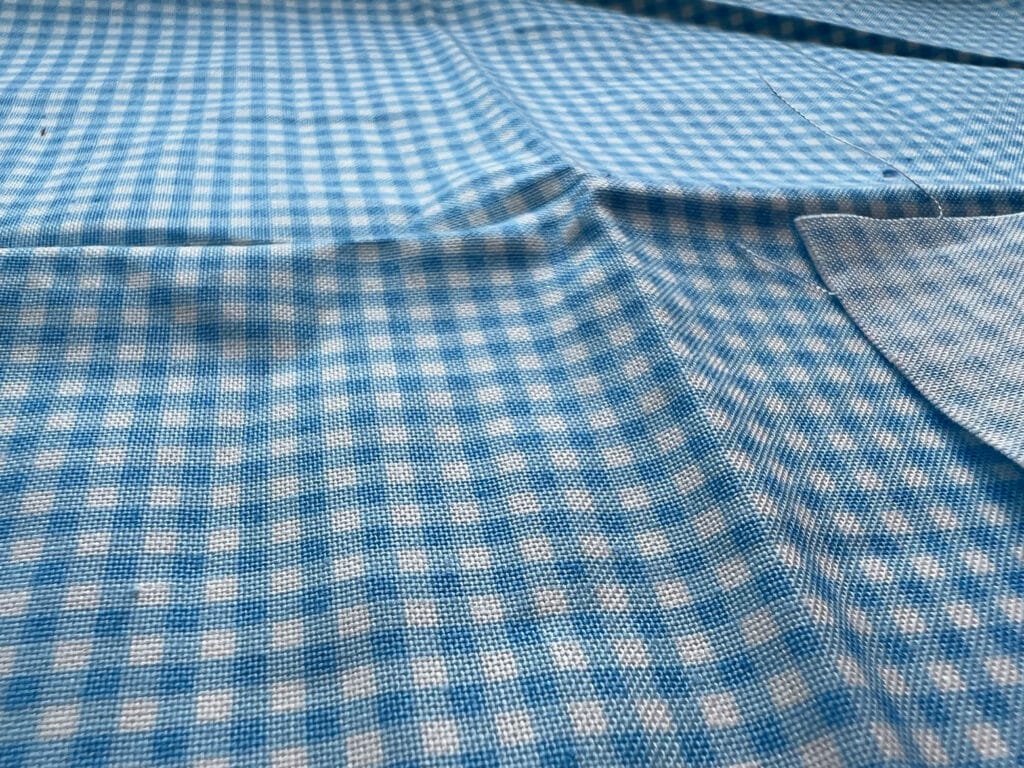 However, cotton tends to come in a wider variety of colours, patterns and prints. Making them more fashionable and a favourable choice of fabric.
Cotton is a great favourite for beginners as it is easy to sew and handle, affordable to buy and can produce great results.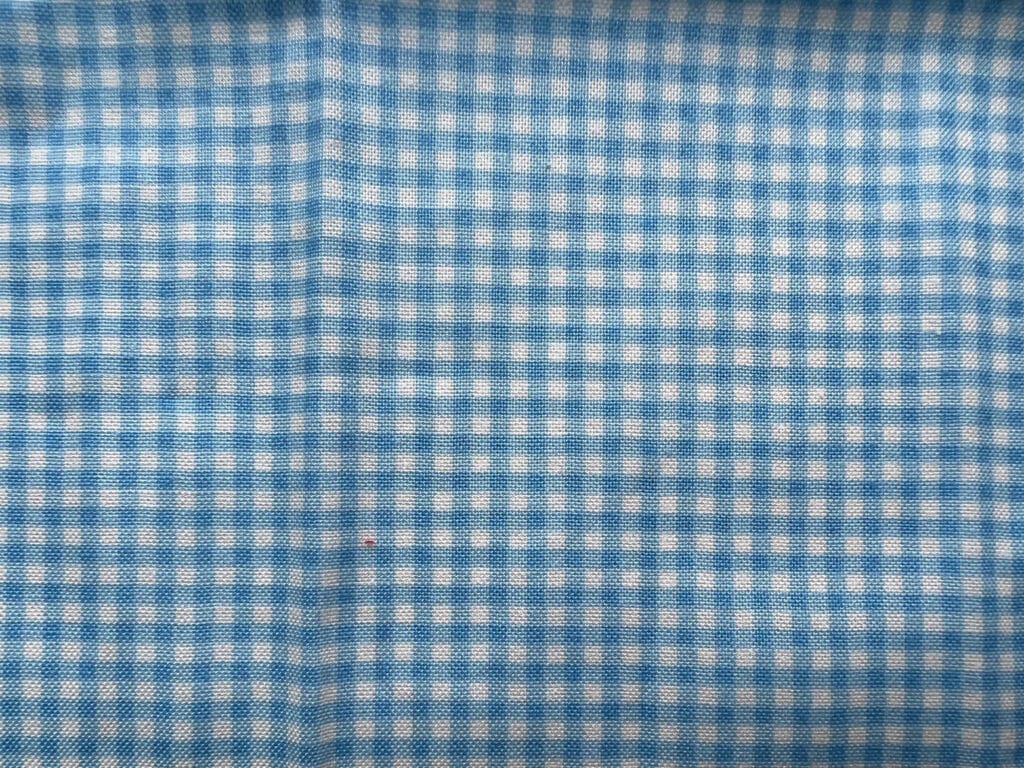 You can work with a number of thicknesses and styles of cotton to suit your project. If you want something for the summer look for thinner lightweight cotton whereas dungarees for colder temperatures might require thicker cotton.
Cotton is extremely versatile as you can find a wide variety of fabrics that are all cotton based and suitable for dungarees.
3. Corduroy
Corduroy is a thick cotton fabric with a velvety feel. It is comfortable to wear, durable and the second most commonly used dungaree fabric behind denim.
Corduroy is perfect for dungarees as it is hard-wearing like denim, soft to wear and comfortable as it is flexible and moves with the body.
What makes this fabric so great is that it is made with a texture of stripes without the additional second colour, so the fabric looks interesting with the texture without having to be a print or pattern.
I also love this fabric as you can buy embroidered designs and patterns such as strawberries, bees and so much more making it great for adding a little more fun and personality to your homemade dungarees.
Most corduroy fabrics are a medium weight fabric which makes them great for dungarees as you can create a great structure and body with the fabric with added comfort and style.
4. Cotton Twill/ Drill
If you are looking to make a pair of dungarees that are tough and hard wearing and will be put through their paces then you might want to look at using cotton twill or cotton drill.
They are both the same fabric but can often be listed as either or both on fabric websites and in stores so to save any further confusion they are the same.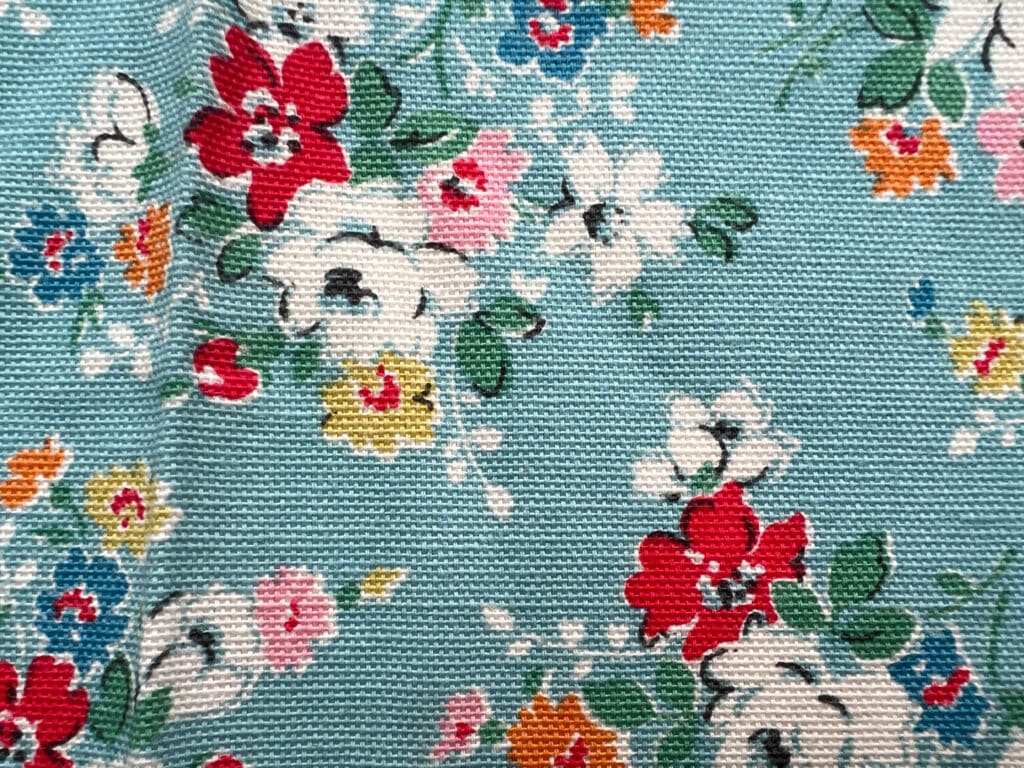 What makes this fabric great for dungarees is that it can really be pulled, shaped and put to the durability test and come out looking better than ever.
Cotton drill is a heavy weight fabric and is popular with those making heavy duty clothing such as uniforms and workwear. It is however very popular with handmade projects for jackets, home furnishings and more.
You can find some great cotton blends if 100% cotton isn't for you or isn't suitable for your project.
5. Chambray
Chambray is a plain weave fabric typically made from 100% cotton but other variations can be found. The make-up of the fabric usually contains coloured yarn in the warp and white yarn in the weft to create the colour and design.
Chambray is a great fabric to use for dungarees as it is durable, breathable and is softer than denim. The construction of the fabric is also thinner so perfect for warmer weather.
Chambray can almost feel like a cotton canvas that is tough and a medium weight fabric without being too heavy or rigid to work with.
You can use chambray as your main fabric while using a patterned cotton or other type of denim as a design element on the adjustable waist tie, shoulder straps or even the pockets.
If you are looking for stretch denim, chambray may be the best option as it has roughly 10% stretch and is a thinner fabric overall.
6. Linen
Linen is a fantastic fabric for many different garments and crafts so it is no surprise that it has made this list. Dungarees are extremely versatile in how they can be worn and used so having a range of fabrics that suit smart, casual or even hot weather conditions is vital.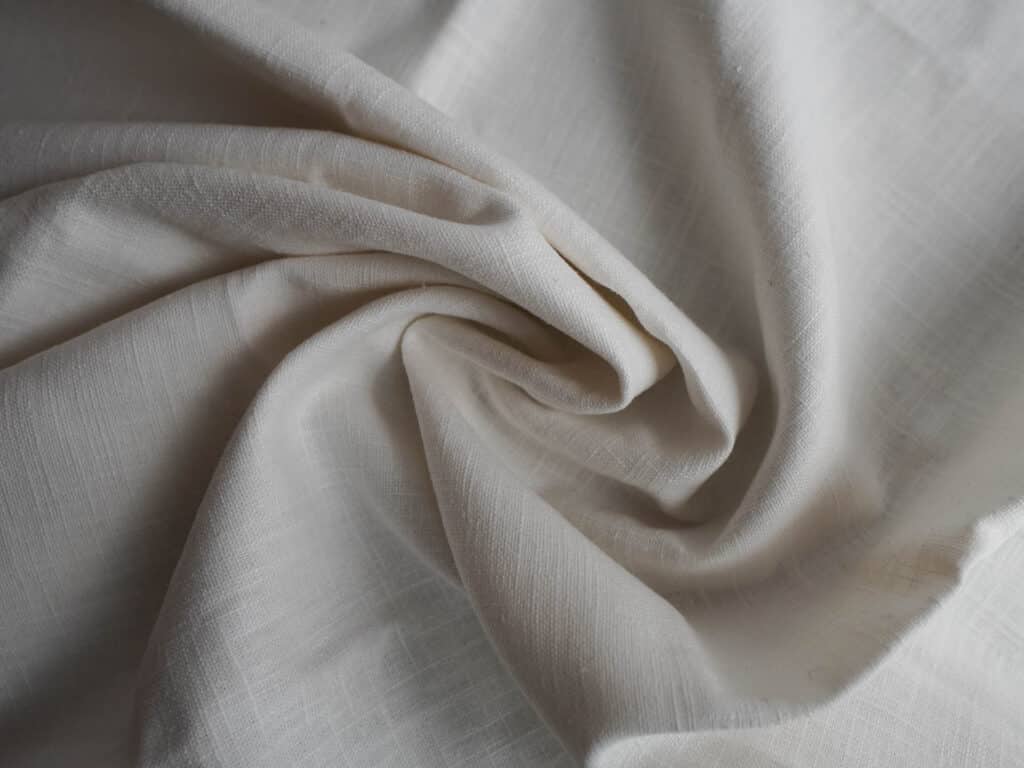 This is where linen comes in, as it is extremely breathable, lightweight and easy to sew making it perfect for making a pair of dungarees to wear in the warmer months.
Heavy linen is better suited as it is more durable, thicker and has a little bit more body to it. Though if you are wanting to make a pair of dungarees for your holiday then any linen will do.
If you are looking to craft a pair of dungarees which are to be worn in the hotter climates think about the style of dungarees you want to use.
Linen is better suited to looser styles of dungaree where you don't need to use lots of fastenings. Also, it won't suit patterns that require lots of fitted parts and skin-hugging as it is a very loose and easy-wearing fabric.
7. Jersey & French Terry
While you may be thinking jersey is an odd fabric to combine with a dungaree pattern it can work very well. Fashion is very explorative in recent years and we have taken designs we love such as dungarees and combined them with fabrics we love such as jerseys.
These are mostly loungewear and nightwear options but it can still work. I have a pair of jersey dungarees myself and love them. They are easy to wear, comfortable and great for summer when you want to be relaxed and unrestricted.
Jersey can really work for dungarees especially stretch fabrics like French Terry or standard sweatshirt fabric.
The fabrics usually have plenty of stretch and give to them to make them comfortable but also enough body and weight within the fabric that it drapes well and can withstand a long garment like dungarees.
Jersey is a thinner fabric than denim and corduroy but they are both great for use on more relaxed sewing pattern designs.