Best Mini Iron For Sewing, Applique & Quilting
Some of the links below are affiliate links. As an Amazon Associate I earn from qualifying purchases. This means that, at zero cost to you, I will earn an affiliate commission if you click through the link and finalize a purchase.
Are you looking for the best mini iron for sewing?
Irons are a fundamental part of sewing, applique, patchwork, and quilting. No work can be completely done and finished without giving it a good press… unless you are working with delicate fabrics that can come in contact with heat.
I never feel like a project was done properly without the use of an iron to make the seams crisp and the edges neat. I am quite a clumsy person so using a mini iron really helps me keep in control and minimise the amount of accidents I might have.
What Is A Mini Iron?
A mini iron is just a small iron that is either made for travelling or made for small sewing projects.
The mini irons are made to be compact, light and easy to use. They are designed to have the same features as regular irons but just more compact.
Can I Not Just Use My Regular Iron?
Yes, you most definitely can and I would recommend you to still use your regular iron. You will have plenty of reason to use your regular size iron and you may never want to get a mini iron and that is okay.
I have two, my large regular iron is perfect for big projects and ironing large pieces of fabric. Whereas my mini iron is perfect for small sewing projects, intricate designs, and pressing open seams.
I also like to keep my mini iron on a heat proof mat on my desk so it is easy to use and handy when I need it.
Overall it depends on the crafts and projects you want to do. Clothing and garment making doesn't require a mini iron. Whereas crafts and sewing like applique, patchwork and quilting require a smaller surface area.
Those styles of projects require a small tip and area to be able to get into small areas, work on more intricate pieces and be more in control.
Features To Look For In A Mini Iron
There are a couple of features you might want to look into before purchasing a mini iron.
Steam Function
Not all irons have a good steam function, there are going to be times that your fabric or project will require a little steam to get things going.
I often use steam to help really push out the lines from when I have folded fabric. So you will want to look for something that is small but mighty.
Handle & Usability
I recently joined the world of mini irons and I am honestly astounded. I love my mini iron but more on that later. While I was doing my research on which I wanted to buy I saw a couple that didn't actually have a handle.
While I saw the upside to this I personally didn't want to try and control a hot piece of metal without a definitive handle.
Look for a model that you feel you would be comfortable to use, would find it easy to use and you could control.
If you have any problems with your joints, arthritis or struggle to grip anything too much this may be a factor you want to consider. If you have these kinds of issues you may also want to look for a mini iron that is lightweight and easy to move.
Temperature Settings
Temperature is everything when it comes to iron and sewing. There are many times you will be using a variety of fabrics which require different temperatures.
You want to look for a mini iron that allows you to change the temperture and control the heat settings while using.
Best Mini Irons For Sewing
These are the best mini irons for sewing on the market. These are all products that have been tested on used by fellow sewers and quilters.
Prym Mini Steam Iron
Prym is a brand I have used and bought from in a number of tools and equipment over the years and have never felt failed by the brand.
This was my mini iron of choice and I honestly don't ever want to go back. I read a tonne of reviews and blogs about this iron before getting it. I see some of my favorite quilters use it on Youtube so I was more than happy to get it.
Once I got it open and used it I was surprised by how light it was still. Knowing it was no bigger than my hand I knew it would be fairly light but it is quite light.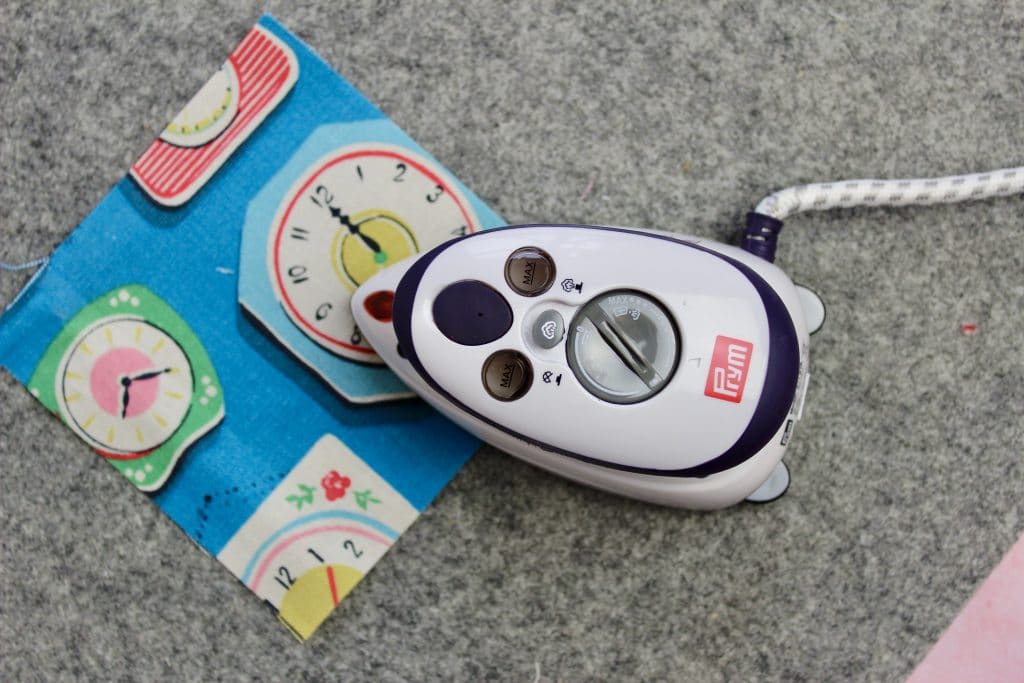 It came with a little cup to fill up the water and a drawstring bag to pack it away for traveling. It fits in the palm of your hand with a handy little grip at the top to hold and direct instead of a dedicated handle.
What I like is that it has all the functions of a full size iron but in mini form. The steam is powerful, it is very fast to heat up, it has great balance so I don't need to worry about it falling over.
I like the temperature gage so I can alter that very easily for my fabrics and also like that you can see when you need to refil the water.
Clover Mini Iron
The Clover mini iron is very different to a tradition iron completely which may be perfect for some people and completely wrong for others.
This iron is a handle and a small triangle area at the end which is heated like an iron. It sometimes reminds me of Doctor Who's screwdriver device.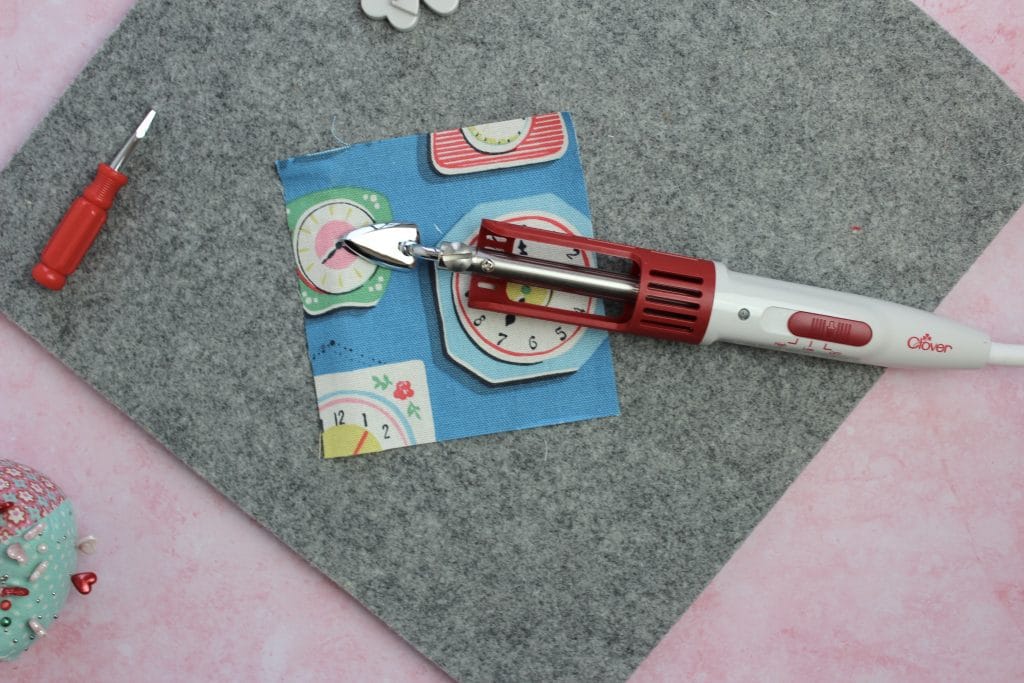 This tool is small, compact and easy to carry around if you need to. It is perfect for small and tiny projects that require precision and intricacy. Projects such as patchwork, quilting and applique.
You can buy interchangeable heads to place on the heated appliance for different styles of projects and effects. The iron doesn't require pressure as the heat is concentrated within that one area.
Duronic Mini Steam Iron
The Duronic Mini Steam Iron is very much similar in style as the Prym Mini Steam Iron.
Most commonly known to be a travel iron but also works very well as a mini iron for a sewing room.
It has rave reviews and is one of the best travel irons on the market so it definitely has everything you need to create amazing quilts and applique.
Very much like the Prym Mini Steam Iron the handle is more like a computer mouse, giving you more control and flexibility in your movements.
Cricut Easy Press Mini
The Cricut Easy Press is a tiny version of the t-shirt press. Designed to be used on small surfaces such as mugs, shoes and stuffed animals.
The official demo on Cricut's website shows it being used to press open a seam on a patchwork square. This small hand held device is strong and powerful and perfect for sewing projects.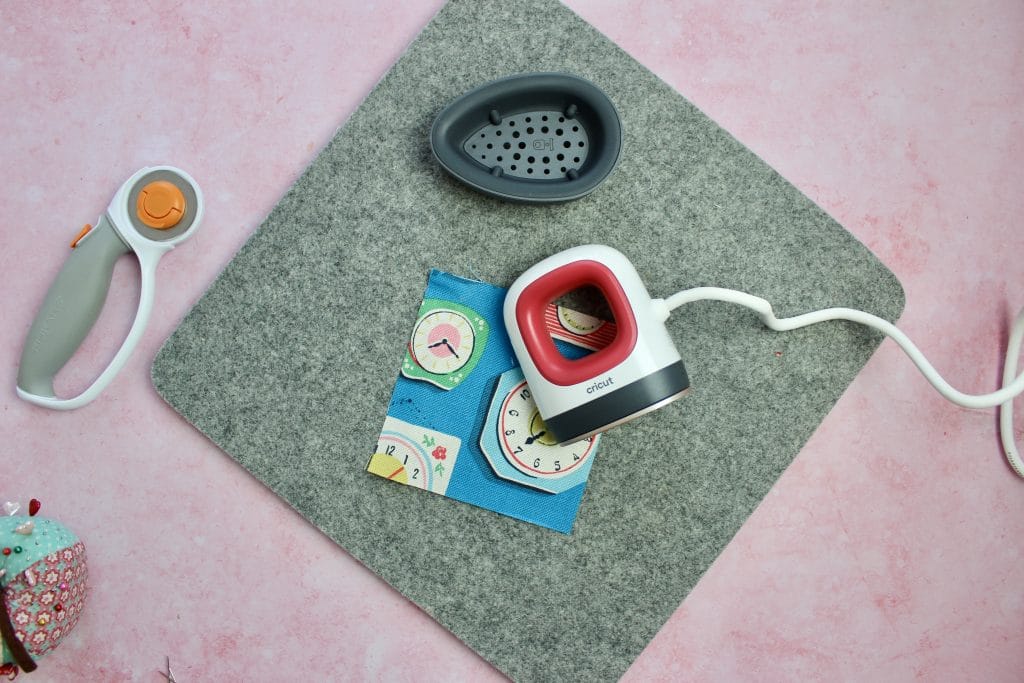 The Cricut easy press mini comes with a ceramic coated heat plate perfect for using on a number of surfaces and fabrics along with 3 heat settings.
It is designed to be a press to use on vinyl transfer and may not be suitable to all sewing projects. The let down is the heat setting and price, it is one of the more expensive mini irons on the list.
But if you are into vinyl crafts and have a Cricut cutting machine already then this may be the perfect mini iron for you. You can use this to brand into two sections of crafting and sewing.
Table Of Comparison
I decided to put together this handy little table so you can see which mini iron is best for you. These are some of the things you might be looking for and could help you decide which is right.
| | | | | | |
| --- | --- | --- | --- | --- | --- |
| Brand | Watts | Water Capacity | Heat Settings | Measures (cm) | Weight (g) |
| Prym Mini Steam Iron | 110-200 | 50 ml | Variable | 19 x 17 | 281 |
| Duronic Mini Steam Iron | 375 | 50 ml | Variable | 13 x 7.8 | 762 |
| Clover Mini Iron | 20 | N/A | 2 | – | 70.8 |
| Cricut Easy Press Mini | 150 | N/A | 3 | 10 x 8.7 x 5.4 | 350 |
| | | | | | |
I hope you have found this guide on the best mini irons for sewing helpful and has given you plenty of information on which iron you might like to buy. As always read more reviews for yourself before buying and ask a fellow sewer for their advice too.