5 Best Sewing Pattern Storage Ideas
Some of the links below are affiliate links. As an Amazon Associate I earn from qualifying purchases. This means that, at zero cost to you, I will earn an affiliate commission if you click through the link and finalize a purchase.
I am terrible for pushing things to one side and letting the mess mount up, the only place I don't do this is my sewing room. (The mess gets in the way of sewing!) But many people find it hard to know where to store things and how. One of the items I have that can easily get out of hand is sewing patterns.
There are so many ways on how to store sewing patterns and something different to fit all styles of spaces, requirements and stash sizes.
Firstly before you start storing and preserving your lovely sewing patterns you will want to organise them… I have plenty of helpful tips to help you.
5 Ways To Store Sewing Patterns
Storing sewing patterns properly has plenty of benefits for both you and the sewing patterns. Benefits such as easier to find, the sewing patterns won't be torn or in bad shape and they look good!
Here are my 7 best sewing pattern storage ideas to help you get the most from your sewing patterns and sewing space.
1. Binders
This is popular way to store sewing patterns and I can see why. Folders/binders are easy to buy as and when you need them and they are handy to use in the home.
You can buy plastic sleeves or cardboard sleeves to insert into the binders to hold individual patterns which are super handy. I like this idea as you can contain them much easier and still get to the patterns easily when you require one.
You can even use dividers in your folders with labels on the tabs, this way you can look for more specific things and create sections making it easier to find that dedicated pattern.
2. Filing Cabinet
I don't know about you but personally I haven't been able to accumulate a vast amount of sewing patterns to need a filing cabinet. (I wish!)
I do however find them extremely useful in a home, great for storing bills, important documents and if you have a spare draw – sewing patterns.
They come with the inserts which you can organise your sewing patterns into and they are easy to use. Win-win!
3. Boxes
I am currently using a box for my sewing patterns as I don't have much space or many patterns. I decided to use a 9l really useful box as they stack well within my storage unit next to my desk.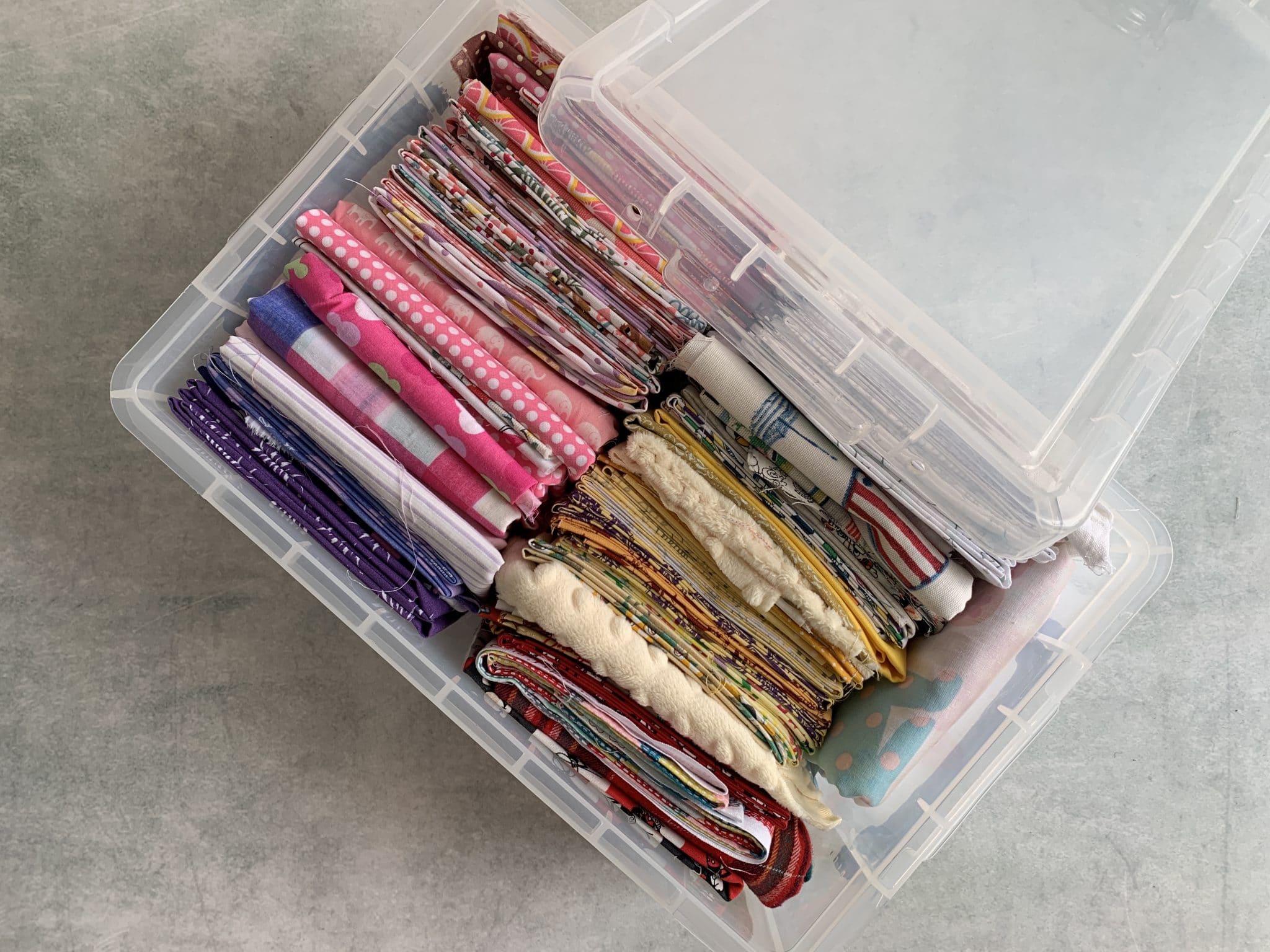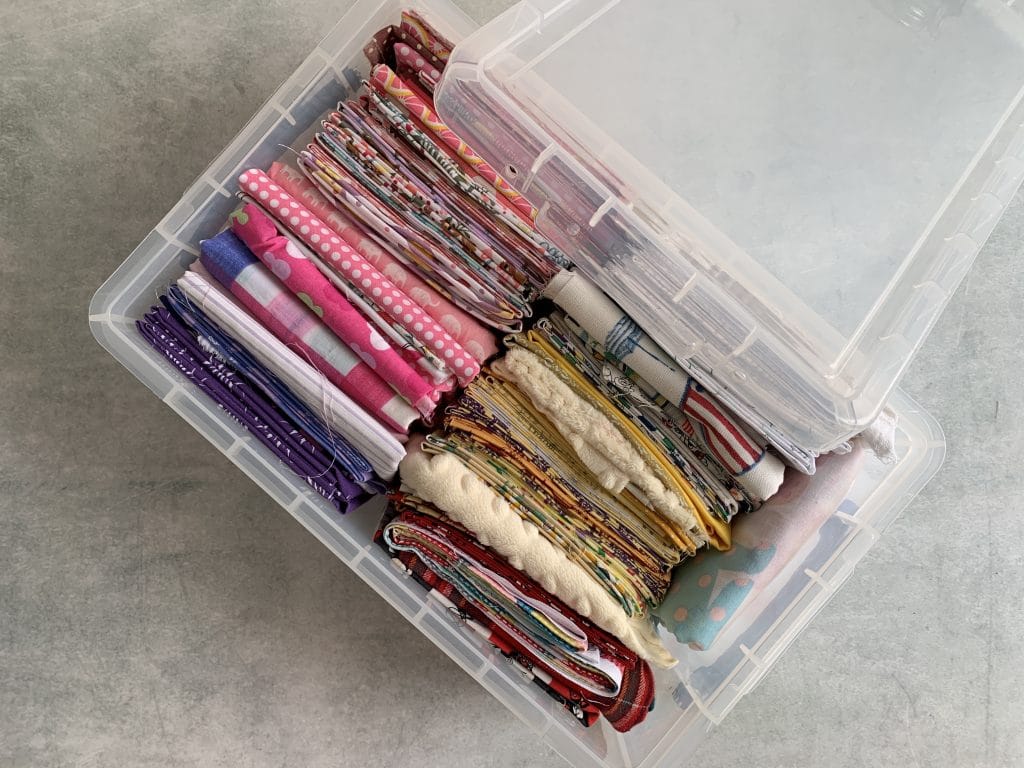 Even if you have many sewing patterns boxes can be a great way to store them. Boxes are helpful if you are tighter on space, wanting to store them in a place where it isn't the driest or cleanest place ie cellar, loft or garage.
4. Baskets
I have an obsession with baskets, even fabric baskets! If you are frequently using your sewing patterns and are often looking through them to find what you want baskets are a great way to store your sewing patterns.
You can divide your sewing patterns into type, gender or style and store them upright in baskets. You can label the front of the basket or leave them blank, whatever suits you.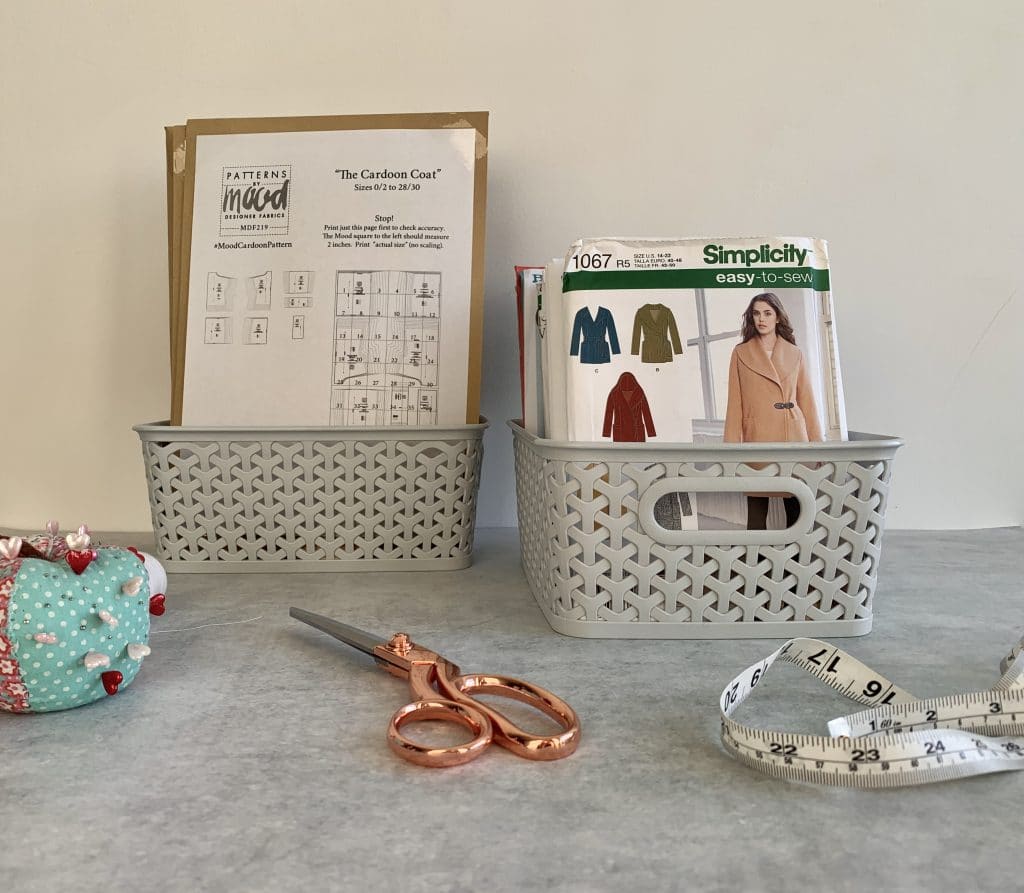 I use these Curver small baskets for so many things from sewing patterns, unfinished projects (yes I have too many) and in my kitchen.
These are great if you have a bookshelf in your sewing space or on a tabletop for easy access. Baskets are much easier to access over boxes so if you like to be able to dip in and grab your sewing patterns quickly this is for you.
5. Hung Up
Hanging pattern blocks or self drafted patterns is really useful. Especially if you use them frequently. This is also a great space saving idea and saves you having to fold up card or strong paper patterns.
I grouped together pieces for the same pattern and put them onto one hanger.
I have a similar method to this for storing embroidery threads, along with other ways to make the most of your embroidery threads.
I hope you found my 7 best sewing pattern storage ideas helpful. If you have a great way of storing your sewing patterns I haven't covered leave me a comment below.