What To Stuff A Pin Cushion With
Some of the links below are affiliate links. As an Amazon Associate I earn from qualifying purchases. This means that, at zero cost to you, I will earn an affiliate commission if you click through the link and finalize a purchase.
Pin cushions are super fun and easy to make which make them great for beginner sewing projects but it isn't always clear what you should use to fill them with.
The best filling for a pin cushion is steel wool as it is both flexible and easy to use as well as beneficial in keeping your pins sharp over time. However, you can also use a combination of materials such as ground walnut shells and polyester filling to create a similar feeling as the steel wool.
I did a lot of research on what fillings were best suited, cheapest and also easily accessible for those making pin cushions and created this handy guide for anyone looking at making their own pin cushion.
Cushion Filling/ Polyester Filling
One of the easiest and cheapest pin cushion fillings is to use cushion filling or polyester filling. You can use an existing cushion you have at home or a store-bought one. You can find cushion fillers in homeware stores such as Dunelm Mill, Hobbycraft and The Range.
You can alternatively buy polyester or cotton stuffing in craft stores or online which is the same as cushion filling.
✅ Pros: The pros of using the cushion filling is that it is soft, light and easy to use. Cheap to buy and acquire when you need it.

❌ Cons: The lightness means it can easily be moved or knocked off the surface.
Alternatively, you can use batting and wadding scraps, pulled apart and fluffed up to create the soft fibers of stuffing.
Steel Wool
Using even just a little of the steel wool can be a great filling for a pin cushion. The stainless steel naturally keeps the pins sharp and in good condition with every insertion to the pin cushion.
You can purchase steel wool at places such as Amazon or Hobbycraft if you do go for finer wool as it is easier to work with and will gently sharpen your pins each time.
✅ Pros: It sharpens pin and needles as you use it and lasts a long time. They are easy to find and can be fairly cheap.

❌ Cons: They can be quite small or hard to manipulare into different shapes. You can, however, use them in cojunction with another material to create the pin cushion.
Rice
Rice is a great long life filler for many things such as heat packs, pattern weights and teddy bears. It also makes a great weighted filling for a pin cushion.
Using rice at the bottom of a pin cushion can help it gain some weight to stop it moving easily and make it more solid. It doesn't need replacing very often and won't cause a smell.
✅ Pros: They are great to add weight to a pin cushion to make it more sturdy. It is an easy filler to use and cheap to buy.

❌ Cons: Doesn't hold the cushions as well as the other two, I would suggest using it in conjunction with another material for best results.
Fabric Scraps
Holding on to those fabric scraps for a reason? Well, now you have one, not the usual route to take but it is worth a try.
You can pull them apart a little and make a fluffier feel with the weave and fibres. Stuff as normal into your pin cushion shell.
I advise adding in another component like rice, steel wool or even some batting to help add a little weight.
✅ Pros: Using up the material you already have and it is free.

❌ Cons: Not very weighty or fluffy so would need plenty to fill the pin cushion.
Ground Walnut Shells
Ground Walnut Shells are one of the best fillings for a pin cushion as they are readily available and provide weight. They are easy to use and even help sharpen the pins each time they are pulled out.
You can find them in the aisle with cat litter at pet stores such as Pets At Home or even online on Amazon.
✅ Pros: Weighty, readily available and eco-friendly.

❌ Cons: May cause allergies.
Plastic Beads
More commonly known for uses in items such as teddy bears, bean bags and weighted blankets.
Plastic beads are another alternative to use in your pin cushion. Though traditionally not the best filling for a pin cushion it can be used.
These are a great filler for pin cushions as they are weighted and flexible. What I would suggest doing is using them to fill half the pin cushion and fill the other half with polyester stuffing or fabric scraps.
✅ Pros: It gives the pin cushion some weight.

❌ Cons: It can make your pins dull and not very soft to hold.
Sand
Sand is readily available and cheap to buy if needed. You can create a second layer of fabric to hold the sand in to minimise leaking possibilities.
As the grains of sand are so small you can create a really nice compact pin cushion, other benefits of using sand is that it can sharpen your pins.
When using sand make sure to use a funnel to get the sand into the pin cushion shell.
✅ Pros: It is cheap to find and can make quite a heavy pin cushion.

❌ Cons: If it was to spill in your house it can make quite a mess.
Sawdust
Sawdust is another great option for filling pin cushions as it is much like sand in the sense it is small and can be compacted into a fabric shell and be firm to use.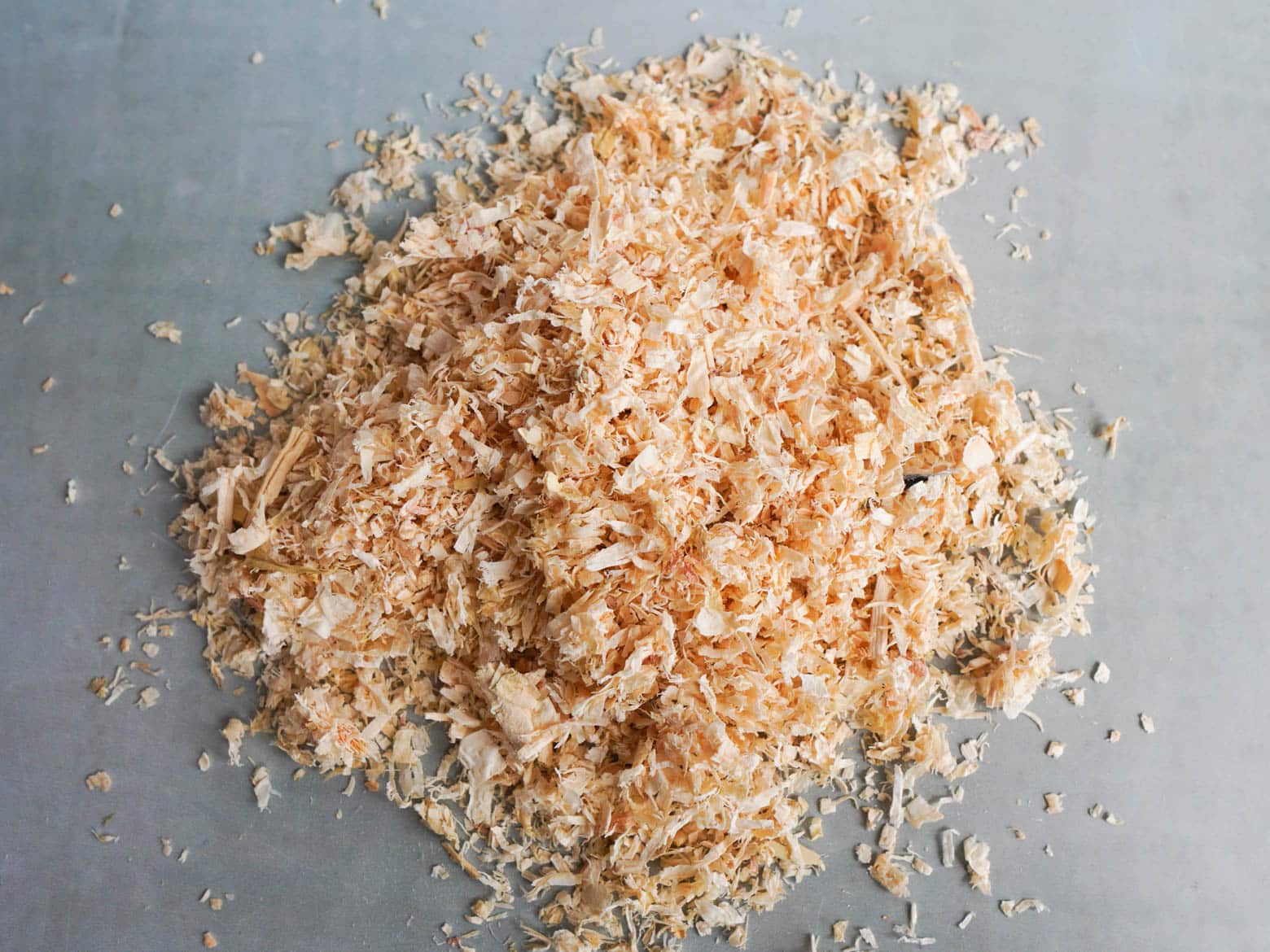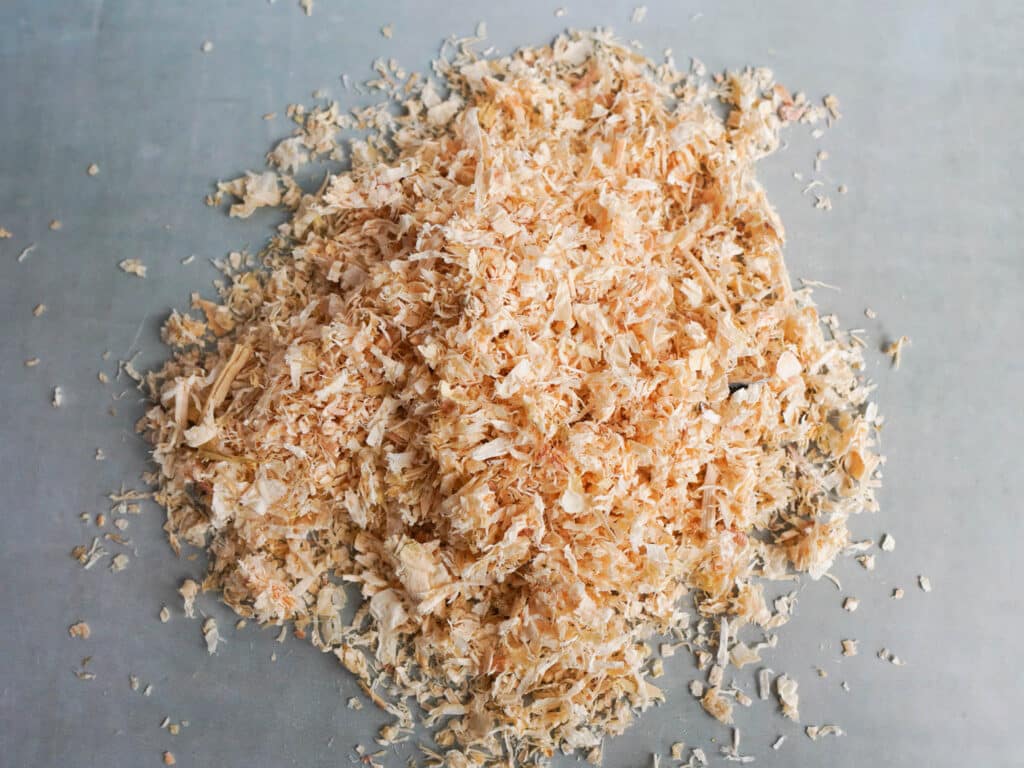 It is a great option especially if you have easy access to it from woodworking or a local woodworking centre. It is heavier and denser than some of the alternative materials.
✅ Pros: Sawdust is eco friendly, readily available and easy to use. It is also great to compact into a small space.

❌ Cons: Can be a little messy to work with.
Wool Stuffing
Wool stuffing is much like polyester filling but it is heavier and better quality. The wool is a natural material and is said to be better for your pins as it keeps them shiny and smooth.
You can use wool stuffing for lots of projects from teddy bears and stuffed animals to pin cushions.
✅ Pros: It is higher quality material with weight and added qualities of care for your pins.

❌ Cons: Is more expensive than polyester and cotton filling.