How To Make Mittens From Old Sweaters
Some of the links below are affiliate links. As an Amazon Associate I earn from qualifying purchases. This means that, at zero cost to you, I will earn an affiliate commission if you click through the link and finalize a purchase.
Are you looking at how to make mittens from your old sweaters and jumpers?
Making your own gloves is a really popular way of using up and old loved sweater or knitted jumper into something new. I love recycling clothing so I always find it interesting of ways I can make something new from something old.
You can do this wil pretty much any sweater or jumper that you no longer want to wear and
Tools & Equipment
Old Sweater or jumper
Scissors
Thread
Sewing Machine – though you can do this by hand
Lining fabric – jersey or something with a little stretch.
Pins – preferably long pins to get through the thick layers.
How To Make Mittens From Old Sweaters
Step One
Start by making a paper template to use on your jumper. Don't cut straight into your jumper as you might make the shape too small and then you will have wasted the jumper.
Place your hand with your thummb positioned away from your fingers on a piece of paper. Draw around it with a pen or pencil, making sure you don't make the shape too tight to your hand.
Cut it out and put it to one side.
Step Two
Next you want to lay out your sweater and make sure it is smooth on your work surface.
Place your paper template on top and pin in place. You should be pinning through both the top and back layer of your jumper to make a pair of mittens – one for the front and one for the back.
Make sure that your papper template ends on the ribbing section of you jumper. This will act as an elastic when wearing the mittens.
Cut out and repeat to make a second glove.
Step Three
Using a plain cotton or jersey cut out 4 pieces of the mitten shape to use as a lining.
Sew together the lining pieces make sure the right side of teh fabric is on the inside – with both pieces right sides together.
Step Four
Moving on to sewing together the main pieces of your winter mittens.
Take away the paper template and pins and open up the pieces so you have four wool or knitted pieces on your work surface.
Start by placing 2 pieces (make sure they are matching) right sides together. Pin or clip into place to hold the laters in place until you sew them together.
Tip: Test out your stitches on a scrap piece of your sweater to make sure it doesn't pull your material when sewing.
Do this for both pieces and sew them together with a 1/2 inch seam allowance.
Step Five
Turn your knitted/wool mittens the right way out and check the fit. You may need to alter the ribbed section to be a little tighter so they stay on better.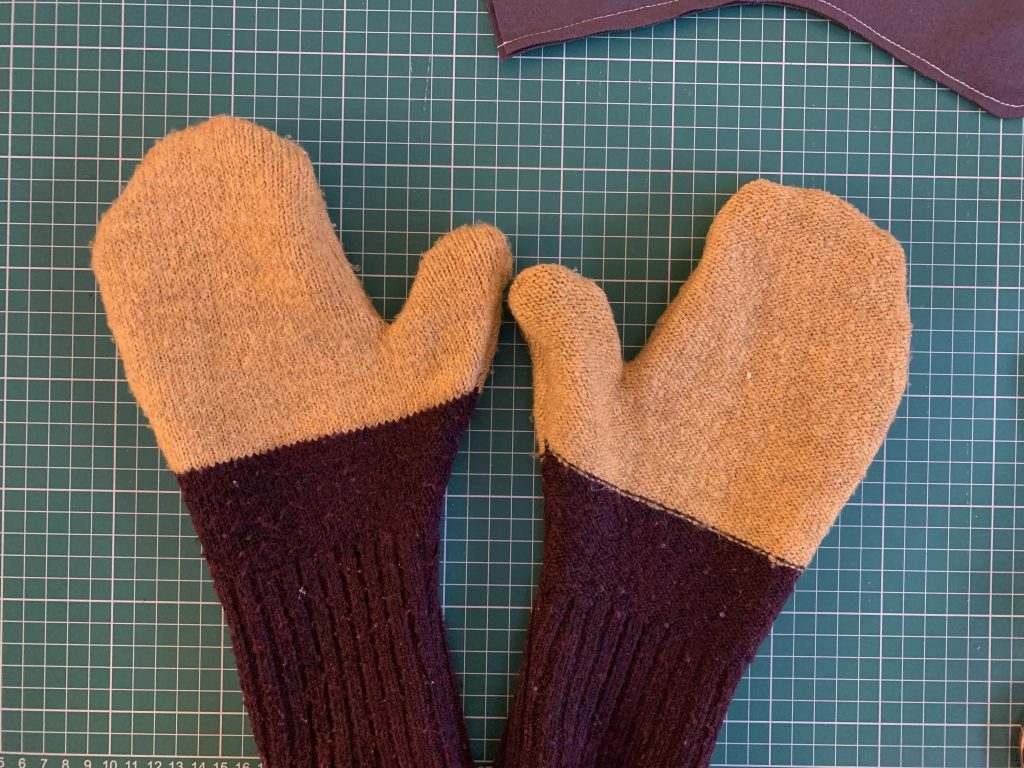 This area of the glove is meant to expand and contract like elastic so it may need altering to be tighter especially if the sweater has got a little baggy and loose over time.
Keep your lining as it is and you want the seam to be on the outside. Once put together it will be hidden and unseen.
Step Six
Using your hand wear the lining piece and then slide on top your wool/sweater mitten.
This will help nest the two layers together and so you can pin them together to arrange the lining inside.
Pin in place and do a small tack stitch at the top of the fingertips of the glove and at the thumb. This will hold the layers together so when you take out your hand the lining won't come with it.
Then move to the opening and fold back the lining to hide the raw edge. Pin and sew in place either with the sewing machine or by hand.
Step Seven
Once your lining and outer sweater pieces are sewn together you are done!
I hope you have found this tutorial on how to make mittens from old sweaters useful and clear.