4 Easy Steps To Prepare Fabric For Sewing
Some of the links below are affiliate links. As an Amazon Associate I earn from qualifying purchases. This means that, at zero cost to you, I will earn an affiliate commission if you click through the link and finalize a purchase.
There are so many myths and legends around whether we need to prepare fabric for sewing. Many fabrics can be bought that are prewashed but there is still plenty that needs preparing before sewing. Here is everything you need to know on how to prepare fabric for sewing.
First, you might be asking why do I need to know how to prepare fabric for sewing?
Well, essentially there are a few reasons. Fabric whether a natural fibre or man-made there are certain treatments, specifications and chemicals that may cause the fabric to work one way or another. Some of these things can cause your fabric to shrink, colour run/fade and fray all before you have sewn a seam.
Why Do I Need To Prepare Fabric For Sewing?
Depending on where you buy your fabric and how you might not need to. But as a whole yes. I would advise to wash and prepare fabric for sewing every single time. Even if your fabric has been prepared and says so on the label, you can still take it home and do your own wash and iron ready to use.
The benefit of doing this means you can be sure that once you start using your fabric (after prepping) you know it is ready to withstand what it is made to do. This is extremely important if you are planning on using the fabric for clothing, homeware or quilting. This is important step in how to prepare fabric for sewing.
The biggest benefit of preparing your fabric for sewing is that once you have done it, you know the way to wash and treat it again. Items such as homewares, blankets and clothing that will be washed quite often will need to be prepared so that there are no nasty surprises in the future.
You should prepare fabric for sewing by washing, drying and ironing due to fabrics often take on a different shape and/or colour after washing.
As fabrics are often treated with certain chemicals, treatments and made in a certain way these can often affect how the material will hang, drape and move. Getting rid of the remaining chemicals and dyes is a vital part of how to prepare fabric for sewing projects.
Most kinds of cotton can be bought from the roll turn out to be quite stiff and hard, this is due to some of the remaining treatments on the fabric. Fabrics like cotton also should be prewashed as they can often shrink.
The last thing you want after making a new dress is washing it and it shrinking. Preparing fabric for sewing will allow the fabric to shrink and get rid of any lasting treatments within the fibres making it better for you to use afterwards.
Quite a few fabrics will naturally fray at the edges, these have to be pretreated to stop any additional fraying before washing or sewing. Fraying happens on edges that are loose, fibres within the fabric weave will start to pull away causing it to look shabby and leggy.
Other fabrics that have been dyed, printed and have a colour to them can often have pigments left in them that will run while being washed. The best way to get around dying your whites slightly pink is to prewash your fabric. Wash the fabric alone, this will allow the leftover pigments to leave the fabric fibres and wash away.
How To Prepare Fabric For Sewing
First to know how best to prepare fabric for sewing is to know what fabric you are working with. You want to understand the breakdown whether it be 100% cotton or a linen/cotton blend etc.
If you aren't completely sure wash as you would the fabric it mostly is but be cautious. In this case sometimes washing a sample of the fabric can work if you don't want to risk the full length.
Different fabrics wash differently so it is best to check the details of your fabric before washing. Also, many fabrics are known to fraying, this is something you want to be able to control before washing.
The selvedge of the fabric will most likely be contained and had a treatment already put on the edge to stop fraying.
The edges that are raw and freshly cut will need to be sewn, hemmed or treated before washing. Making sure your fabric isn't fraying is important part of how to prepare fabric for sewing.
1. Wash Your Fabric
Washing is important for new fabrics as they can often have a number of chemicals, dyes and solvents still within the fibres of the fabric. This can often make the fabric feel stiff or rigid.
Washing will also help the fabric pre-shrink to its more natural state, when this has happened your fabric should stay the same size from then on even after washing. Be sure to make sure you wash your fabric on the right setting for the material and fibre makeup.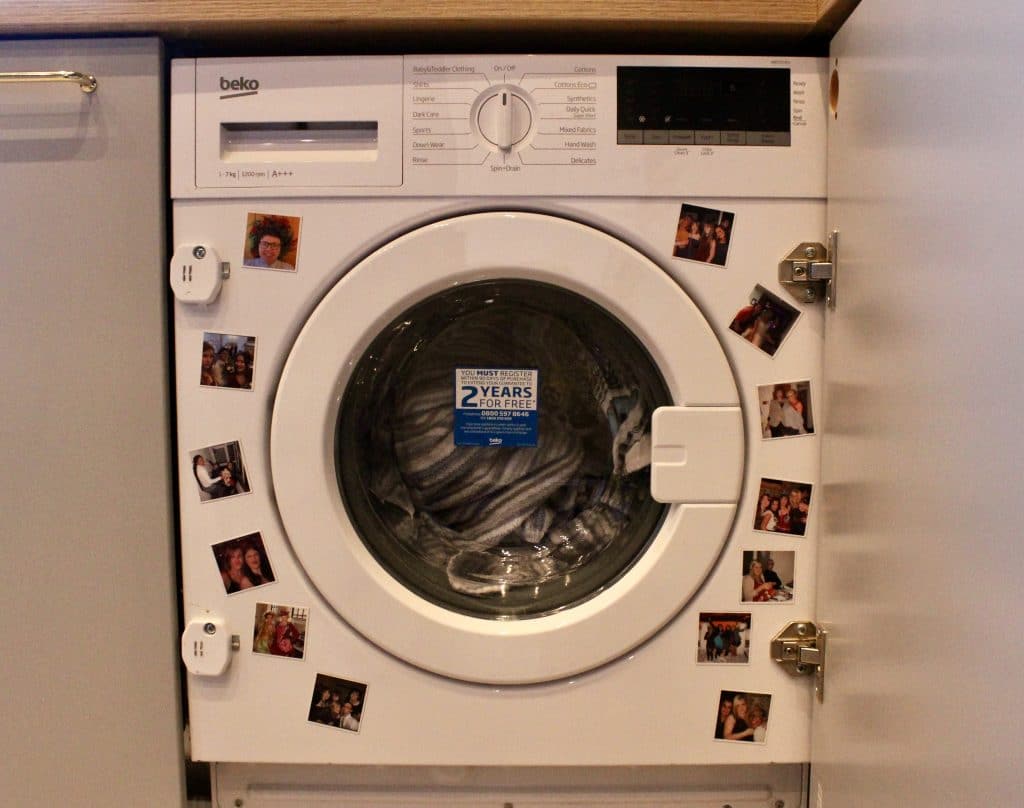 Another reason you should wash your fabrics before using them is to wash away any remaining dyes that might bleed into your other materials around your house such as sofa, clothing and bags.
This will wash away remaining dyes and save you from having to try and get red dye out of a light grey sofa. This will also help stop any transfer from the fabric to other items when they are washed together in the future.
Washing Guidelines For Fabrics
Here is a few quick tips and a guide for the most common types of fabric on the market. Be sure to do more research if you are unsure or ask the retailer if they know more about the fabric and washing guidelines.
Merino Wool
Merino Wool is a delicate fabric that can be washed on a gentle wool cycle in the washing machine.
To dry place on a line or airer to drip dry in the shade. If you are working with boiled wool this should be washed by hand and always wash colours separately.
Cotton
Cotton is one of the most used fabrics and is common to be used on many items in the home and for clothing. It can also come in a number of forms, blends and ways. It can be machine washable, the fabric can be bleached if white.
To dry you can use a washing line to drip dry or in a tumble dryer. Cotton also can be ironed on a medium to a hot setting, again use a cloth in between if you are worried about the fabric. If you are working with embroidered cotton cool hand wash/dry clean.
Silk
Silk is a lovely fabric to use in clothing but can be a little tricky to treat. It has to be dry-cleaned or gentle hand wash with silk detergent. To dry drip dry on a washing line or airier in the shade.
The silk can be ironed on a lukewarm iron, if you feel uncomfortable about using the iron directly over the fabric place a cloth in between.
Linen
Linen is another popular fabric to use for clothes, mostly because it is easy to wear and breathable.
To wash linen before sewing dry-clean or in low temperature/ lukewarm water with mild detergent. To dry place on a washing line or airer to drip dry. You can iron linen on a medium/high setting.
Rayon/Viscose
Wash on a cool/low temperature machine wash or by hand. The best way to dry Rayon/Viscose if by air drying on an airier or washing line.
You can iron these fabrics but only on the reverse, place a cloth over the fabric to give it little added protection.
Wool
Wool is a hardy material to use but always needs to be cleaned in the right way. I would suggest a gentle wool wash or dry-clean for the best results.
Airdry or lay flat on a surface as to not pull the material out of shape. Remember to use plenty of steam when ironing.
Laces/Velvets/Jacquards
These are more delicate fabrics that have patterns, prints or detailing which makes them harder to prewash. You can wash these fabrics but they have to be done by hand delicately or dry-cleaned.
I would suggest if hand washing only to use a teaspoon of detergent. Hang to air dry or lay flat on a surface. Do not iron.
Satin
Satin is a tricky fabric to work with as in one hand it is delicate and soft and the other it is hard to manipulate. It should be washed by hand or on a very delicate cycle using cold water and gentle detergent.
Do not wring out the fabric as this will cause it to loose shape. Air dry on an airer or washing line.
Denim
Denim is a tough fabric but can also be quite gentle as fraying often occurs. Wash denim on a cool wash on a fairly gentle cycle.
Tumble dry on delicate, low heating, you can iron denim using a medium setting.
Chiffon
Chiffon is another fabric that is gentle and hard to determine how to treat. It is best washed by hand in lukewarm water and one cap of detergent.
To dry the chiffon place it on an airer or flat surface to drip dry. If you need to iron, iron on low temperature and place a cloth between.
Remember once you have made up your projects to wash the fabrics in the same way as you did to prepare them for sewing.
How To Prepare Fraying Fabric For Washing
There are of course some fabrics that are already fraying and the best way was your fabric without causing more fraying is to neaten the edge. Make sure to cut off the existing fraying before fixing the edge.
Because the fabric is already prone to fraying, putting it straight for a wash (even a hand wash) it would cause too much movement and friction which would mean the fabric frays much much more.
To stop this you can do a number of things to help prevent fraying if you don't want to wash your fabric before sewing you can still use these techniques to prevent the fabric from fraying.
For example, the image below is a dress I made, I didn't pre-wash the fabric and I didn't treat the edges to help stop fraying once I cut them. So once I washed it, it frayed like made and so it leaves me having to repair all the frayed edges.
This happened even though I had hemmed all the raw edges properly and so all seams and raw edges were concealed but as the fabric was so prone to fraying it happened anyway.
2. Press & Iron
Once you have washed your fabrics you will want to press and iron them. As the washing helps to remove any remaining solvents and dyes, along with preshrinking to the natural size ironing then sets this is.
Ironing on many fabrics can be a secondary shrinking as the heat has a reaction to the fibres and makeup of the fabric.
Make sure you iron all your fabrics before sewing otherwise you might find your projects shrinking quite substantially once they are made.
You don't need a specific iron or press and you can use steam or dry iron, though I always prefer to dry iron my fabrics. Be sure to make sure you look at what setting to use on your fabric before ironing.
3. Make Sure Fabric Is On The Grain
Before you get started you want to know where your grain is and what direction you need to pay attention to. As many clothing patterns require a grain to follow you will want to locate this before you get started.
You can identify the grain in a number of ways. If you are not using your fabric straight away you can mark this on with a safety pin, pin or marking with a pen.
4. Identify Right & Wrong Side
Before you get carried away and start cutting into your fabric make sure you have made note of which side is the right side and wrong side.
This is important for any project you are working on as you want to make sure that the best and most vibrant side of your fabric is facing outwards.
The white side is the wrong side and the clear vibrant pattern is the right side.
This fabric is easy to determine the right and wrong side.
Where as this fabric is much harder to see. In this case it might not have a right or wrong side.
You can often see a very small difference in the colour ways and how bold one side is compared to the other.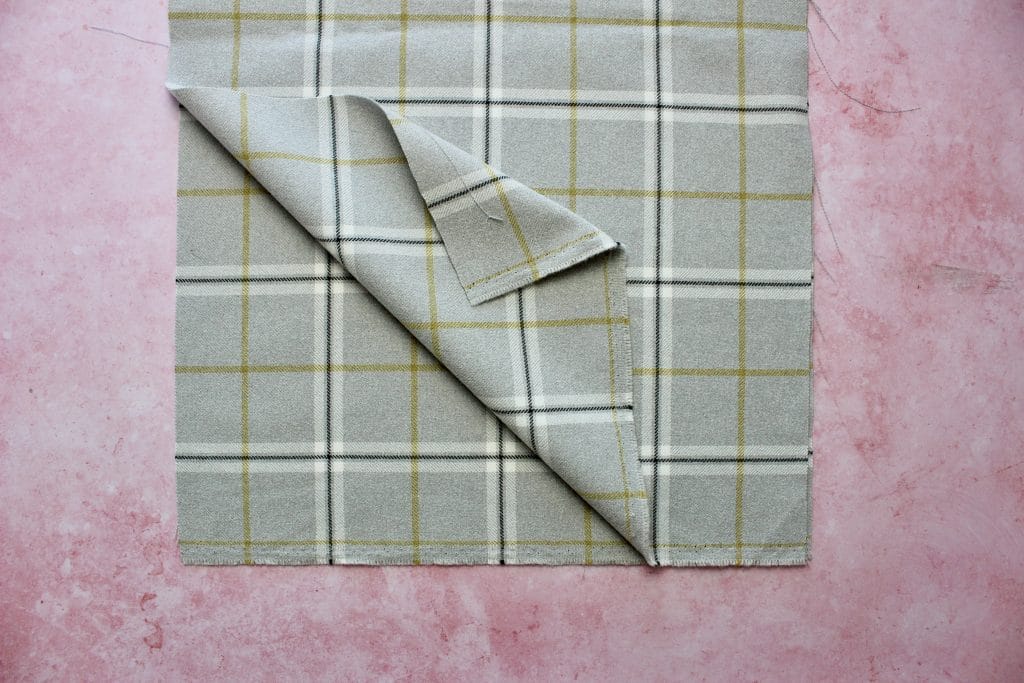 You can do this by turning over a corner to compare the difference between the sides. The front is usually the boldest print, most vibrant colour and most defined weave.
Some fabrics are more obvious than others and some can be extremely hard to distinguish. Ask someone else that is with you to see what they suggest if the fabric is particularly difficult.
That is everything you need to know on how to prepare fabric for sewing. If you have found this helpful I would love to know in the comments. If you are looking for more tips on how to get started I have all you need.