How To Organise Thread Spools
Some of the links below are affiliate links. As an Amazon Associate I earn from qualifying purchases. This means that, at zero cost to you, I will earn an affiliate commission if you click through the link and finalize a purchase.
Whether you have a craft/sewing room or just a corner of the dining room you can store your sewing supplies there are ways to maximize your space and storage system. One of the best ways to maximise space is by knowing how to store thread spools.
I have so many different sizes, styles and types so I find it hard to work out what I need and find it among the many. I decided to take some time to sort through my stash and get organised.
The best way to store thread spools is by standing them up in some form of container or rack. It is also important to wind the thread onto the spool and hold in place to stop the thread from getting tangled up with others.
How To Organise Thread Spools
Figuring out the best way to organise your thread spools for you and your sewing space can be hard. I found that it really depends on what you are looking to make and use the most often.
I found placing items such as pins and scissors easy to access easier as they are items I use the most. If this is the case for your threads then you might want to look at organising them and storing them in a more open space.
If you use a variety of different threads and types you might want to create different segments within your storage system so you can clearly find the type of thread you need and quickly.
By Colour
One of the most popular ways to organise thread spools is by colour. This is very popular as it is aesthetically beautiful to look at. This is great if you are only using one type of thread.
If you have a number of different threads for different projects you may find this difficult unless you repeat the system for each type.
I like the idea of organising by colour as it can make finding the thread you want quicker and easier as you know the colour you want to use but not sure on the shade.
By Thread Type
Due to many people having a number of different thread types and styles for different projects you might find this an easier way to organise. Keeping all thread types together will make it easier for you to find what you need and for the right project.
This is one of the most practical and useful ways of how to store thread spools. This is really handy if you sew a lot of clothing items with different materials and threads.
I found a really great way of storing them was in small jars with sticky labels so I could see what I have and where they are. Alternatively, you can use small dividers in a box or sewing box to segment the different types from each other.
Sewing Box
I use this method at the moment as I have limited space and decided that I don't need to access them too much. I sorted mine into sizes and then into the sewing box in compartments.
You can find a number of sewing boxes, storage boxes and trays that will hold threads. It can be totally your choice and what you are looking for. This can depend on what space you have available and how many thread spools you have.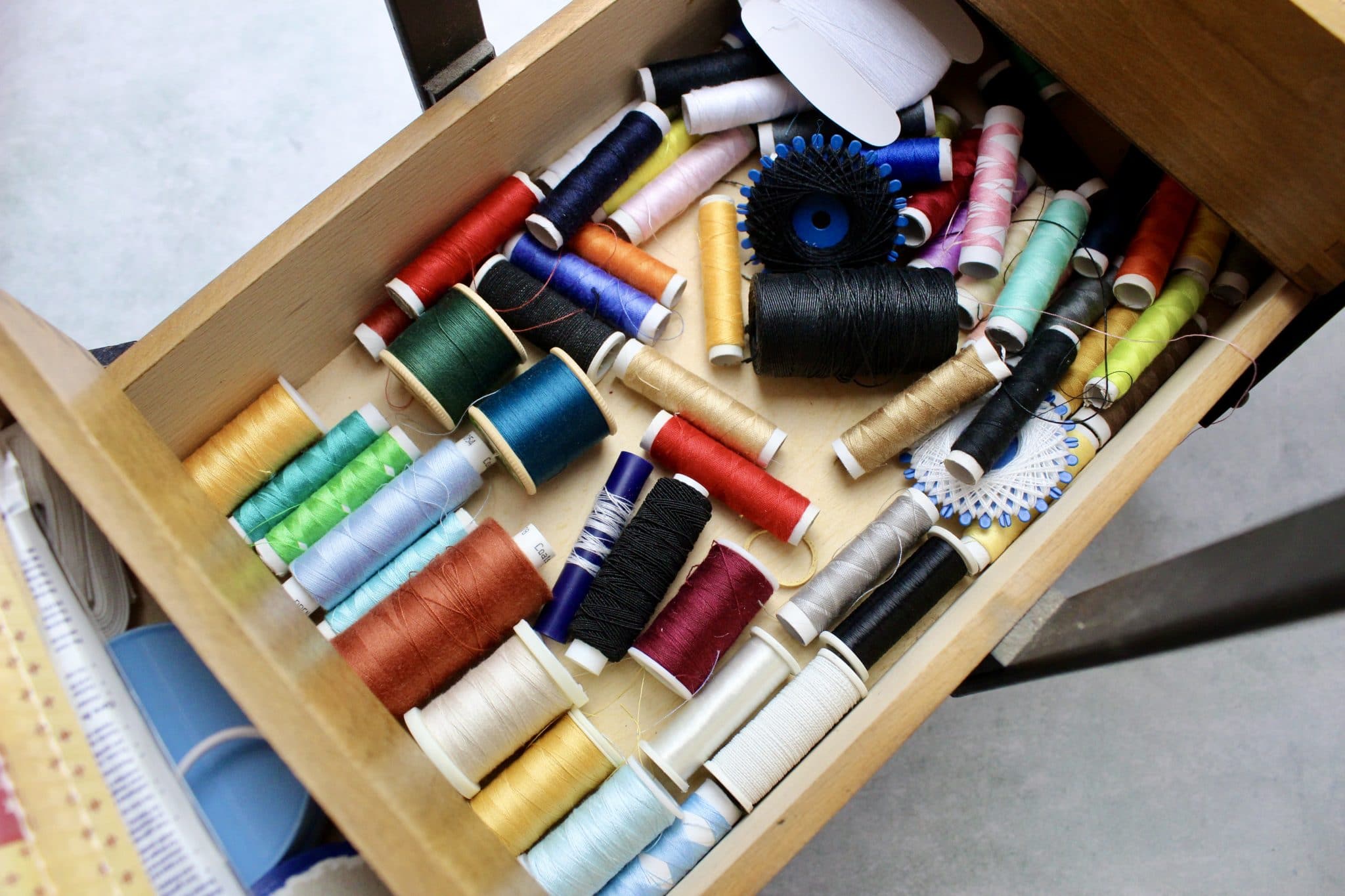 If you are looking for alternative boxes with compartments to use, look at tackle boxes or DIY storage boxes as these often provide handy compartments within a box-style case and are great sizes for sewing equipment.
Craft Drawers
Another popular choice for organising a craft room as they are easy to use and can really help make a room and space feel complete.
I have used drawers for a number of things from thread spools, embroidery floss and equipment in general.
You can store more than one in each drawer depending on which size you buy. This is really handy if you buy in bulk or use a lot of one colour. You can store these in colour order or use a label to put the colour code, brand and thread type on the drawer.
I found the best style of drawers were from Really Useful Boxes. They are a highly recommended company which create heavy duty and sturdy plastic containers and storage systems.
I found these drawer liners so handy to put into my Ikea drawers or into the really useful boxes themselves.
Gutterman Sewing Thread Box
If you only have a select amount of threads in your sewing room or you prefer to purchase your thread purposely for a project you might find that you don't need a large amount of storage for your thread spools.
What I really like about the Gutterman thread box is that there are spikes to hold your thread upright and the box is clear. It is small enough to carry around if you need to but large enough to hold 27 spools.
60-Spool Thread Holder Rack
Another great and popular way to store your threads is by using a rack system. These are super cheap and easy to find on Amazon and eBay and are perfect for storing your spools.
What I think I really like about this way of storing spools is that they are organized, clear to see and find and you don't have a huge knot of threads tangled up in a box.
Keeping The Spool & Thread Together
There is a genius way of never needing to find your matching spool and thread ever again and also saves you winding an new spool with your chosen colour thread, even though you know you have one already done somewhere!
This can be done using a number of things from elastic bands, toe separators or bobbin buddies. These super handy tools can help you keep your thread and spool together when you aren't using them so you never have to hunt for them again.
I love this as I often have plenty of threads and matching spools that I use over and over again in projects and find having them organised and together makes my work much quicker.
If you are looking to have an all in one system like this I would recommend getting one of the many varieties to do this task and organise your threads and spools together.
Alternatively, if like me you like to save a little money or want to try a DIY method first look at using rubber bands or bobbles to hold your thread and matching spool together.
Simply bring the rubber band to a flat (looks like its in half) then wrap that around your thread, take the looped ends and place them around your spool.
This will hold the spool in place and keep your thread from unravelling and best of all your matching thread and spool are now kept together.