8 Best Fabric For Hoodies & Sweatshirts
Some of the links below are affiliate links. As an Amazon Associate I earn from qualifying purchases. This means that, at zero cost to you, I will earn an affiliate commission if you click through the link and finalize a purchase.
Whether you are looking to make a sweatshirt or buy one for yourself, it's important to understand the best fabric to use.
The best fabrics to use for hoodies and sweatshirts are those which are warm, easy to wear and have a little stretch included such as fleece, french terry or Ponte De Roma.
While French Terry is the best fabric for hoodies and sweatshirts you may want to consider some alternatives that are either better suited to wearing out day to day over just lounging at home in.
For example, if you are looking to make a jumper for at home that won't be worn much outside you can look at using something cheaper such as fleece. Whereas a jumper that is to look smarter and worn out day to day you might want to look at using Ponte De Roma or French Terry.
1. Fleece Fabric
Fleece is a diverse fabric and can be used for many projects from stuffed animals to clothing, especially clothing made to keep warmth in.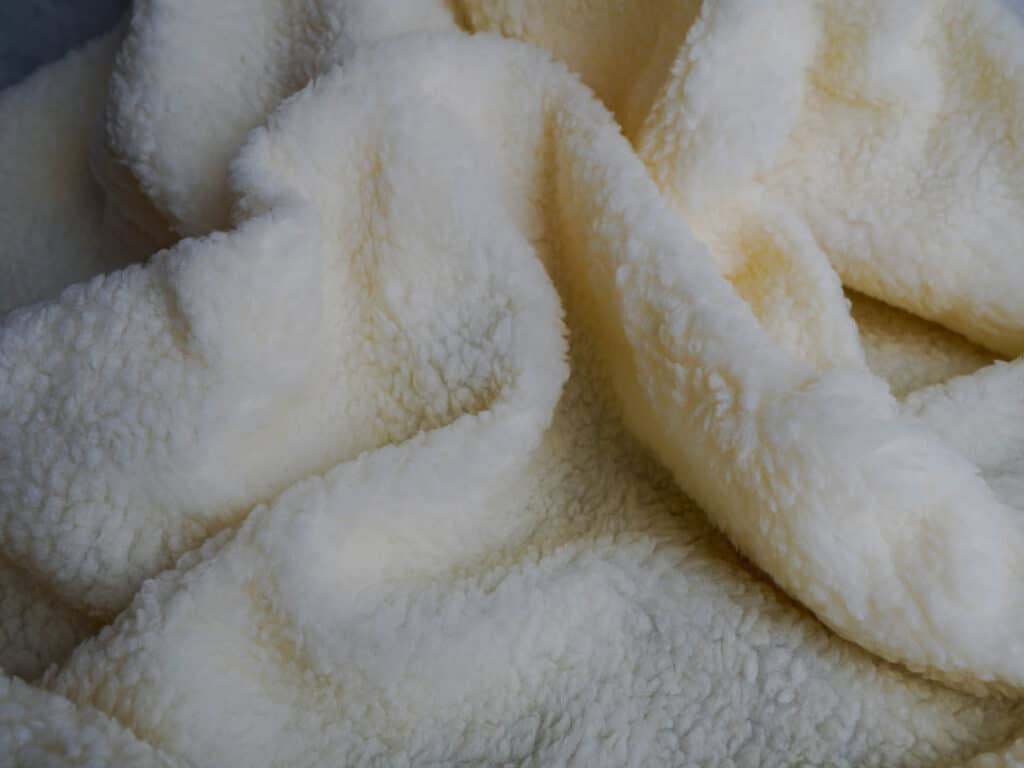 The fabric is made to have tiny air pockets that trap body heat to help keep you warm along with being soft and cosy.
Fleece is commonly made from plastic that has been turned into polyester and then made into soft, warm fleece. However, you can find fleece fabrics made from natural fabrics if you prefer to work with natural materials.
As fleece is made to keep the body warm it is a perfect fabric for making sweatshirts and hoodies. You can find a variety of blends of fleece from cotton, polyester and even lycra.
Lycra Fleece is often great for using for running or athletic wear where as alpine fleece which is a polyester blend is perfect for casual hoodies and sweatshirts.
2. Jersey Fabric
Jersey fabric is a widely used term to capture fabrics made with a knitted construction. Jersey can often be made up of cotton, cotton and wool blends or polycotton blend.
The feel of jersey fabrics will differ depending on the type of knit and fibre content such as 100% cotton or wool blend.
What makes jerseys an excellent choice for hoodies and sweatshirts is that 90% of the jersey fabrics on the market are stretchy making them easy to wear.
Compared to other fabrics such as french terry, the benefit of using jerseys are that it is cheaper and more widely available.
3. French Terry
French terry is another loopback fabric sometimes known as loopback cotton. The loopback term comes from the technique of creating loops on the back of the material while keeping the top side flat.
The loopback style of fabric creates a soft, warm and cosy feel perfect for hoodies and sweatshirts.
While french terry is mostly made up of 100% cotton you can find versions that are made with elastane to create the stretch.
Unfortunately, french terry is often more expensive than some of the other options on this list such as alpine fleece or jersey.
While other fabrics such as fleece are cheaper to buy you may find french terry to be more suitable as it is easier to tailor and can be used more widely for loungewear, after-work-out clothing and even casual day wear.
4. Ponte De Roma
Ponte De Roma fabric is a double-knit fabric meaning there are two layers of fabric combined into one. This is created by a technique using two sets of needles to create the double knit.
The fabric has a slight horizontal ribbed effect and can be found in lightweight, midweight and heavyweight varieties.
Due to Ponte De Roma being a stable knit it holds its shape well and is a great longevity fabric making it perfect for sweatshirts that will be worn, washed and loved for many years.
The fabric is also a great choice due to its breathable, easy-to-wear and stretchy qualities.
5. Wool Blend Knit
Many vintage hoodies and sweatshirts were made from wool as this was the warmest material at the time so it is no surprise that many fabrics are still created with wool fibres included.
Wool blend knit is a type of fabric that takes the properties of wool and combines them with other fabrics such as cotton and polyester to create a cheaper and more durable fabric.
You can find a variety of versions on the market but if you are looking for something suitable for hoodies look for something stretchy and hard-wearing.
Most garments that are labelled as wool blends will have a percentage of synthetic fibres included which makes up the blend part of the name.
The wool blend knitted fabrics can have a good amount of stretch in as it is knitted it naturally comes with some give and movement.
6. Alpine Fleece
Alpine Fleece is a double-faced fabric made up of a soft fuzzy side and a microfleece on the other making it perfect for sweatshirts.
You can find alpine fleece in a number of different patterns and colours to suit any project.
This type of fleece is perfect for loungewear, hoodies, sweatshirts and even scarves as it is super soft and workable for a garment.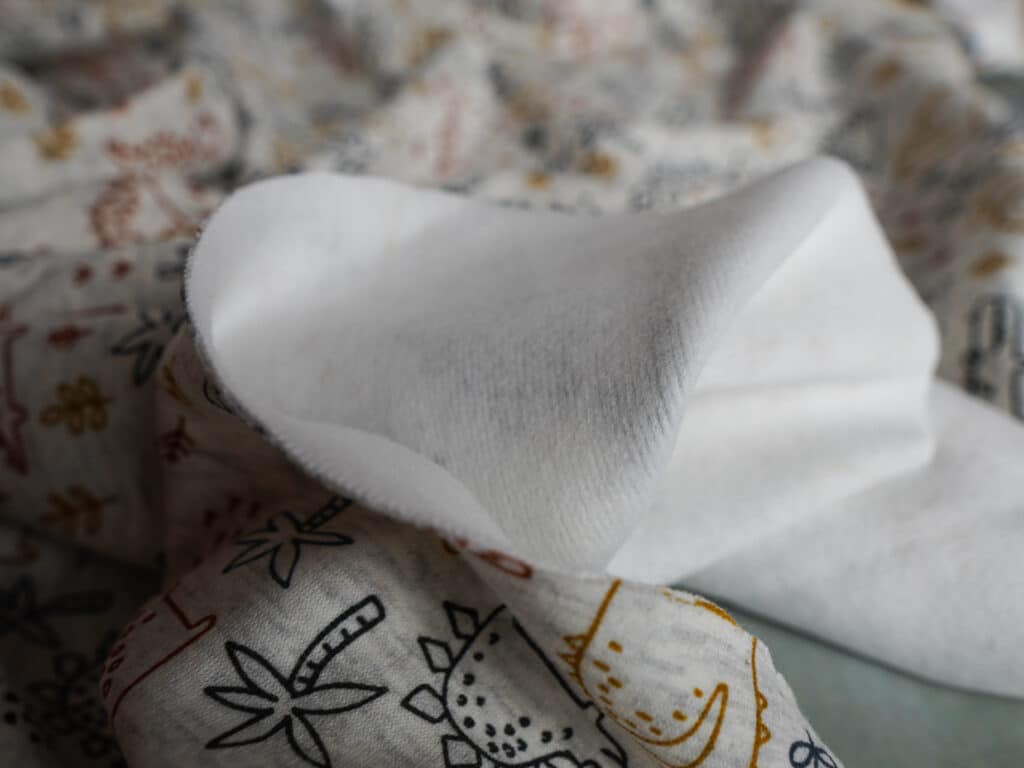 The fabric isn't overly stretchy and doesn't fray which makes it a great beginner fabric for hoodies. It has stretch on one way and on the bias so it is great for jumpers and hoodies.
Alpine fleece is also a great fabric for blankets and throws as it is so soft and warm.
7. Sweatshirt Fabric
While it may not seem helpful to call this fabric sweatshirt fabric, that is what it is called on many websites. This is very similar to french terry and jersey but is cheaper and made either with polyester or 100% cotton.
You can find these style of fabrics in a variety of weights and thicknesses for a number of projects. You can also find a whole host of colours too from a number of different fabric websites.
Sweatshirt fabric is perfect for lightweight hoodies and casual style projects. I would also recommend using this for stuffed animals and soft toys as it is soft and easy to use.
It has some stretch to it but not too much that it is hard to work with.
8. Sportswear Sweatshirt Terry Fabric
A sportswear sweatshirt fabric can also be known as scuba fabric. This is a highly stretchy fabric which makes it perfect for any type of sportswear from hoodies to leggings.
The fabric has a 4 way stretch and is very thick so it works well for garments made for colder climates. It can come as a double knit style fabric which makes it super thick and warm.
There is a smooth side on the right side and a soft small towelling like texture on the wrong side. Scuba and thick sweatshirt fabric can also be known as Neoprene, which is a type of synthetic textile.
While this type of fabric is great for hoodies and sweatshirts I would say that it is better suited to sportswear as it is so stretchy and tight. It is definitely not suitable for a casual style jumper.