The Best Way To Store Fabric Long Term
Some of the links below are affiliate links. As an Amazon Associate I earn from qualifying purchases. This means that, at zero cost to you, I will earn an affiliate commission if you click through the link and finalize a purchase.
I think I would be foolish to say that I am the only fabric hoarder on the planet. It is one of those tools that anyone who enjoys sewing tends to find, buy and hoard.
While you might think that fabric is easy to store and you can just store it in the shed, garage or cupboard there is more to think about, especially for storing long term.
The best way to store fabric long term is to place the fabric in an airtight container such as a box or vacuum-sealed bag in a dry room and out of direct sunlight. If your fabric gets damp it can cause mould to grow and can ruin your fabric. Sunlight can damage your fabric and cause it to fade.
Fabric can often get damp if stored in a damp room or space, this can then cause mould to grow which would ruin it. Damp and mould are very hard to remove and completely restore fabric afterwards.
Storing fabric outside can also be harmful as it may attract small creatures such as rats, mice or bugs. Rodents can make the fabric stash into a warm home for their family to live and breed. They can create smells, eat holes in your fabric and also leave behind diseases.
Tips To Help You Store Fabric Long Term
Before you decide on what you are storing your fabric in and where you are storing it you want to make sure that the fabric itself is well treated, prepared for storing so you don't have any nasty surprises when you come to bring it back out of storage.
These tips will also help you choose the right place to store your fabric to make sure it is well cared for and even give you some helpful ways to fold your fabrics for best results.
1. Prepare Fabric For Storage
Look at storing fabric in sizes, create bundles of similar-sized pieces together to make the use of space more efficient. This will also help you when you are looking for the fabric in the future.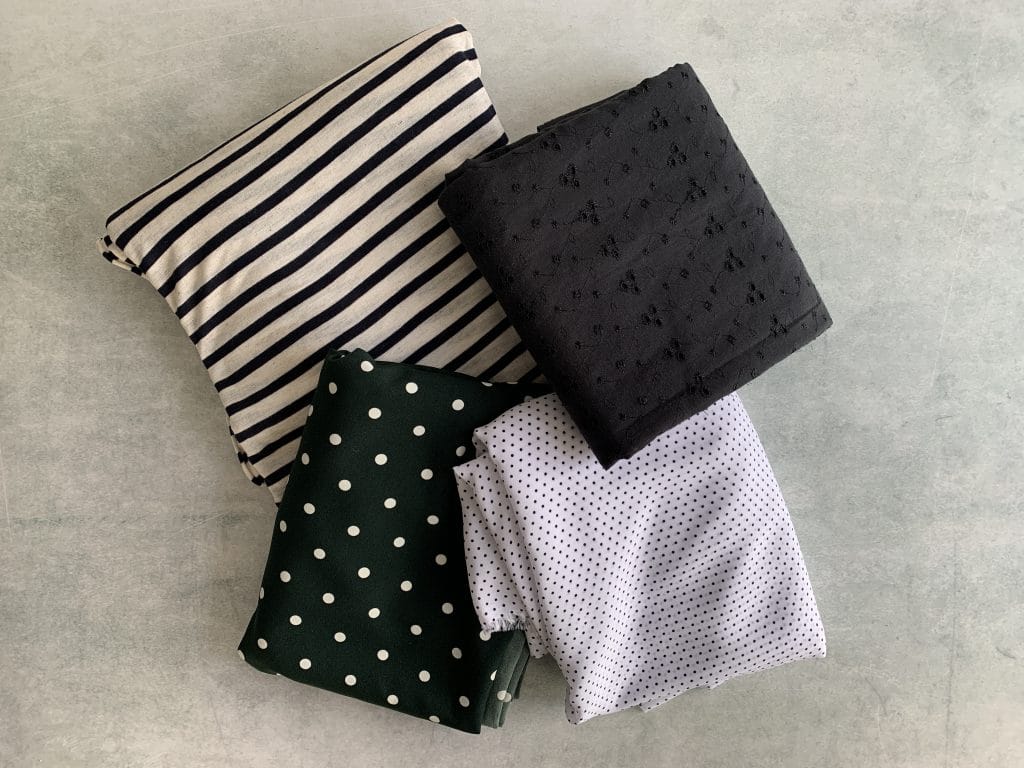 Before you go on to store your fabric long term look at preparing your fabric. This can involve washing and drying your fabric, it can be folded into specific sizes or bagging individual fabrics which are prone to bleeding, fraying or are delicate.
Make sure your fabrics are completely dry before storing as the remaining moisture within the fibres can cause mould to grow and this in itself can ruin your fabric. Mould is very hard to remove from fabric once it is there and often renders the fabric useless.
2. Invest In Good Storage
There is no point in preparing your fabric and spending time folding it nicely, making sure it's completely dry and bagging up your delicate fabrics if you won't invest in good quality storage.
Look at investing in plastic boxes, this is a great way of storing fabric as it keeps everything clean, organised and easy to find.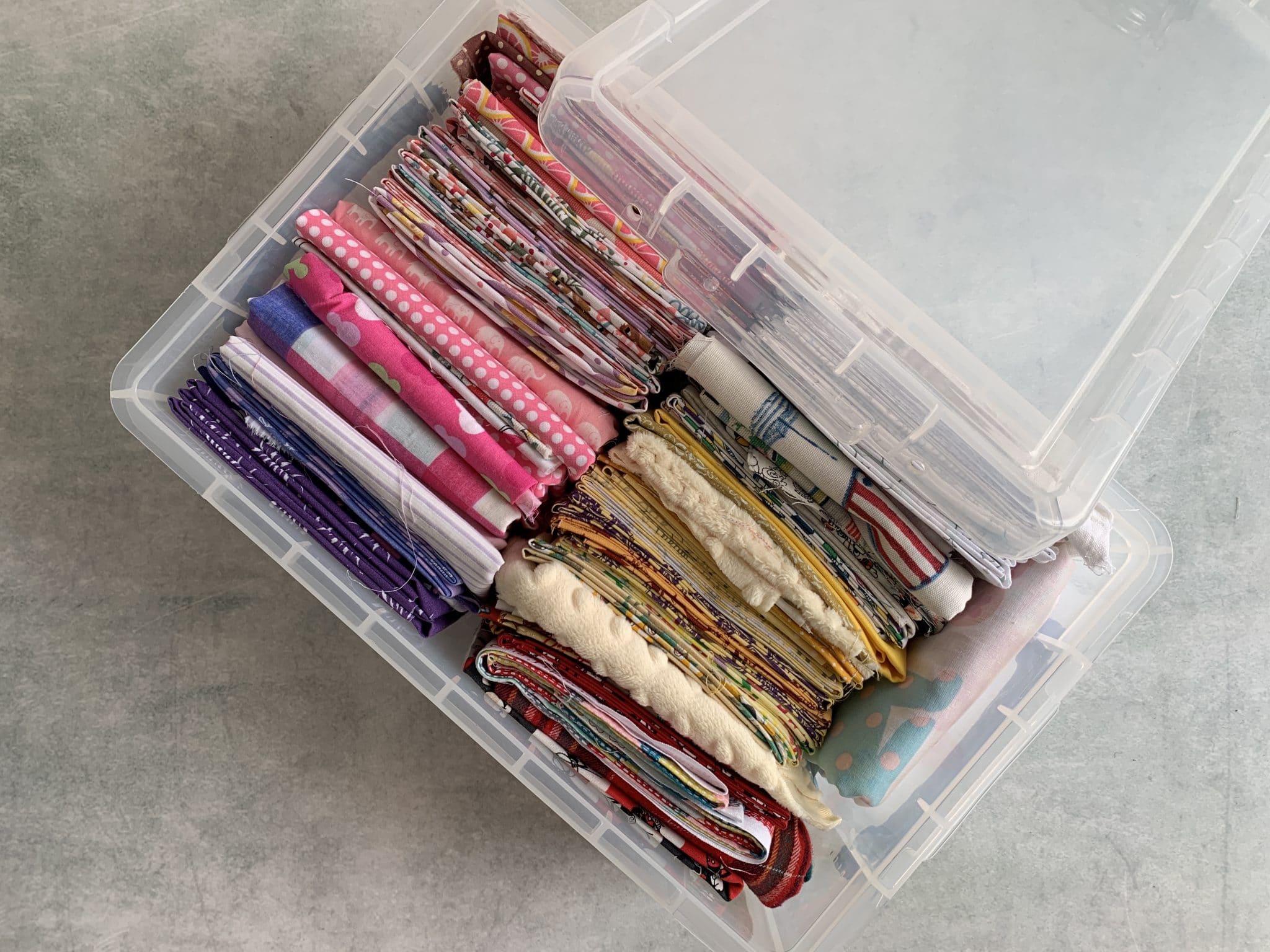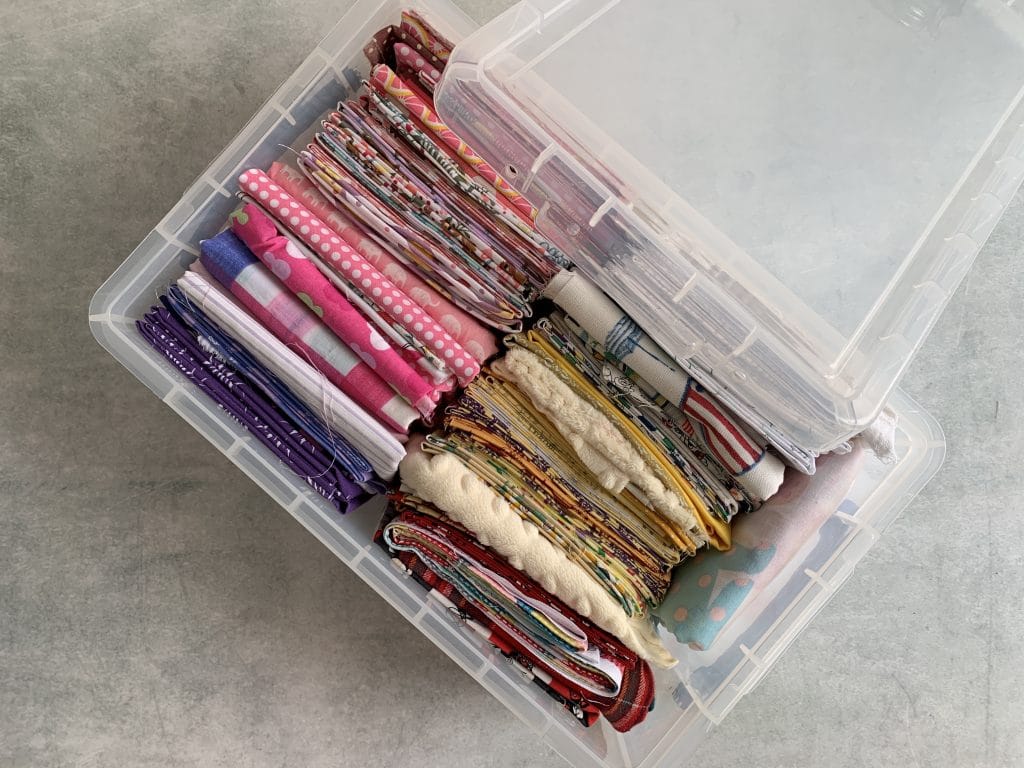 I find the 9 Litre boxes are great for smaller pieces of fabric such as fat quarters and jellyrolls and smaller fabric packs. They stack well and fit in most wardrobes and cabinets.
I then like to use the 35-litre boxes for larger amounts of fabric. Anything from bedding size/metres of fabric in there. They are square and easy to carry and not too heavy.
Keep the boxes fairly small as once they are full you still want to be able to move them.
3. Store In Ventilated Areas
Store in well-ventilated areas, I find that storing fabric in garages, sheds or other more outdoor structures isn't always the best. I had plenty of fabric stored in my parent's garage and due to the cold and damp, it all got mouldy.
Now I like to keep my fabric closer to home within my craft room.
Though not everyone will have space it is worth finding a solution as to not lose lots of lovely fabrics and money.
If you don't have a craft room, find a place you feel it is tucked away. If you have a dry loft or spare room that would be a great place to store it. Alternatively, places such as garages and cellars are great but make sure the bags or boxes are elevated from the floor.
4. Pack Similar Colours Together
A way to avoid any colours from rubbing on each other while in storage or transfers of dyes is to pack similar colours together.
If you don't have a lot of fabric going into storage and you choose to use larger boxes look at splitting into cold colours and warm colours.
How I think about it is, would you wash a white t-shirt with a red sock? Probably not so don't put your fabrics together that are at risk of bleeding onto one another.
You can create a rainbow style packing solution and use bags or paper between each fabric to eliminate any dye transferring between fabrics too.
You can buy acid free paper which allows your fabric to stay in the best condition while being stored.
5. Store Out Of Direct Light
One thing that can really be hurtful to your and your fabric is fading, it happens to curtains that have been sat in direct sunlight for long periods of time and can happen to clothing that is washed many times.
Make sure you are storing your fabric somewhere dark and shaded and away from direct light. This can be direct sunlight and artificial light, as this can cause your fabrics to faded and have faded patches from the sun damage.
Look at the space in which you are storing your fabric and place out of the direct light. You can also achieve this by using a sheet or piece of material (of course a piece you don't want or like) to cover the box for better coverage.
This is more important for those looking to store their fabric for more than a couple of weeks/months. This is something to think about as a very long term solution.
3 Best Ways To Store Fabric Long Term
These are some the best way to store fabric long term. This can be anything from a couple of weeks, couple of months or years. Depending on where you live and the general temperatures and weather conditions may change which solution you choose.
1. In Boxes
Plastic boxes may be the best way to store fabric long term as they are the most durable. Within my home we use plastic boxes for a number of things, storing clothes, storage for decorations and more.
Plastic boxes are easy to get hold of and are extremely useful for other items after you are done storing your fabric. These are also highly durable if you are moving house and planning on putting a few of your items into storage for a short term.
They are a great way to store fabric long term due to the plastic giving them a protective and waterproof covering. They are also breathable which makes it easier for the fabrics to breathe.
I recommend using the Really Useful Boxes 35L boxes as they are easy to carry (even when full of fabric) large enough for bigger pieces but not too large.
They stack really well so if you have multiple boxes and limited space you can find these are easy to stack up and make the most of your vertical space.
You can alternatively use boxes you already have at home, find in your local supermarket or shop and use those.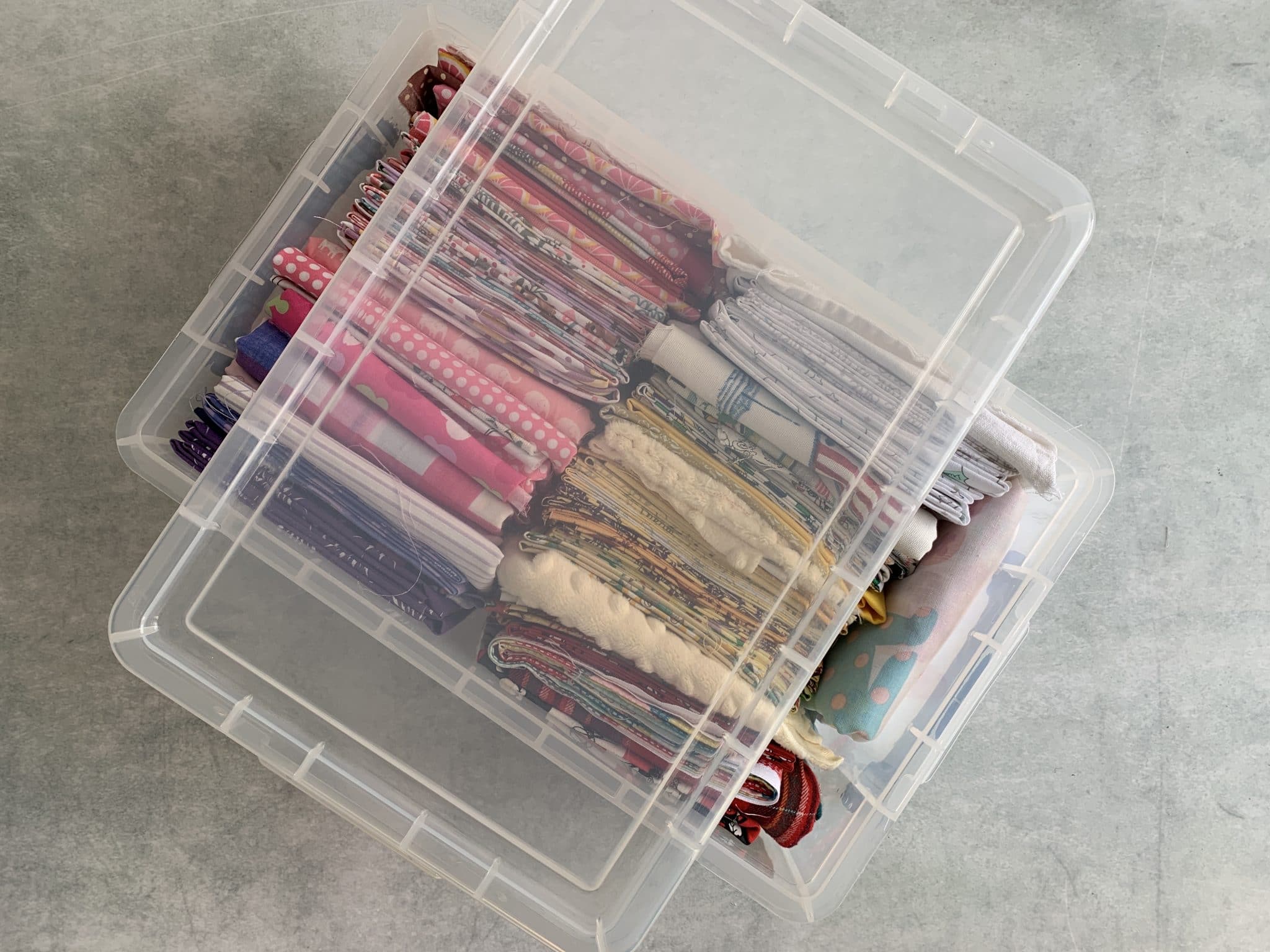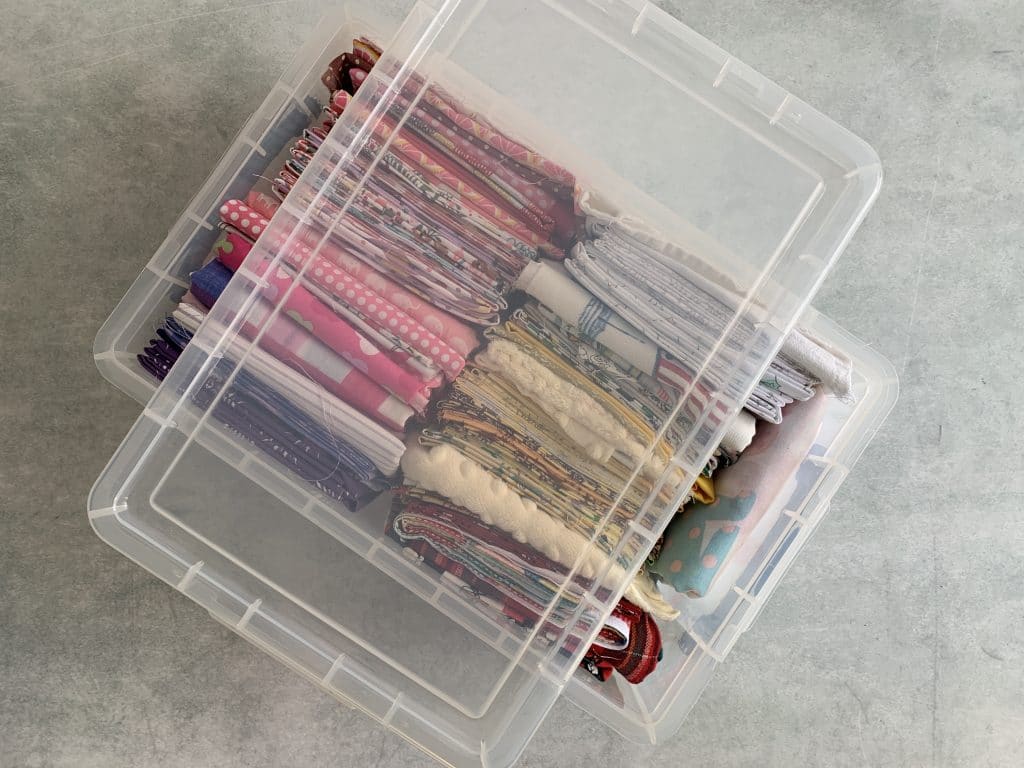 We had a number of 9L Really Useful Boxes left over from an old business and found that these were perfect for storing smaller pieces of fabric such as fat quarters and smaller.
I don't recommend cardboard boxes as they can often get easily damp, wet and aren't as durable as plastic. Cardboard boxes are better if you plan to store your fabrics within the home itself and won't incur any damp or cold.
2. In Vacuum Bags
Vacuum bags are a great way to store fabrics and clothes safely. Many people use them to store bedding, clothes that are out of season and cushions.
These are a great alternative to boxes and still one of the best ways to store fabric long term. The benefit of using vacuum seal bags is that you are eliminating any dust, bugs or air that might cause mould to grow within the bag.
You can also save a tonne of space using the vacuum bags as it sucks the air from the bag and creates a small package. This can be highly useful if you are looking at storing your fabric long term for moving house, travelling or for redecorating.
I would advise to check in on the fabric every so often (when you can) to make sure that your fabrics are still okay and haven't got any fading colours or dyes that have run into other fabrics.
3. Extra Large Storage Bag
These are super handy if you are only looking to store your fabrics for a couple of months.
I chose two different styles to help accommodate more spaces and styles. You can find a number of sizes of bags to use to hold your fabric. I would only suggest using these bags in secure spaces that are well ventilated that get plenty of air and gentle heat.
The first bag I wanted to show which is 115 Litre waterproof bag. I used to use these bags when I was at University to hold my costumes and they were great as you could stack them in the corner, on a shelf in the garage or under the desk.
The second bag is a fabric bag which is great for storing under the bed or under stairs. I like the idea of using a fabric bag within the home as it will allow the fabric inside to breathe and will allow moisture to enter and leave again.
That is everything for my best way to store fabric long term. I hope this has helped you and helps you. If you have any tips for preserving fabric let me know in the comments below.