6 Best Sewing Clips For Sewing
Some of the links below are affiliate links. As an Amazon Associate I earn from qualifying purchases. This means that, at zero cost to you, I will earn an affiliate commission if you click through the link and finalize a purchase.
No matter what style of sewing you do whether it be home furnishings, clothes or quilting you may have come across sewing clips, also known as wonder clips.
While sewing clips aren't new and are similar to bulldog clips and pegs these are specially designed to work with you on your sewing and craft projects. With many having measurement guides, grips and are easy to handle especially if you struggle with pins.
I found sewing clips perfect for projects from clothing to homewares and even some craft projects as they are easy to grasp hold of and quickly up clip when needed. They are also really quick and easy to pull off and unclip while you are in a good rhythm of sewing.
What Are Sewing Clips?
Sewing clips are small clips that you can use to hold your fabric together, seams together or layers together. They are most popular with quilters as they are easier than using pins and easier to take out.
Sewing clips are similar to pegs and other clips in the shape, structure, and design but have a small pad of rubber on the pincer parts to stop damage to the fabric.
Sewing clips personally are part of my everyday use for sewing and a staple within my tools caddy. They are so much easier to use and personally much safer and easier to find if I drop them.
Sewing clips are a great tool to have in your sewing room and sewing box as they are diverse, easy to use and perfect for a number of projects and tutorials. I have plenty more information on sewing tools and fabrics if you are just getting started.
What Are Sewing Clips Used For?
Sewing clips can be used for so many different styles of sewing. Everything from handbag making to quilting. Below is a list of all the different ways you can use sewing clips.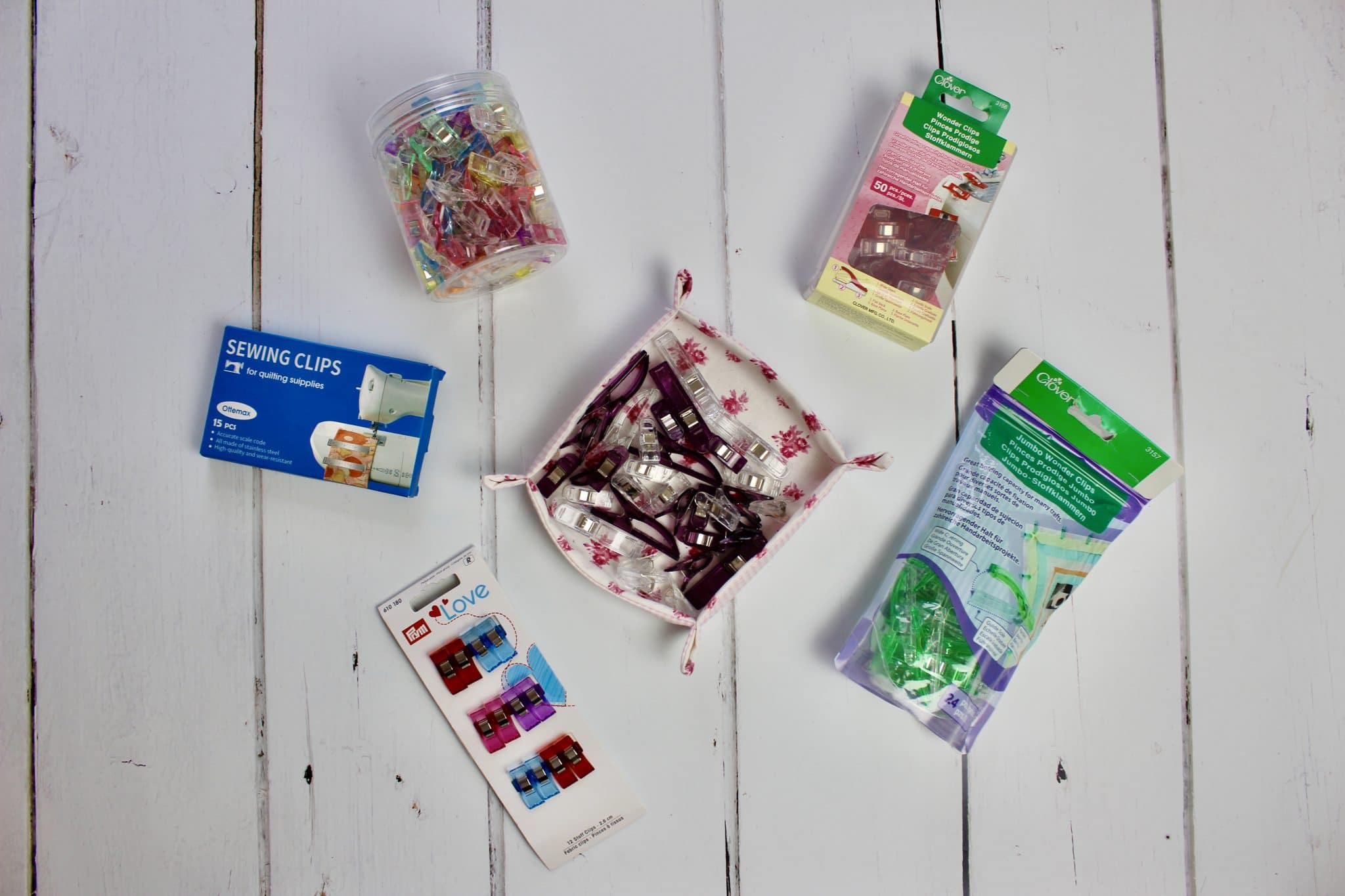 Sewing clips or also known as wonder clips can be used for a variety of projects and ways in your sewing room.
They work great on holding seams together ready to be sewn, holding on bias binding to the edge of a quilt and even holding together many layers of fabric while you baste stitch. Sewing clips are just an alternative (in most cases, not all cases) to pins.
Are Sewing Clips Better Than Pins?
This is a personal opinion but in my opinion, they are better for certain projects, the benefit of using the clips are that they are easier to use and handle. They are brighter and easier to see along with bulkier so they are easier to pick up.
If you struggle to hold layers together or hold onto smaller objects these are really useful. I would also introduce using these where you can with children who like to sew. The sewing clips are great for edges and holding together bias binding while hand sewing into place.
For me personally, the biggest benefit of using the sewing clips is that they are bright, bulky and easy to use. If they get dropped on the floor you can easily find them again and don't have to worry about any injuries.
The drawback to using the sewing clips is that they are limited to what they can do, they can't hold 3 layers together in the middle of a quilt like a pin can. They also aren't going to be the best to use on smaller projects that take more intricate lines and tucks.
Where Can I Buy Sewing Clips?
You can find sewing clips in a variety of places, such as sewing shops, Amazon and Hobbycraft and more. They are much more common and you can find a variety of prices/bundles.
Sewing clips are a great addition to any sewing box, whether it be a beginner or advanced.
If you are based in the US you can find sewing clips on online platforms such as Etsy and Amazon or in stores such as Hobby Lobby, Joanns and Craft Warehouse.
The 6 Best Sewing Clips Packs
The notion of using sewing clips started as a sewing hack when sewers would use bulldog clips to hold layers of fabric in place.
It quickly expanded and it became more popular to find dedicated clips that didn't just hold layers of fabric together but also came with guide scales for seam allowance to allow you to follow and keep a neat seam.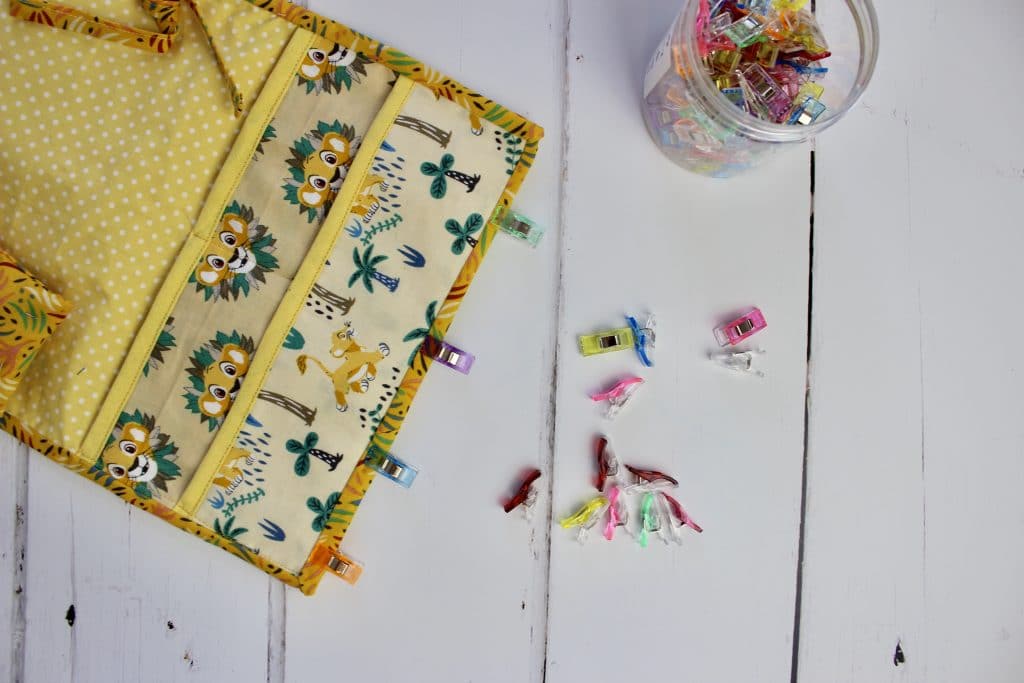 Sewing clips can range in price depending on where you are based in the world and if you have a local shop or not. Some places may cost a little more due to high demand, harder to get hold of and quality.
There are also a whole host of cheaper versions available on platforms such as Ali Baba, Amazon and eBay. While these are great if you are working on a budget, they can lack in quality and added features such as the guide scale.
I decided to pick the recommended set from Amazon of a pack of 100 sewing clips to test out against the branded version of sewing clips to get a better understanding of the quality compared across the price range.
Name
Opening Size
Number of Clips
In A Packet
Price
Buy Here
Clover Regular Clips
1.3cm
50
£££
Buy Here
Clover Jumbo Clips
1.8cm
25
£££
Buy Here
Aldi Sew Crafty
1 – 2.3cm
25
£
Gobesty Sewing Clips
1.2cm
100
££
Buy Here
Ottemax Sewing Clips
1.5cm
15
£
Buy Here
Prym Sewing Clips
1cm
12
£
Buy Here
1. Clover Wonder Clips
I originally found this pack of 50 pieces of Clover wonder clips in Hobbycraft but you can also find them on Amazon. Clover is a great quality brand and makes a number of useful sewing gadgets and tools.
I have a number of Clover products that I recommend and use daily so it is no surprise that they have also got a top quality set of sewing clips, also known as wonder clips.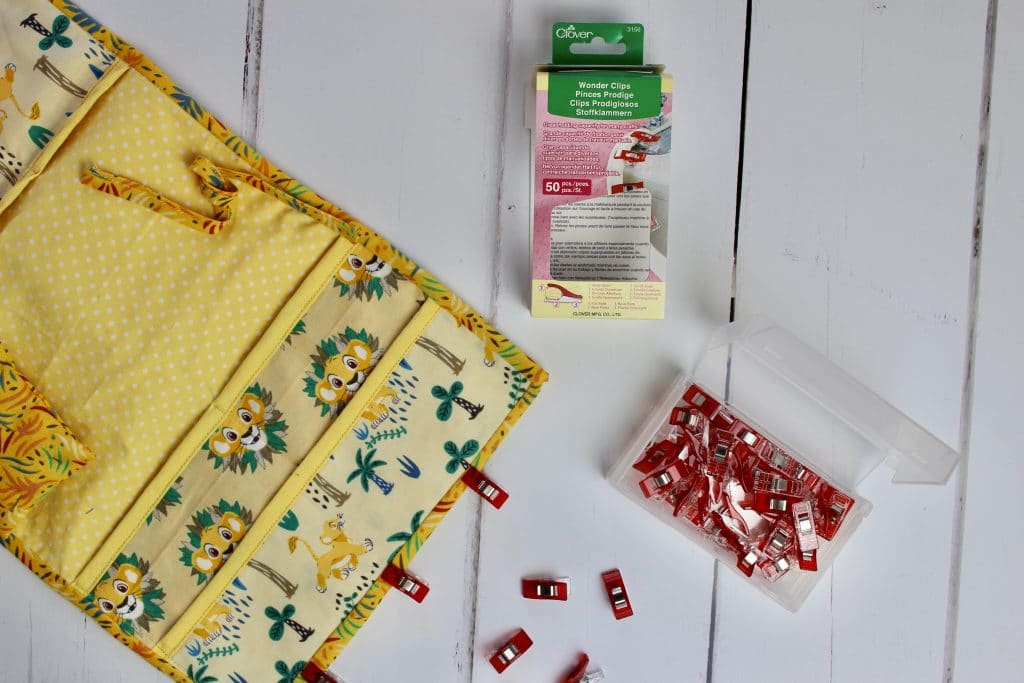 Clover has set themselves apart from many others and generally speaking they lead the charge with the wonder clips on the market as they are such a high quality.
The wonder clips are genuinely wonderous as they come with so many handy features for such as small item. The first one to mention is that the clips come with a super handy seam allowance guide, there are markings on the base of the clip which help you determine your seam allowance on the item.
You can change this depending on your project and the markings are labelled so even if you are new to sewing these are really handy to help you keep to the correct seam allowance while sewing.
The next feature to point out is that all the clips have a flat base. The flat base is really handy if you like to make sure your work is even, flat and has no hidden bumps or folds.
The final feature to mention is the wide opening of the clip. While this particular size is going to be smaller than the jumbo it still can hold an impressive amount of layers.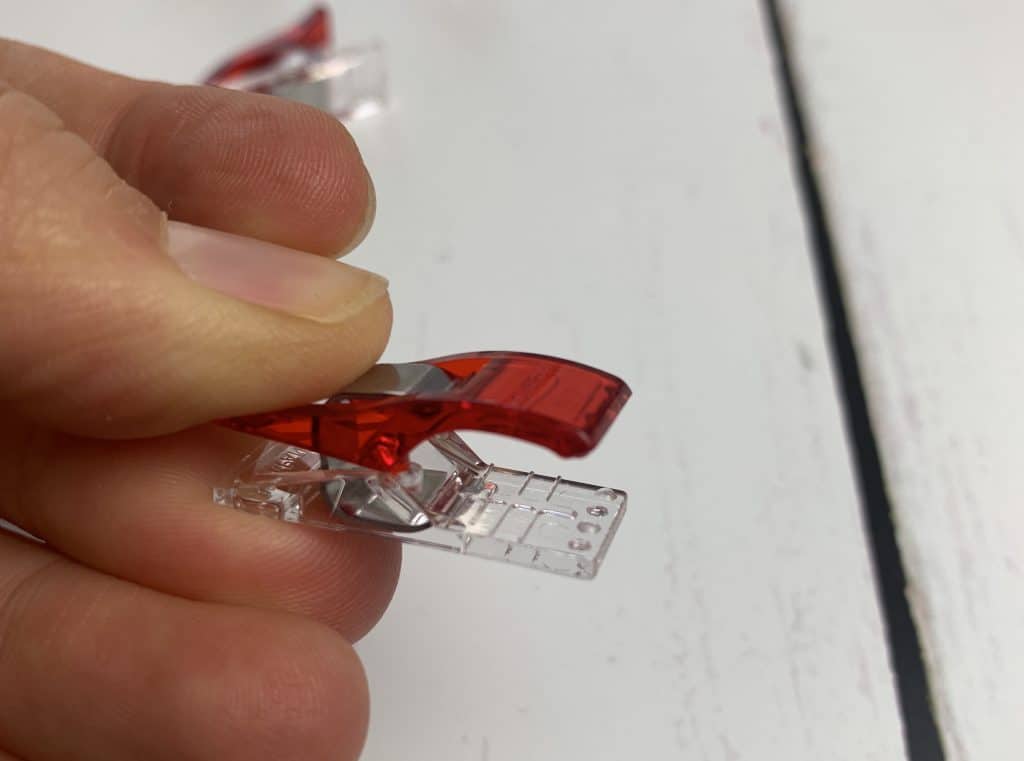 They also come in a lovely clear plastic case packaging that makes storing them easy and easy to carry around with you if you need to. If you don't want 50 clips you can buy packs of 10 instead to get you started.
What I also found was when handling the clips they were much easier compared to the cheaper alternatives.
2. Clover Jumbo Wonder Clips
While looking for the Clover wonder clips I came across the jumbo wonder clips and was really impressed. These are the same concept but larger and better suited to larger projects.
The Clover jumbo wonder clips are perfect for using with larger projects and deeper seams. Things such as quilting projects, holding on thick bias binding or items that require a lot of layers to be held together.
They also have the seam allowance markings on the base of the clip so you can get an accurate guide to your seam allowance while sewing. The markings are clearly stated that they are in increments of 1- inch such as 1/2 inch, 1/4 inch etc.
These make the Clover jumbo wonder clips really handy and easy to use for gauging seams and allowances during your project.
One of the best features in my opinion is that the clips are completely flat on the base so they lay flat while you are working.
I love this feature as I often like to make sure my work is pulled tight, laying flat correctly (especially in quilting and patchwork) and this enables you do to that easily.
They have a great grip to the fabric with the teeth on the ends and a strong opening that makes the open/close firm.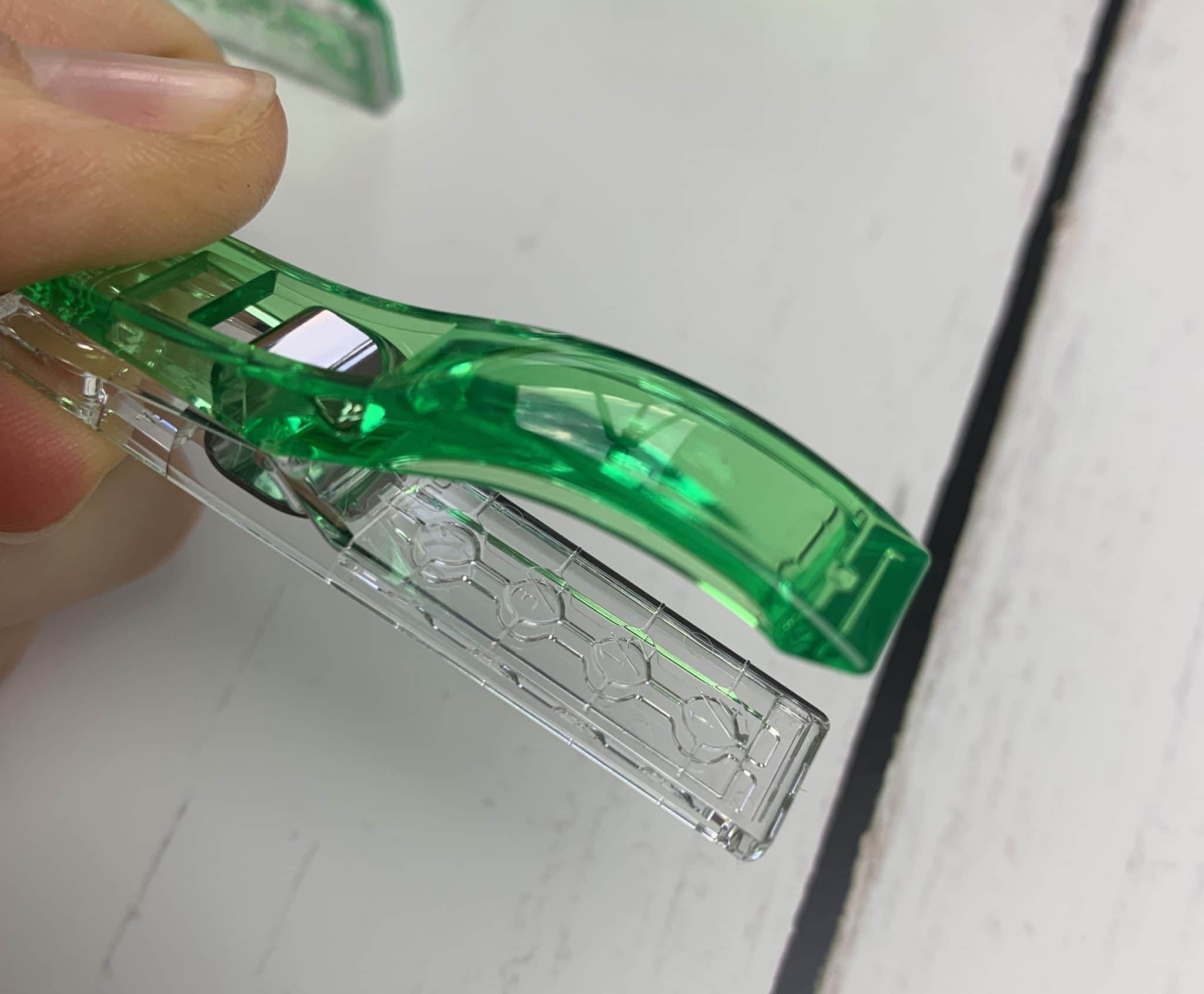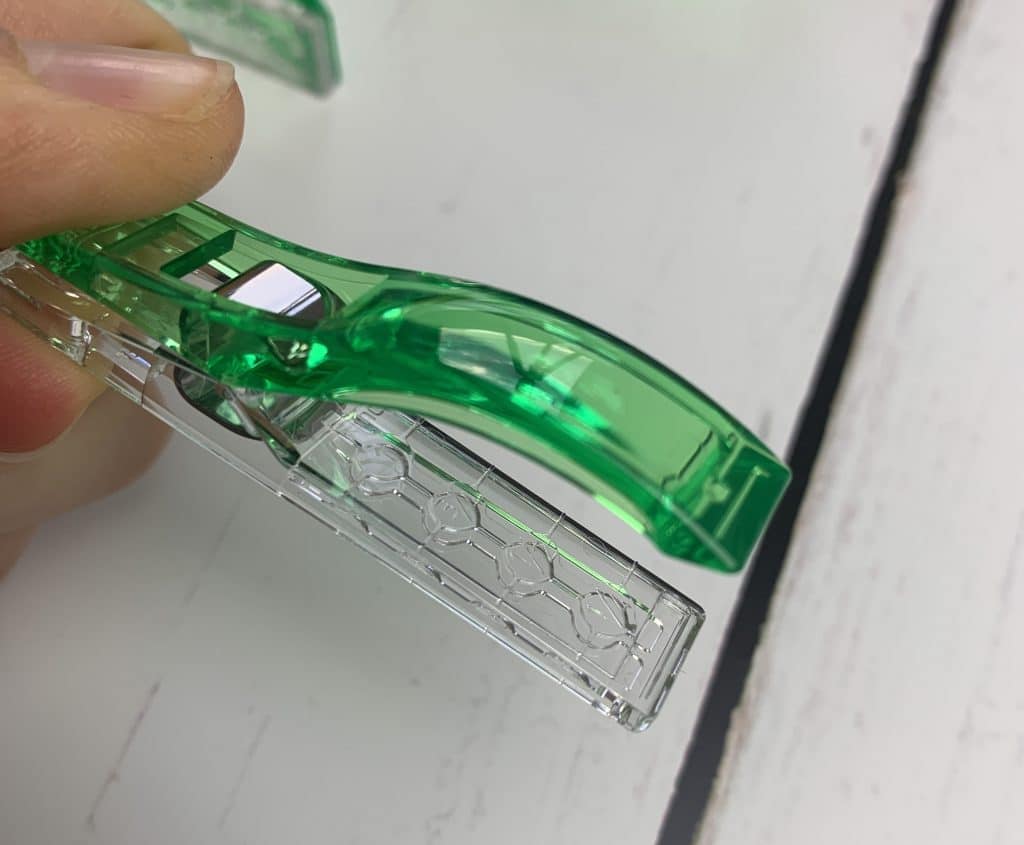 The clips also come with a little ridge on the top where you could grip to open the clip, this little grip really helped me when trying to work with thick layers as I didn't find my hand slipping and the clip wanting to slip between my fingers.
3. Aldi So Crafty Sewing Clips
My first set of sewing clips were actually found in Aldi. They often hold special events such as hobbies and craft events online and in-store and so I was lucky enough to find 2 packs of sewing clips.
One pack of small and one pack of large, you can still find these online during the year if not found in store.
I wanted to add these into this review as I have thoroughly loved using my Aldi sewing clips and have found them so useful and handy. They are very well made and have not had any snap or break on me and I really have used them to the max.
The plastic is quite thick so they are clearly made well and have definitely lasted through many tough projects and thick layers. I haven't had any snap on me yet or had any trouble with them breaking.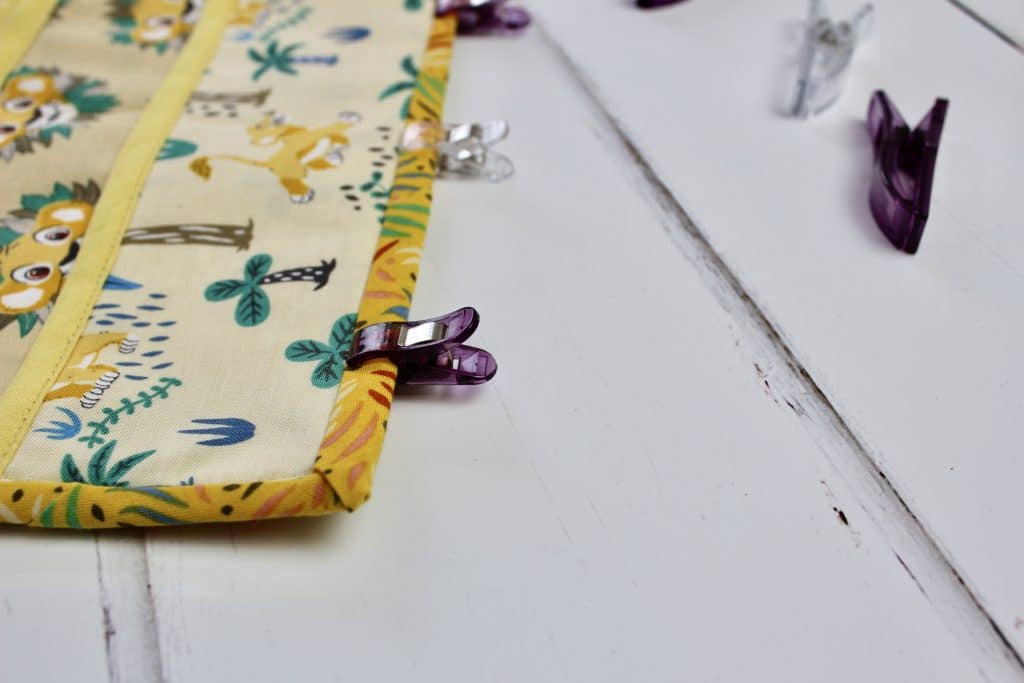 I have had them just over 1 year now and found that the spring in the opening/closing is still very firm and doesn't feel loose or slack.
What I also like is that compared to other brands they open quite wide on both the regular size and the large size. They also come with the markers on the bottom for the size gauge on both the small and large clips.
4. Ottemax Sewing Clips Set
The Ottemax sewing clips are quite different from the others on this list. They are infact stainless steel and look more like a ruler than a sewing clip. They are handy in the fact that the main feature is that they are 4 inches long with quarter-inch markers along.
They make marking hems, seam allowances and edges easy and straight forward. What I really liked about these clips were that they were really handy to use for quilting projects as they are flat and easy to lay down on a surface while working on the quilt.
The pack I picked up were a little disappointing as they felt quite rough around the edges. The metal edges felt quite sharp and so I was quite hesitant to use them on any of my projects.
This could have been just the pack I picked up, so if you plan to try these out this is something you should look for.
Another thing that was a let down on these were that the increments for the markings weren't as clear as I was expecting.
5. Prym Fabric Clips
I love Prym products and have been using them for a number of years, my most loved Prym product is their mini iron. So I was happy to find they had also produced sewing clips.
This particular pack comes in a pack of 12 with different coloured plastics. The plastics are easy to see through so you can still see your fabric and edge below.
They aren't as good compared to some of the other brands on the market. The downside to these clips is that they aren't overly thick plastic and look like overuse might cause them to crack and break easily.
The clips are well designed and look nice but also don't have a base where they lie completely flat. This might cause some problems when you are using them for flat flay work such as quilts and patchwork.
There is a set of grooves on the end that act as teeth to grip onto the fabric. The grip is good and id firm and stayed in place while moving around from the sewing machine and back.
They, unfortunately, don't have the stitch guide marks on the base like some of the other brands do. They very much are basic clips that are easy to use and handy to have but don't have any fancy features.
6. Gobesty Sewing Clips
I found the Gobesty sewing clips pack on Amazon as recommended by Amazon product. The reviews were 4.8 stars so I was optimistic to see what they were like.
The pack comes in a clear plastic tub with a screw lid which is easy to store your clips in and keep them tidied away.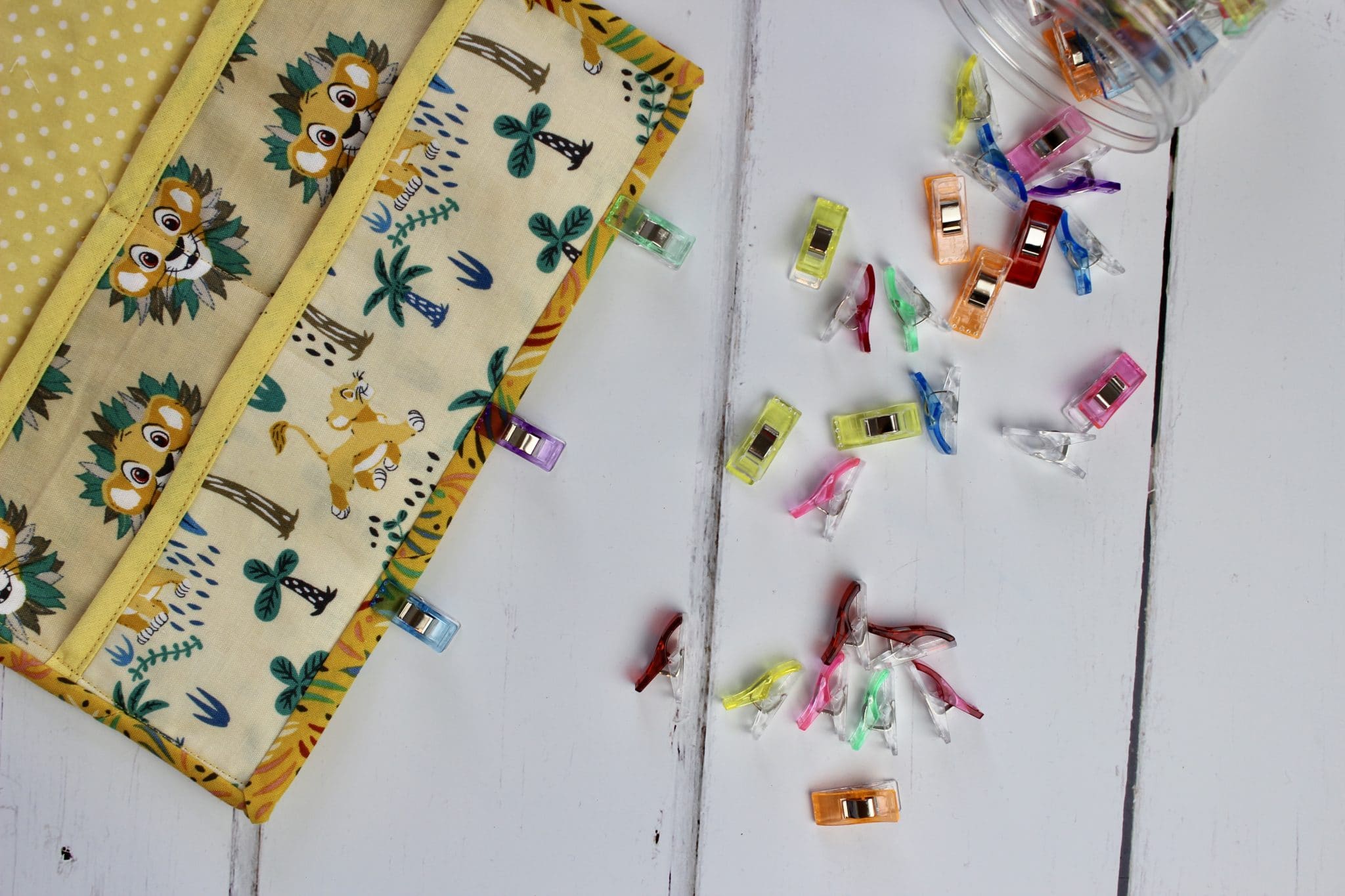 The highlight to these clips is that they are a more reasonable price, especially if you are looking for a large quantity or you are working on a budget.
I found that the sewing clips have markers on the base similar to the Aldi and Clover Wonder Clips. They also have a good amount of teeth to the opening to give a good grip on the fabric.
I found them easy to use and work with and had no initial problems. The plastic is thinner and so this may result in some of the clips breaking under pressure or over time. This is yet something I need to test and discover.
I hope this has helped you determine what are sewing clips and whether you want to have some for your next sewing project. If you already use sewing clips I would love to know how you find using then and if you think they are worth buying.
Like This Post? Pin It!